Doctors, as healthcare professionals, play a critical role in ensuring their patients' well-being. Quality healthcare services require effective communication. Bulk SMS have emerged as a convenient and effective method of communicating with patients, disseminating critical information, and raising health awareness. We present 20 sample bulk SMS message content ideas for doctors to use to enhance patient communication in this article.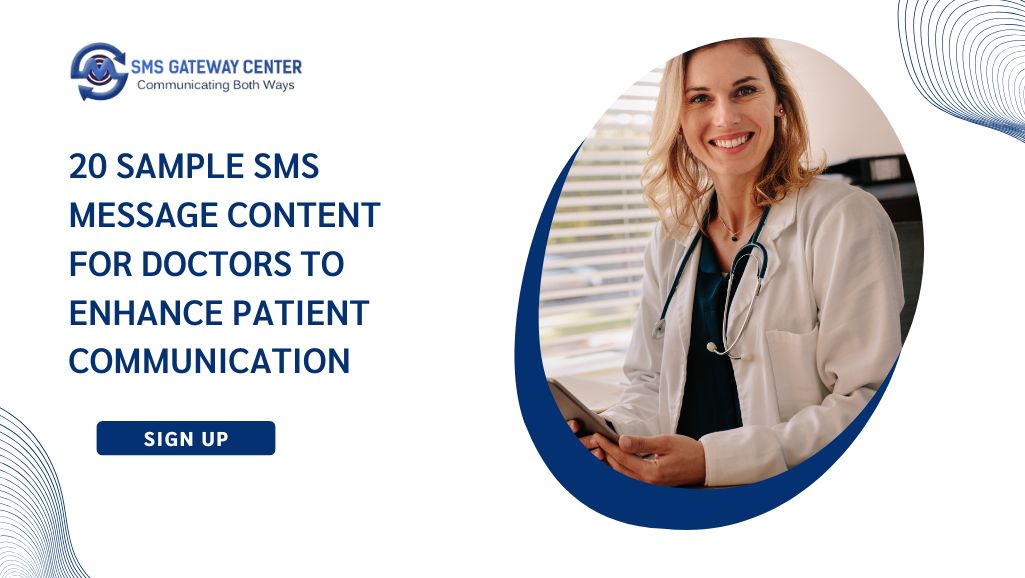 Appointment Reminders:
"Dear [Patient's Name], this is a friendly reminder of your upcoming appointment with Dr. [Doctor's Name] on [Date] at [Time]. Please remember to bring any relevant documents. Thank you."
Follow-up Care:
"Hello [Patient's Name], we hope you're recovering well after your recent visit. Please don't hesitate to reach out if you have any questions or concerns. Take care!"
Prescription Refill:
"Dear [Patient's Name], it's time to refill your prescription for [Medication Name]. Please visit our clinic or call us at [Phone Number] to arrange a refill. Thank you."
Health Tips:
"Hello! Regular exercise boosts your overall health. Aim for at least 30 minutes of physical activity daily to stay active and energized. Stay healthy!"
Lab Test Results:
"Good day, [Patient's Name]. Your recent lab test results are now available. Kindly visit our clinic or call [Phone Number] to discuss the findings with Dr. [Doctor's Name]."
Seasonal Health Reminders:
"As the flu season approaches, remember to get your flu shot for protection. Visit our clinic between [Dates] to receive your vaccine. Stay healthy this season!"
Vaccine Schedule:
"Dear [Parent/Guardian], it's time for [Child's Name]'s next vaccination. Please schedule an appointment at your earliest convenience. Immunizations are crucial for your child's health."
Preventive Care:
"Hello! Regular dental check-ups are essential for a healthy smile. Book your dental appointment today at [Phone Number]."
Health Event Invitation:
"Join us for a health talk on [Topic] by Dr. [Doctor's Name] on [Date] at [Location]. Learn valuable health tips and ask questions. RSVP at [Phone Number]."
Medication Adherence:
"Hi [Patient's Name], don't forget to take your medication as prescribed. Proper adherence ensures effective treatment. Let us know if you need any assistance."
Well-Wishes on Special Occasions:
"Wishing you a happy birthday, [Patient's Name]! May this year bring you good health and joy. Stay blessed!"
Health Awareness Campaign:
"Stay informed! October is Breast Cancer Awareness Month. Schedule a mammogram today for early detection and prevention. #BreastCancerAwareness"
New Service Announcement:
"We are excited to announce our new telemedicine service. Now you can consult with Dr. [Doctor's Name] from the comfort of your home. Call [Phone Number] to book an appointment."
Health Event Reminder:
"Reminder: Health Check-up Camp tomorrow from 9 AM – 1 PM at [Location]. Get your vital health parameters checked for free. See you there!"
Dietary Advice:
"Hello! A balanced diet rich in fruits and vegetables is essential for good health. Make sure to include them in your daily meals."
Mental Health Support:
"Dear [Patient's Name], remember that you're not alone. Reach out if you need to talk. Your mental health matters to us."
Health Screening Reminder:
"Annual health screenings are critical for early detection of health issues. Book your health check-up at [Phone Number]. Stay proactive about your health!"
Emergency Preparedness:
"In case of a medical emergency, call 911 immediately. For non-emergency medical assistance, reach us at [Phone Number]."
Seasonal Allergy Advisory:
"Hello! Spring allergy season is here. Be mindful of pollen exposure and take allergy medications as needed. Breathe easy!"
Stay Hydrated:
"Stay hydrated and drink enough water throughout the day. Proper hydration is essential for overall well-being."
Conclusion
Effective communication is the foundation of excellent healthcare. Using SMS messages, doctors can promote a stronger doctor-patient relationship and provide valuable health information. By integrating these sample SMS message contents, doctors can enhance patient communication, foster health awareness, and ultimately contribute to better patient outcomes.
---
Save this interesting page on your favorite Social Media
---