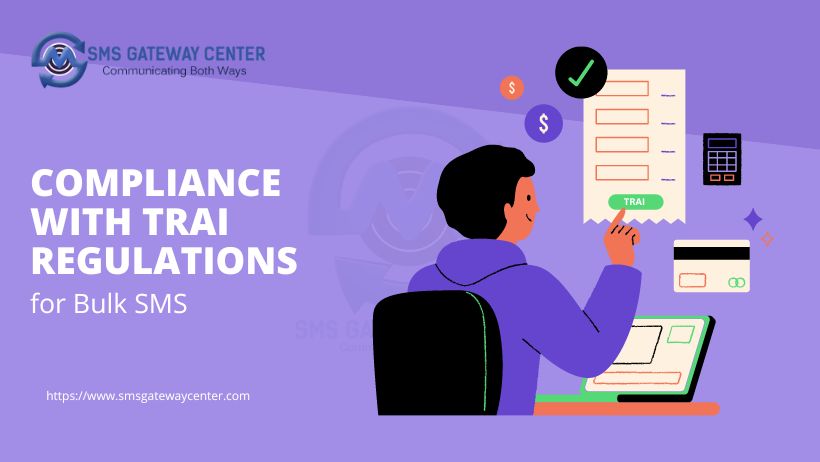 Adherence to Telecom Regulatory Authority of India (TRAI) laws is critical in the arena of Bulk SMS services. We prioritise TRAI compliance at SMSGatewayCenter.com to create a seamless and legally compliant messaging environment for our clients.
Understanding TRAI Regulations
TRAI has set forth specific regulations and guidelines to govern the usage of Bulk SMS services in India. These regulations aim to protect consumers from spam and unsolicited SMS messages while promoting responsible messaging practices among businesses.
DND (Do Not Disturb) Registry
TRAI maintains a National Do Not Call (NDNC) registry, also known as the DND registry, which allows individuals to opt-out of receiving promotional SMS messages. As per TRAI guidelines, it is mandatory to scrub the mobile numbers of DND registered users from any marketing campaigns.
Read more on Consumer Protection and DND Registry
Transactional SMS vs. Promotional SMS
TRAI classifies between two types of Bulk SMS - Transactional SMS and Promotional SMS. Transactional SMS are those that provide essential information or updates to users, such as account balance notifications, OTPs, and delivery alerts. On the other hand, Promotional SMS are used for marketing purposes and require explicit consent from the recipients.
Sender ID Compliance
TRAI orders that all Bulk SMS must have a valid and registered Sender ID. This guarantees transparency and accountability for the messages sent by businesses and corporate.
Read more on Sender ID Compliance
Read more on DLT Sender ID Registration
Time Restrictions
TRAI forces time restrictions on sending Bulk SMS messages. Promotional SMS messages can only be delivered between 9:00 AM to 9:00 PM to avoid disturbing consumers during late hours.
Content Compliance
Bulk SMS content must adhere with TRAI's guidelines, and SMS messages must not include any offensive, objectionable, misleading, or deceptive content. And all templates must be approved by DLT operators.
Read more on DLT Template Registration
Why Choose SMSGatewayCenter.com for TRAI Compliant Bulk SMS
We take TRAI rules seriously at SMSGatewayCenter.com and offer a completely compliant Bulk SMS platform. Our technology is intended to automatically filter out DND registered numbers, preventing promotional messages from being delivered to these individuals. We provide Transactional SMS solutions for crucial communications, and our dedicated support team guarantees that all regulatory standards are met.
Advantages of TRAI Compliant Bulk SMS
Customer Trust: By following TRAI regulations, you build trust with your customers, as they know their privacy and preferences are protected and respected.
Legal Compliance: By selecting a TRAI-compliant Bulk SMS provider, you may avoid any legal concerns and penalties.
Enhanced Reputation: Responsible messaging practices contribute to a positive brand reputation.
Improved Deliverability: TRAI compliant bulk SMS have higher chances of reaching the recipients' inbox, ensuring message delivery success.
SMSGatewayCenter.com can help you ensure TRAI compliance for your Bulk SMS marketing. Experience seamless communications while adhering to ethical and legal requirements. Join together with us for a dependable and compliant Bulk SMS service that maintains your company in compliance with TRAI rules. SMSGatewayCenter.com provides Bulk SMS services that are safe, effective, and legally compliant.
Please visit TRAI site to get the latest updates and all important updates will be updated on this page. So keep visiting this page or subscribe to our newsletter to get updates on your email.
---
Save this interesting page on your Favourite Social Media
---