One of the most effective ways to build relationships with your customers is by sending them a reminder text message close to when they are due for an appointment. In this article, we are going to break down five simple yet effective methods you can use to help clients remember their appointments.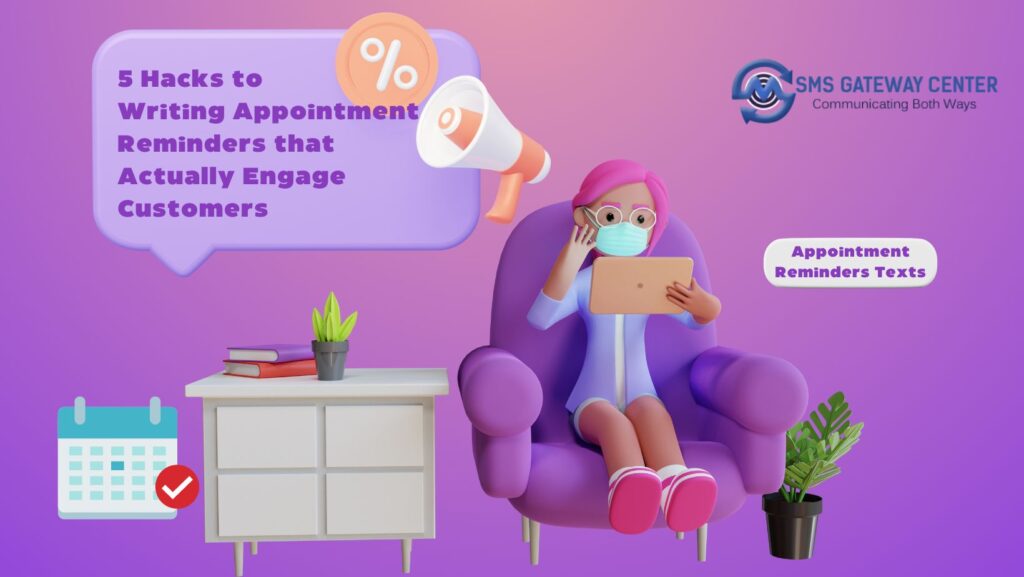 Hack 1: Identify the Value in your Appointment
Value-based appointment reminders stir up a sense of urgency in your customers to attend their appointment. Urgency creates a sense of importance, which then entices customers to attend their appointment.
In order to identify the value in your appointment, you must first understand what it is that your customer wants or needs. Once you know this, you can craft a reminder message that will speak to them on this level.
For example, if your customer wants to improve their health, you could write a reminder that states, "Your health is our top priority. We'll be sure to give you the best care possible."
By understanding the value that your customer places on their appointment, you can create a more engaging and effective reminder message.
Hack 2: Refer to a Personal Resource that you Spoke about with the Customer
When it comes to appointment reminders, you want to make sure that you are engaging your customers. This can be a challenge, but there are some hacks that you can use to make sure that your reminders are actually read and responded to.
One hack is to refer to a personal resource that you spoke about with the customer. For example, if you are a doctor, you could remind the patient of a specific health issue that they need to address. This will help to jog their memory about the importance of the appointment.
Another hack is to use visual cues in your reminder. This could mean using color-coding or bold font to highlight important dates and times. You can also use icons or images to make your reminders more visually appealing. This kind of reminders can be used with WhatsApp Messaging or RCS Messages.
Finally, make sure that your appointment reminders are clear and concise. Use simple language that is easy to understand. And, be sure to include all the relevant information, such as the date, time, and location of the appointment.
Hack 3: Keep the Language Clear and Concise
When it comes to writing appointment reminders, clarity is key. The last thing you want is for your customers to be confused about when their appointment is or what they need to do to prepare for it.
Keep your language clear and concise, and make sure to include all the relevant details (time, date, location, etc.). You can also include a link to your online booking system so that customers can easily reschedule or cancel their appointment if needed.
Here are a few examples of clear and concise appointment reminders:
"Please remember your upcoming appointment with us on [date] at [time]."
"You are scheduled for an appointment with us on [date] at [time]. Please let us know if you need to reschedule or cancel."
"Don't forget, you have an appointment with us on [date] at [time]."
Hack 4: Establish your Reputation for Following Through
By establishing yourself as a company that always follows through on its appointments, you'll be much more likely to get customers to actually show up for their appointments.
One way to do this is by sending reminders in advance. If you send a reminder the day before, or even a few hours before, your customers will be more likely to remember their appointment and actually show up.
Another way to establish yourself as a company that follows through is by offering incentives for appointments that are kept. This could be a discount on the service or product being purchased, or even a freebie. Customers will be more likely to show up if they know they'll be getting something out of it.
If you follow these tips, you'll be well on your way to writing appointment reminders that actually engage customers and get them to show up for their appointments.
Hack 5: Use Formulas but Avoid Burning Out
You know those times when you send an appointment reminder using bulk SMS, and it's just so generic it could have been sent to anyone? "Time for your appointment!" While it's good to be formulaic in your email subject lines and copy, don't overdo it to the point where your messaging becomes robotic.
Your recipients are people with feelings, not machines! So make sure that even though you're using a framework, your messaging still comes across as natural, warm, and engaging.
---
Save this interesting page on your favorite Social Media
---