With the latest advancements in smartphone technology, business people are now discovering the power of mobile marketing and its impact to businesses. It is the hottest thing now, with everyone keeping their phones close when it comes to doing business. Studies have shown that this type of marketing is easier to engage with targeted audience not to mention get incredible response rates. If you want to reap the fruits of mobile marketing, you need to know how to do it right, and this means understanding how to write a good and engaging message. You also need to understand how to get creative with the design. Here are 5 steps that will prove very helpful in your efforts.
Mobile Marketing
#1: Build your Audience
Before you jump start the process, the very first thing is building a list of people you are looking to send the message to. What you need to do is put up a sign-up form on your website in order to collect phone numbers and names, get details of attendees of your future events, and purchase reputable lists of numbers. It can also be helpful if you designed a mobile marketing campaign where you encourage your fans to text so that they can win instant prizes.
#2: Personalize your particular efforts
Fine, you have a number of customers who have given you permission to send them messages in your mobile marketing campaign. But remember that you need to personalize your efforts if you are to keep them interested. When you send uninteresting offers, your customers may likely start opting-out. Send relevant information that you think appeals to their lifestyle and you will be happy to begin seeing rewards flowing in.
#3: Be Flexible when messaging
It's not always likely that you will get your mobile marketing spot on the first time. You should therefore be flexible with the content, style, as well as the tone in order to achieve the best results. Go ahead and try sending the messages at different times of the day or even consider segmenting your subscriber list so that you can test different offers. Also, keep researching your targeted audience in order to get a glimpse of what offers appeal to them best.
#4: Always play it safe
You want to reach as many customers as you can with mobile marketing campaign. What you may not realize, however, is that many of them wouldn't be excited with the message if you haven't borrowed permission from them. Don't hesitate to ask whether they want to receive the texts or not, and then go ahead and text about your offers.
#5: Have your Business Name as the Sender ID
Your sender ID is what tells your audience who the message is from. In order to make the most out of it, suggest your business name as the ID, something that you are allowed to do by most SMS providers.
Many businesses are reaping great fruits from mobile marketing, and you too should try it and see if it does really have an impact when it comes to your returns. Consider these 5 steps and you will be guaranteed of an effective campaign.
SMS Gateway Center offers Mobile Marketing Message Services in India, log on to https://www.smsgatewaycenter.com
Infographic on Mobile Marketing.
Click on the image to view the full size.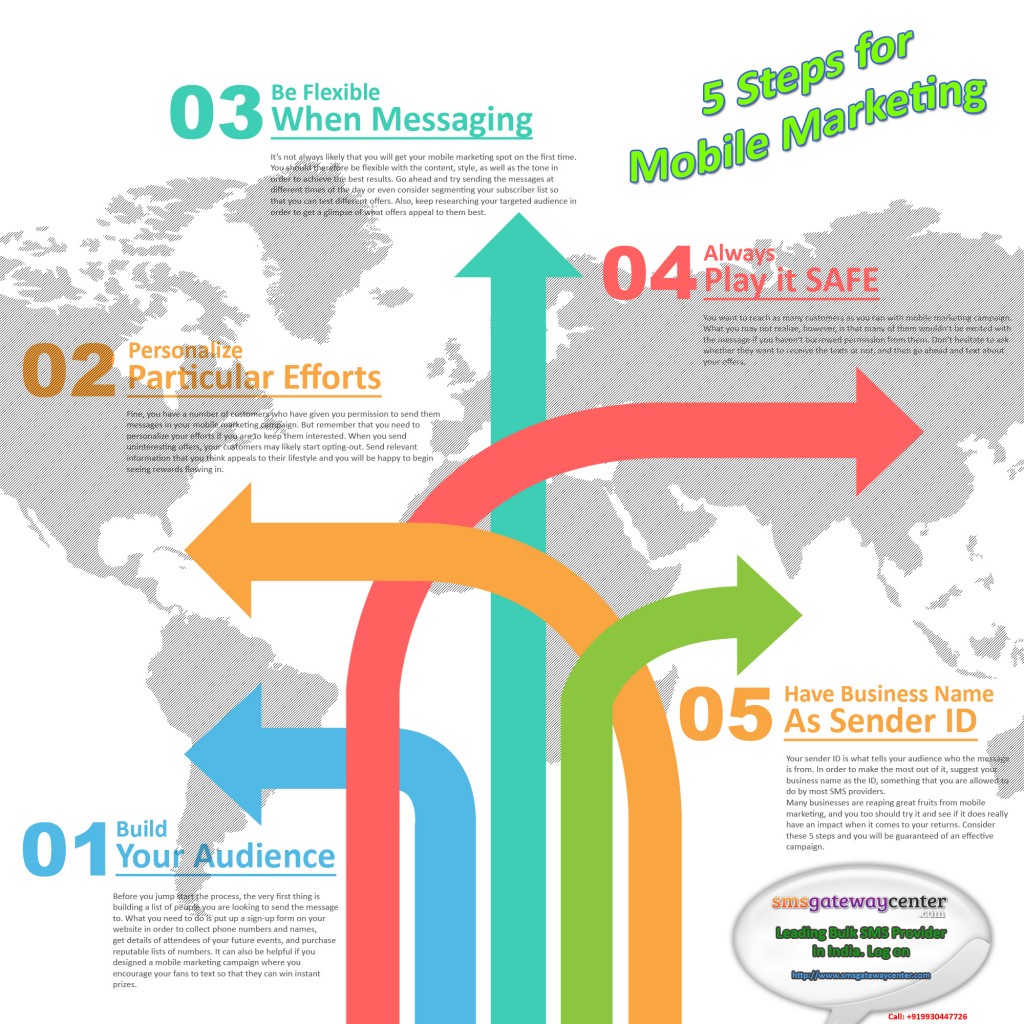 ---
Save this interesting page on your favorite Social Media
---