School communication can often become fragmented and unorganized. It's difficult to keep track of who needs to be contacted about what, when, and how. Text messages in schools can help solve the problem by unifying communication channels.
There are many ways that text messaging can improve communication in a school. Whether it be for students, parents, staff, or vendors; there are many options for utilizing SMS Messaging in schools. They may not seem like they'd be super useful in a school setting, but they can be!
We'll take you through Seven helpful ways to use SMS Messaging in schools, so you can implement them yourself!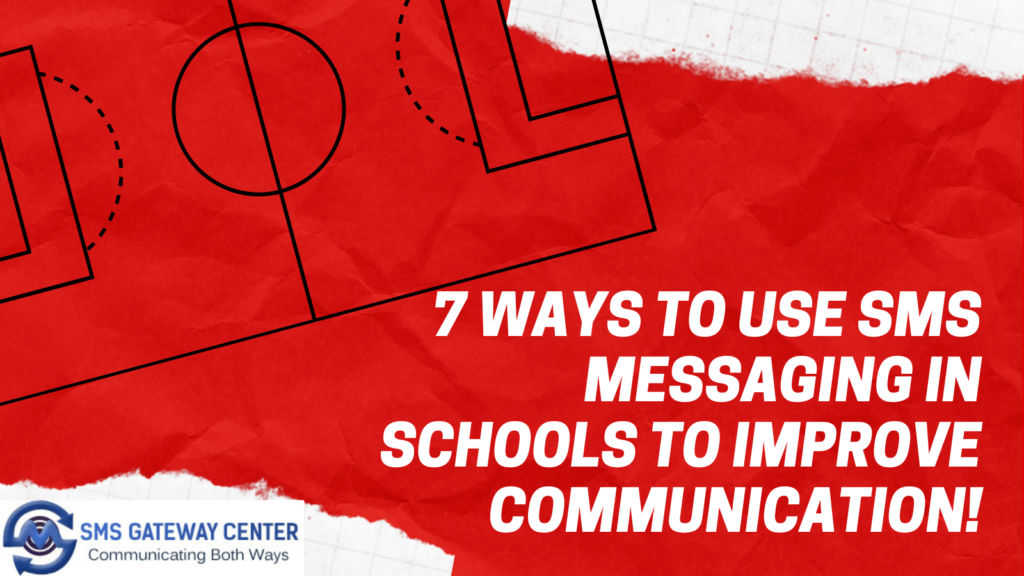 Communication with Parents
One of the biggest uses for School SMS Messaging is one-way communication with parents. The two main ways you can use SMS for parent communication are: –
Reminder texts: Sending reminder SMS to parents who need to provide information. For example, if you need to get a doctor's note, a dental note, or a note for an absence, you can send a text to the parent.
Inquiry texts: Sending inquiry SMS to parents who have questions about something. This could be about a progress report, a field trip, etc. Keep in mind that both of these types of communication should be very clear and action-oriented. You don't want it to be a conversation, but rather a clear request and/or statement.
Classroom Announcements
Another excellent use for School SMS Messaging is classroom announcements. They are an efficient way for teachers to communicate with parents about upcoming events or assignments. You can set up announcements for any class or grade level and send them out with just a couple of clicks of a button. For example, if a student is going to miss an assignment that is due the next day, the teacher can send a text message to the parent with a copy of the assignment attached. This way, the parent is prepared for what is expected when they pick up their child.
Morning Meeting Messages
School text messages can also be used as a morning meeting message. This is where a specific message is communicated to all teachers, staff, or administrators at the same time. These types of messages can be sent out before school, during lunch, or after school. Depending on the needs of your school, you could send out an announcement, a reminder, or a request. You could ask everyone to complete a specific task, send out important information, or remind everyone about an upcoming event.
School Events and Activities
School SMS Messaging can also be used to communicate information about upcoming events and activities. For example, you can alert parents about events that are coming up, like a sporting event or dance. You can also send out information about school outings or field trips, sign-up information for clubs, or information about upcoming fundraisers.
School-wide Reminders
You can also use School SMS Messaging to send out reminders about things that affect the entire school. For example, you can send out a reminder about the school's dress code, upcoming professional development days, or information about an upcoming school event.
Co-teaching Collaboration
Another way to use SMS in schools is to facilitate co-teaching collaboration. Co-teaching is when two teachers come together to teach a single class. Using text messages can help make the collaboration between teachers run more smoothly and effectively. For example, teachers can use a text message to send a request to their colleagues to provide support with a lesson. Another way is to schedule the week's lesson plans ahead of time. You can send a text message to your partner with the dates and times of each lesson that you will be teaching, so they can prepare accordingly.
Student Absence Notifications
School text messages can also be used to send out notifications about student absences. You can set up a system where an absence notification is automatically sent to parents when their child's absence is entered into the school's system. You can send these notifications out either as an automated text message. This way, parents have timely and accurate information regarding their child's absence.
Wrapping Up
As you can see, there are many ways that you can use SMS Messaging in schools. It can help unify communication and make it easier for teachers and staff members to communicate with one another and with parents. You can use text messages to communicate about upcoming events, ask parents questions, send out reminders, and more. Texting is a convenient way to communicate and is sure to be appreciated by all parties involved.
---
Save this interesting page on your favorite Social Media
---