Are you tired of standing in a long queue for booking a railway ticket? Or is your son glued to online railway booking beating the internet traffic? Or are you the one bullied by an agent who charges you double for a confirmed ticket? Then here's good news for you. Now, one can book a railway ticket through SMS service.
Quick SMS Booking
Understanding the common man's plight of booking train tickets and improving the customer service, Indian Railways Catering and Tourism Corporation (IRCTC) have launched SMS-based ticketing service. This service will benefit to larger section of people who do not have access to Internet services and the ones who cannot purchase smart phones. This service is basically targeted for labour class, who do not have to spend a whole day forgoing their daily wage to book tickets to go back home and visit their families. Booking through SMS is more cost effective and convenient.  One need not have to spend time waiting in long queues or browsing internet for booking their favorite destination through railways.
Wider Reach and Access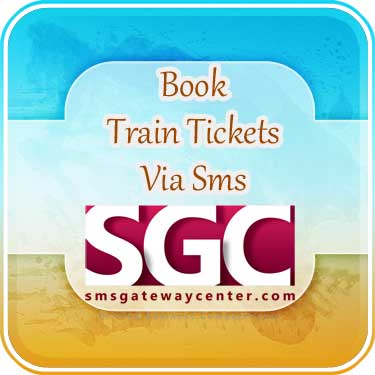 Since Internet access in India is only about 10 to 20 per cent, mobile phones have been more accessible and reachable remotely. More than 85 percent of India's population owns a mobile phone. Today, nine out of ten people posses a basic mobile handset. Considering the fact that there is increase in the mobile penetration over the decade, IRCTC has come a long way in helping masses at large. This new arrangement of booking tickets will help people at larger. This system is much or easier and convenient.
Another benefit of launching non-internet based mobile service is that it will reduce touting activities. In a way, this service will help Indian Railways to overcome the menace of touts who fleece unsuspecting people. The idea of launching the ticketing through a mobile phone would further enhance the scope of ticketing to Indian railways since it has huge potential to tap the power of mobile phones. This will further enhance to improve services with providing more payment options, user-friendly interface and other value added features like sending out alerts and updates on train services.
Procedure to book a train ticket via SMS
IRCTC has blocked two dedicated numbers – 139 and 5676714 – for the SMS service. One has to register the mobile number with IRCTC as well as one's bank. The bank provides MMID (Mobile Money Identifier) and OTP (one time password) for authorization of payment. The passenger has to type the train number, destination, journey date, class and passenger details like name, age and gender on the SMS box.
The sender will receive transaction ID and then make payment through sending another SMS by typing PAY followed by the transaction ID, MMID has received from the bank and password and with this the passenger's ticket is booked. The service is available to all mobile subscribers and Rs.3 is being charged per SMS and payment gateway charges are Rs.5 for ticket amount upto Rs.5,000 and Rs.10 for more than Rs.5,000.
Though payment through mobile phones is still in a developing stage, Commercial Banks, RBI and National Payment Corporation of India are working on providing a safe, secured and quick payment options through cell phones. In near future, this SMS based ticketing service will definitely over shadow mode of booking tickets via reservation counters or websites.
SmsGatewayCenter.com offers mobile sms solutions in India. Buy Sms at affordable rates only at SmsGatewayCenter
---
Save this interesting page on your favorite Social Media
---