Effective communication is of utmost importance for enterprises aiming to maintain their competitive edge. Bulk SMS has proven to be an omnipotent marketing tool, enabling enterprises to reach a wide intended audience straightaway. Nonetheless, the task of manually overseeing extensive bulk SMS campaigns can prove to be daunting, time-consuming, and prone to errors. This is where the magic of Bulk SMS Automation comes into play, revolutionizing the way enterprises connect with their consumers.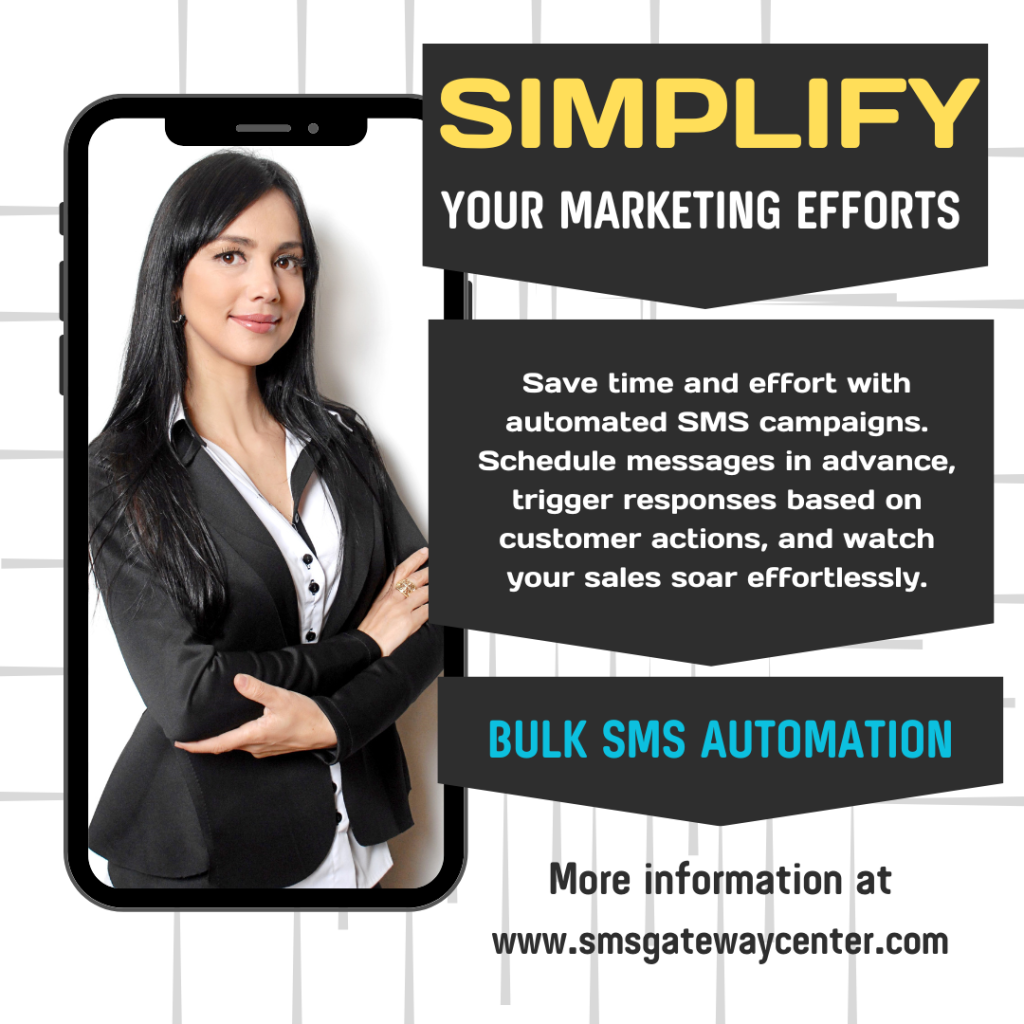 The Power of Bulk SMS Automation
Bulk SMS Automation is a game changer for marketers and businesses looking for increased efficiency, effectiveness, and engagement. This revolutionary strategy helps you to streamline your SMS marketing operations, saving you time, effort, and resources. Here's how Bulk SMS Automation can help you streamline your marketing efforts and improve results:
1. Schedule Messages in Advance
The ability to schedule messages in advance is one of the most important advantages of Bulk SMS Automation. Imagine being able to plan and execute your entire bulk SMS marketing campaign at once, even when you're not in front of your computer. You can strategically time your messages to reach your audience at the most opportune times with scheduling. This ensures that your SMS messages are sent when they're most likely to be read, increasing the impact of your SMS campaigns.
2. Triggered Responses
Automation takes your SMS campaigns to the next level by offering triggered responses based on consumer actions. Whether it's a welcome message for new subscribers, a personalized offer when a customer makes a purchase, or a follow-up message after an event, automation allows you to deliver relevant content precisely when your audience interacts with your business. This personalized touch furthers customer engagement, improves user experience, and can lead to increased consumer loyalty.
3. Effortless Sales Growth
Bulk SMS Automation eliminates the need for manual work in your marketing activities, allowing you to concentrate on other critical elements of your organization. You can maximize efficiency and dedicate more time to strategic planning, analysing results, and refining your SMS messaging by automating repetitive tasks. As a result, productivity has increased and there is the possibility for big revenue growth with minimal effort.
4. Targeted Campaigns
Reaching the right audience with the correct message is the key to effective marketing. Bulk SMS Automation allows you to segment your audience and send tailored messages based on demographics, location, purchase history, or subscriber activity. This level of precision ensures that your communications are received correctly, resulting in increased engagement and conversion rates.
5. Real-time Analytics
Understanding how your SMS campaigns are performing is critical for continual improvement. Bulk SMS Automation offers real-time analytics and reporting, allowing you to gain vital insights into the success of your messages. By tracking delivery rates, open rates, click-through rates, and other key metrics, you can refine your strategies, optimize your campaigns, and achieve better results over time.
6. Personalization at Scale
Personalization is a critical component of good marketing. You may tailor your messages on a wide scale with Bulk SMS Automation. Create personalized greetings with the recipient's name, previous purchase history, or personalised offers. These personalized touches make your clients feel cherished and increase the likelihood of involvement dramatically.
7. A/B Testing for Optimization
Bulk SMS Automation enables you to easily do A/B testing. To determine what resonates most with your audience, experiment with varied message content, sending timings, and call-to-action phrases. You may maximize the impact of your campaigns by regularly adjusting your approach depending on test results.
8. Enhanced Customer Engagement
SMS marketing that are automated can keep your audience engaged without requiring ongoing manual work. To collect feedback, send automated reminders, updates, or even interactive polls. This level of involvement aids in the development of better customer relationships and boosts brand loyalty.
Conclusion
Bulk SMS Automation is a game changer for enterprises that want to simplify their marketing operations while getting outstanding results. You can take your SMS marketing to the next level by scheduling messages in advance, prompting responses, effortlessly expanding sales, targeting campaigns, accessing real-time analytics, personalizing at scale, conducting A/B testing, and improving customer engagement. Accept the power of automation, optimize your operations, and watch as your engagement and revenues skyrocket.
At smsgatewaycenter.com, we're committed to providing you with the tools and knowledge you need to capitalize on the power of Bulk SMS Automation. Say goodbye to manual SMS campaigns and hello to a new era of effective, engaging, and efficient marketing. Begin automating, simplifying, and expanding!
---
Save this interesting page on your favorite Social Media
---