One of the most used advertising tool in India is Bulk SMS Message Marketing right from small companies to corporate companies. We have listed out few important features and benefits of Bulk SMS Message Marketing in India.
Bulk SMS Message Marketing Salient Features
Cost Effective (Cheaper than other marketing media).
Immediate (Instant Messaging).
Targeted (Focused clientele).
Permission Based (Opt-in based SMS Marketing).
Personal (Interact one to one possibility).
98% opening rates in 5 seconds (Most recipients read SMS within 5 minutes).
Easy Reach (Reaches your customers no matter where they are).
Environmental friendly (No natural resources used while advertising).
DISCOUNT
Encourage your customers to make purchase in stores by showing the code or discount coupon they received via SMS. Along with this you also let your customers know about your latest offers going on.
REMINDER / NOTIFICATION / ALERT
These services are now more and more demanded by the customers. Bank, Insurance companies, Schools, Colleges etc. use this services to help their customers keep track of important information by sending it straight to their mobile phone.
NEW PRODUCT LAUNCH
Tell the world about your new product launch via SMS. SMS is the fastest and cost effective marketing tool. Let the world know the best product you have launched and show them the best of your product.
PRESALE DISCOUNT
Reward your customers with exclusive discount to encourage them to repeat purchase. Offer better discounts on your upcoming products or services.
COMPETITION
Conduct competitions via SMS and use product giveaways to encourage sign-ups, and reward your loyal customers. Offer better services than your real competitors with better quality and standards.
INSTANT UPDATES
Around 64% customers believe that businesses should use SMS to interact more often with them.
75% state that SMS services improved their overall Brand experience.
Bulk SMS Message Marketing services have been greatly offered by SMS Gateway Center with affordable pricing. Visit https://www.smsgatewaycenter.com for more information.
Bulk SMS Message Marketing Infographic: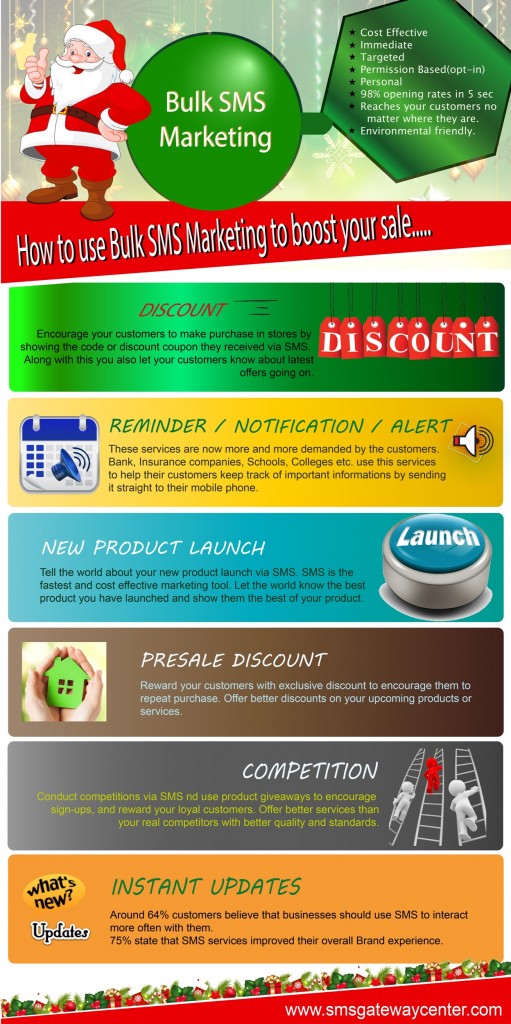 ---
Save this interesting page on your favorite Social Media
---