Reaching your audience successfully is crucial in the fast-paced commercial environment of today. While there is a place for modern communication methods like emails and SMS, there is something particularly captivating about the sound of a real voice. Bulk Voice Calls can be useful in this situation. This article discusses how SMSGatewayCenter may help you harness the power of bulk voice calls to revolutionize your marketing strategy.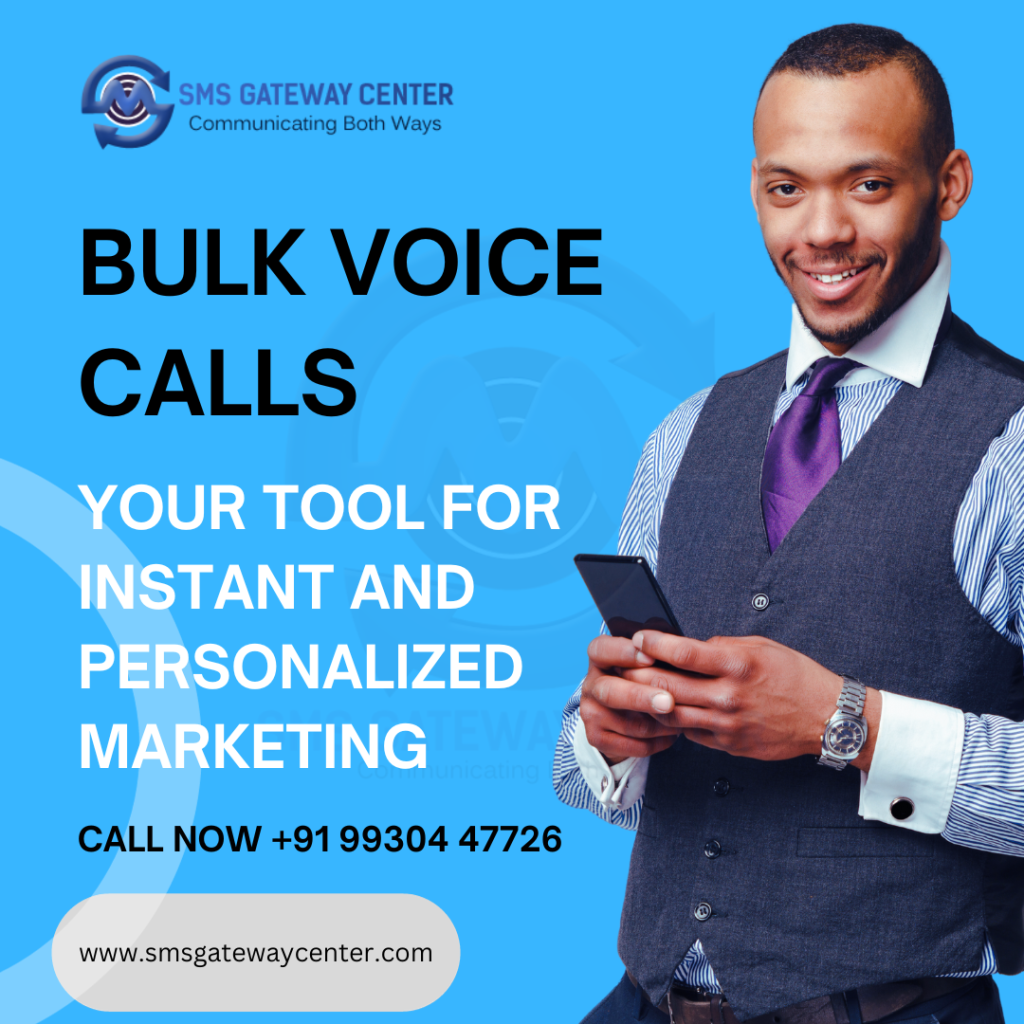 What are Bulk Voice Calls?
Bulk Voice Calls are pre-recorded voice messages that are sent to a large number of people at once. This marketing strategy is usually used by businesses to reach a large audience with a personal touch. The messages are usually short, direct, and designed to convey a particular marketing message or offer. The beauty of bulk voice calls is that they can be sent to both landlines and mobile phones, making them highly versatile and effective.
The Resonance of Voice
Voice is a powerful medium of communication. It carries emotion, tone, and nuance that text simply cannot replicate. When you hear a friendly voice on the other end of the line, it instantly connects you with the message. Bulk Voice Calls enable businesses to tap into this connection, delivering messages in a more personal and engaging manner.
Instant Reach to Thousands
Imagine delivering your marketing message to thousands of potential customers in a matter of minutes. Bulk Voice Calls make this possible. Whether it's a promotional offer, a product announcement, or a friendly reminder, your message can be broadcasted instantly to a large audience.
The Power of Personalized Marketing
Personalization has become a vital aspect of effective marketing. Consumers want to feel valued and recognized, and they are more likely to engage with a brand that offers personalized experiences. Bulk voice calls tap into this desire by providing a personal touch to a large-scale marketing campaign. The voice messages can be customized to address the recipient by name, making them feel individually acknowledged and valued. Furthermore, the voice tone and message can be tailored to reflect the brand's personality, creating a more memorable and impactful marketing experience.
Instant Marketing with Bulk Voice Calls
Timing is everything in marketing. The right message at the right time can make a significant difference in your marketing campaign's success. Bulk voice calls offer the advantage of instant marketing. Once the voice message is recorded and the target audience identified, the calls can be sent out immediately. This allows businesses to respond quickly to market changes, launch timely promotions, and engage customers in real-time. It's a marketing tool that keeps you one step ahead of the competition.
Why Bulk Voice Calls Work
Personal Touch: Voice calls add a personal touch to your marketing efforts. It's like having a one-on-one conversation with your audience.
Higher Engagement: Voice messages are more engaging than text. They capture attention and are less likely to be ignored.
Instant Delivery: Your message reaches recipients instantly, making it ideal for time-sensitive promotions.
SMSGatewayCenter: Your Partner in Voice Marketing
Now, you might be wondering how to integrate Bulk Voice Calls into your marketing strategy seamlessly. This is where SMSGatewayCenter comes in. Our platform empowers you to create, manage, and send Bulk Voice Calls efficiently.
Key Features of SMSGatewayCenter
Easy Campaign Management: Create and schedule Bulk Voice Call campaigns with ease through our user-friendly interface.
Audience Segmentation: Target specific customer segments based on their preferences and behaviors.
Real-Time Analytics: Monitor the performance of your Bulk Voice Call campaigns in real-time to make data-driven decisions.
Personalization: Craft personalized voice messages that resonate with each recipient.
Reliability: Rest assured that your Bulk Voice Calls will be delivered promptly and reliably.
Getting Started with Bulk Voice Calls
If you're ready to leverage the power of bulk voice calls for your marketing campaign, we're here to help. We offer a range of voice call packages tailored to meet different business needs. Join us in the journey to revolutionize your marketing strategy with bulk voice calls today!
Conclusion
In a world where personalized communication is the key to capturing your audience's attention, Bulk Voice Calls offer a compelling solution. They bring the power of the human voice to your marketing efforts, fostering a deeper connection with your customers. Trust SMSGatewayCenter to be your partner in leveraging the potential of Bulk Voice Calls for effective and personalized marketing.
Explore how SMSGatewayCenter can enhance your voice marketing strategy. Contact us today.
---
Save this interesting page on your favorite Social Media
---