In today's dynamic world of marketing, two powerful communication tools stand out: Bulk SMS Marketing and WhatsApp Business API. Both offer distinct advantages and considerations for effectively engaging with your audience. The choice between them depends on factors such as your audience's communication preferences, business type, and goals.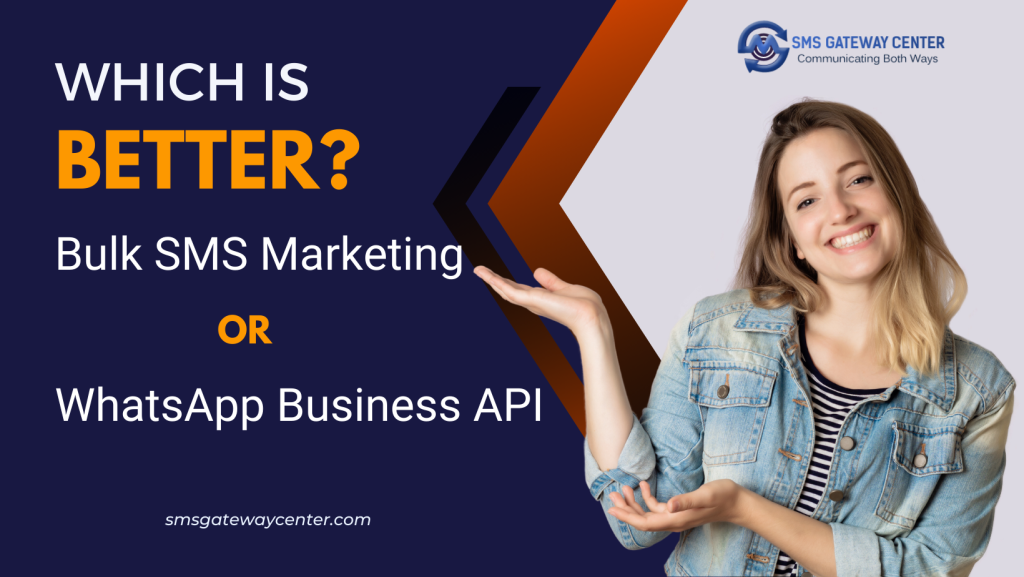 Pros and Cons: Bulk SMS Marketing vs. WhatsApp Business
Bulk SMS Marketing Pros:
Reach a Wider Audience: SMS can reach a broad audience, including those without smartphones or internet access.
High Open Rates: SMS messages boast impressive open and read rates, averaging around 98%.
User-Friendly: Sending SMS is straightforward and doesn't require special qualifications, apps, or prior experience.
Swift Delivery: SMS messages are delivered almost instantly, and reputable Bulk SMS Providers offer genuine delivery reports.
Cost-Effective: Bulk SMS is a cost-effective way to reach a large audience, providing high ROI.
Reliability: SMS messages are less likely to be filtered as spam, compared to emails.
Best For: Ideal for short, non-interactive messages like alerts, reminders, and promotions.
Bulk SMS Marketing Cons:
Limited Content: SMS messages have character limits, which can restrict conveying detailed information.
Non-Interactive: SMS is typically one-way communication, lacking the interactive features of WhatsApp.
No Rich Media: You can't share multimedia content like images and videos through SMS (though you can send links).
Limited Personalization: Options for personalization in SMS are more limited compared to WhatsApp.
No Message History: There's no message history, making it harder for users to reference past interactions.
Dependent on Phone Numbers: You need accurate phone numbers for SMS, which can be a challenge for marketing databases (especially considering DND numbers).
WhatsApp Business API Pros:
Rich Media and Interaction: WhatsApp allows sharing multimedia content, offering a superior way to showcase products.
Personalization: WhatsApp provides advanced personalization, addressing customers by name and offering tailored recommendations for improved brand visibility and customer interactions.
Customer Engagement: It enables more engaging and personalized customer interactions.
Security and Trust: WhatsApp offers end-to-end encryption to protect sensitive customer information, ensuring privacy and security.
Message History: Conversations are stored, aiding in customer support and references.
Business Profile: Businesses can create professional profiles with descriptions, contact information, location, and website links, enhancing credibility and accessibility.
WhatsApp Business API Cons:
Internet Access Required: WhatsApp relies on internet access and smartphones, excluding users without these resources.
App Download Required: Users must download the WhatsApp app, which can be an additional step for some customers.
Opt-In Requirement: Customers need to opt-in to receive messages, and they may hesitate to share their contact details.
Potential for Spam: Misuse may result in businesses appearing intrusive or spammy.
Automation Complexity: Setting up automation features, like chatbots, may require technical expertise.
Both Bulk SMS Marketing and WhatsApp Business API have their strengths and limitations. Many businesses opt for a combination of both, achieving the wide reach and reliability of Bulk SMS Marketing alongside the engagement and interactivity offered by WhatsApp Business. This approach caters to diverse communication preferences, maximizing customer engagement and marketing impact.
Choose SMSGatewayCenter for Your Communication Needs
At SMSGatewayCenter, we provide a comprehensive solution for all your business communication needs. Whether you aim to reach a wide audience via SMS or engage in interactive conversations on WhatsApp, we've got you covered. Our experienced support team is ready to assist you at every step. We offer guidance, technical support, and ensure your communication strategies are successful. Your business deserves the best, and we're here to provide it.
---
Save this interesting page on your favorite Social Media
---