WhatsApp Business API can be a powerful tool for e-commerce businesses to enhance customer engagement, provide real-time support, and drive sales. Here are some ways e-commerce businesses can effectively use WhatsApp Business API.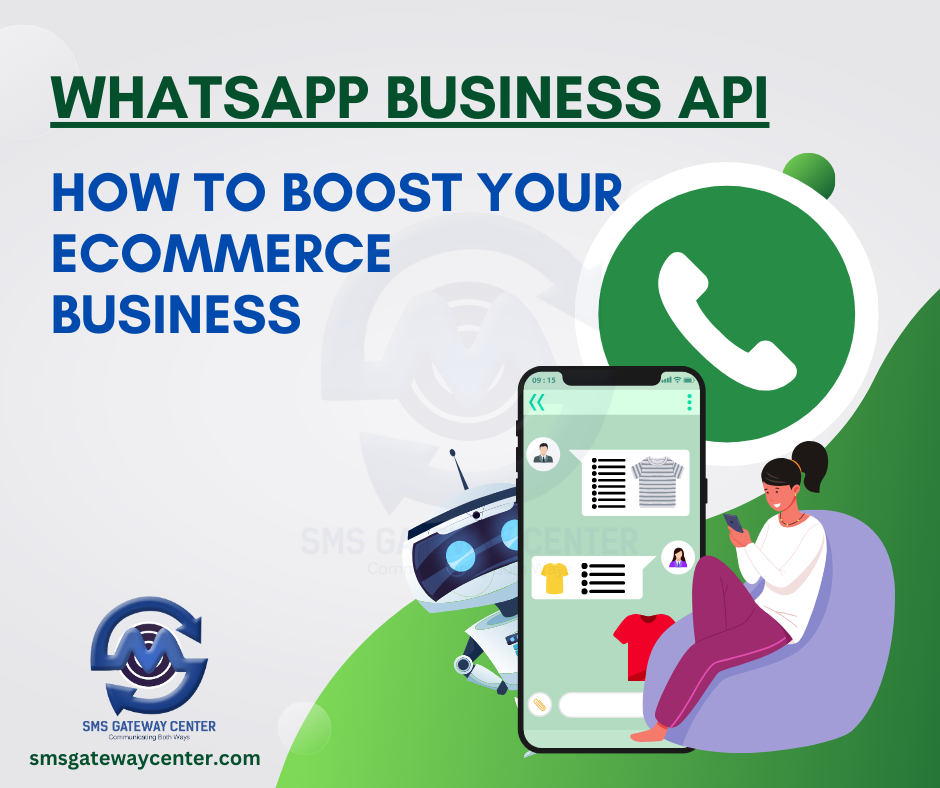 Product Catalogues: Create a product catalogue within WhatsApp Business API to showcase your products. This catalogue becomes a powerful sales tool incorporating product images, detail descriptions, prices, and direct links to purchase.
Benefit: This feature not only enriches the shopping experience for your customers but also streamlines the path from product discovery to purchase, potentially boosting your e-commerce sales.
Order Updates: With WhatsApp Business API, you can provide your customers with real-time order updates, enhancing their overall shopping experience. This includes sending order confirmations to acknowledge their purchase, shipping updates to keep them informed on the progress of their delivery, and delivery notifications to let them know when their order will arrive.
Benefit: This proactive approach to order management through WhatsApp not only instills confidence in your customers but also fosters trust and loyalty, ultimately driving repeat sales and positive customer relationships.
Customer Support: WhatsApp Business enables you to provide prompt and responsive customer support, allowing customers to seek information about products, sizes, return procedures, and more.
Benefit: This streamlined approach to customer inquiries via WhatsApp enhances the overall shopping experience, ensuring that customers receive the assistance they need, which can lead to increased satisfaction and trust in your e-commerce business.
Personalized Recommendations: Use customer data and browsing history to offer tailored product recommendations that enrich the shopping experience.
Benefit: This personalized approach not only helps customers discover products that align with their preferences but also enhances their overall satisfaction with your e-commerce store.
Abandoned Cart Recovery: Send timely reminders to customers about items left in their shopping cart, along with direct links to complete the purchase.
Benefit: This strategy reduces cart abandonment rates and encourages customers to finalize their transactions, ultimately boosting your e-commerce sales.
Exclusive Offers and Promotions: Share exclusive discounts, promotions, and flash sales with your WhatsApp subscribers to encourage repeat purchases.
Benefit: This approach rewards customer loyalty and keeps them engaged, ultimately driving increased sales and customer satisfaction.
Feedback and Reviews: Request customer feedback and reviews through WhatsApp, helping to build trust and improve your products and services.
Benefit: This proactive approach not only demonstrates your commitment to improvement but also provides valuable insights that can help refine your offerings and boost your e-commerce business's reputation.
Returns and Refunds: Provide guidance and support to customers for returns and refunds through WhatsApp, ensuring a hassle-free process.
Benefit: This customer-centric approach helps build trust and confidence in your e-commerce business, demonstrating your commitment to a positive shopping experience.
24/7 Availability: Provide around-the-clock customer service, ensuring that customers can reach out at their convenience.
Benefit: This commitment to accessibility reinforces a positive customer experience and demonstrates your dedication to meeting their needs anytime.
Live Chat: Use WhatsApp Business API for live chat support (Agents Chat for WhatsApp Business API), enabling real-time responses to customer inquiries.
Benefit: This approach ensures that customers receive immediate assistance, enhancing their experience and increasing the efficiency of your support services.
Integrate Chatbots: Enhance efficiency by implementing chatbots on WhatsApp Business to handle common customer queries.
Benefit: This will not only ensure instant responses but also frees up your support team's time to focus on more complex issues, ultimately improving the overall customer experience.
Multi-Language Support: Offer support in multiple languages to cater to a diverse customer base.
Benefit: This inclusive approach ensures that customers from various linguistic backgrounds can easily access and understand your services, enabling a wider range of customers to engage with your e-commerce business.
Order Tracking: Allow customers to track their orders by sending them tracking links and real- time updates.
Benefit: This transparent and convenient approach enhances the customer experience and builds trust in your e-commerce service.
Secure Payments: Explore options for integrating secure payment methods within WhatsApp, enabling customers to make purchases directly.
Benefit: This seamless and secure payment option simplifies the buying process, potentially increasing sales and enhancing the overall customer experience.
Customer Engagement Campaigns: Send out newsletters, updates, and engaging content to keep customers informed and interested in your brand.
Benefit: This approach not only maintains their interest but also helps you stay top-of-mind, fostering a stronger customer relationship and potentially driving more sales.
Customer Segmentation: Segment your customer list to send tailored messages to different groups based on their preferences and purchase history.
Benefit: This targeted approach enhances the relevance of your communication, leading to increased customer engagement and, potentially, higher sales and brand loyalty.
Privacy and Data Security: Strengthen customer trust by placing a strong emphasis on data security and customer privacy.
Benefit: Demonstrating your commitment to safeguarding customer information not only builds trust but also assures customers that their data is handled responsibly, reinforcing your reputation and credibility as an e-commerce business.
Educational Content: Share how-to guides, product tutorials, and informative content to assist customers in making informed purchasing decisions.
Benefit: This educational approach not only empowers your customers but also positions your e-commerce business as a valuable resource, ultimately contributing to customer loyalty and satisfaction.
WhatsApp Business API for e-commerce is a valuable channel for engaging with customers, driving sales, and offering convenient support. Ensure that you follow WhatsApp's policies and best practices to provide a positive and secure experience for your customers.
As your trusted WhatsApp Business API provider, SMS Gateway Center is dedicated to empowering your business with seamless and effective communication solutions. Our commitment to reliability and technical expertise ensures that you can engage with your customers without interruption. We understand the importance of budget optimization for e-commerce businesses, and our cost-efficient offerings are designed to help you achieve just that. Moreover, our scalable services and responsive customer support stand ready to accommodate your business's growth and swiftly address any inquiries or issues.
By choosing SMS Gateway Center, you're choosing a partner committed to enhancing your e-commerce operations and delivering value to your customers.
---
Save this interesting page on your favorite Social Media
---