The mobile gadget has evolved into an extension of ourselves in today's digital society. Mobile phones have knitted themselves into the fabric of modern life, from communication to entertainment, shopping to socializing. As a savvy marketer, you must tap into this mobile magic and harness the potential of a mobile-first strategy for your bulk SMS marketing. SMSGatewayCenter is here to help you navigate the complexities of mobile marketing and demonstrate how to increase your ROI with mobile-optimized SMS campaigns.
Discover how a mobile-first SMS marketing approach can boost consumer engagement, increase ROI, and unleash the power of quick results. SMSGatewayCenter unlocks the power of mobile optimization.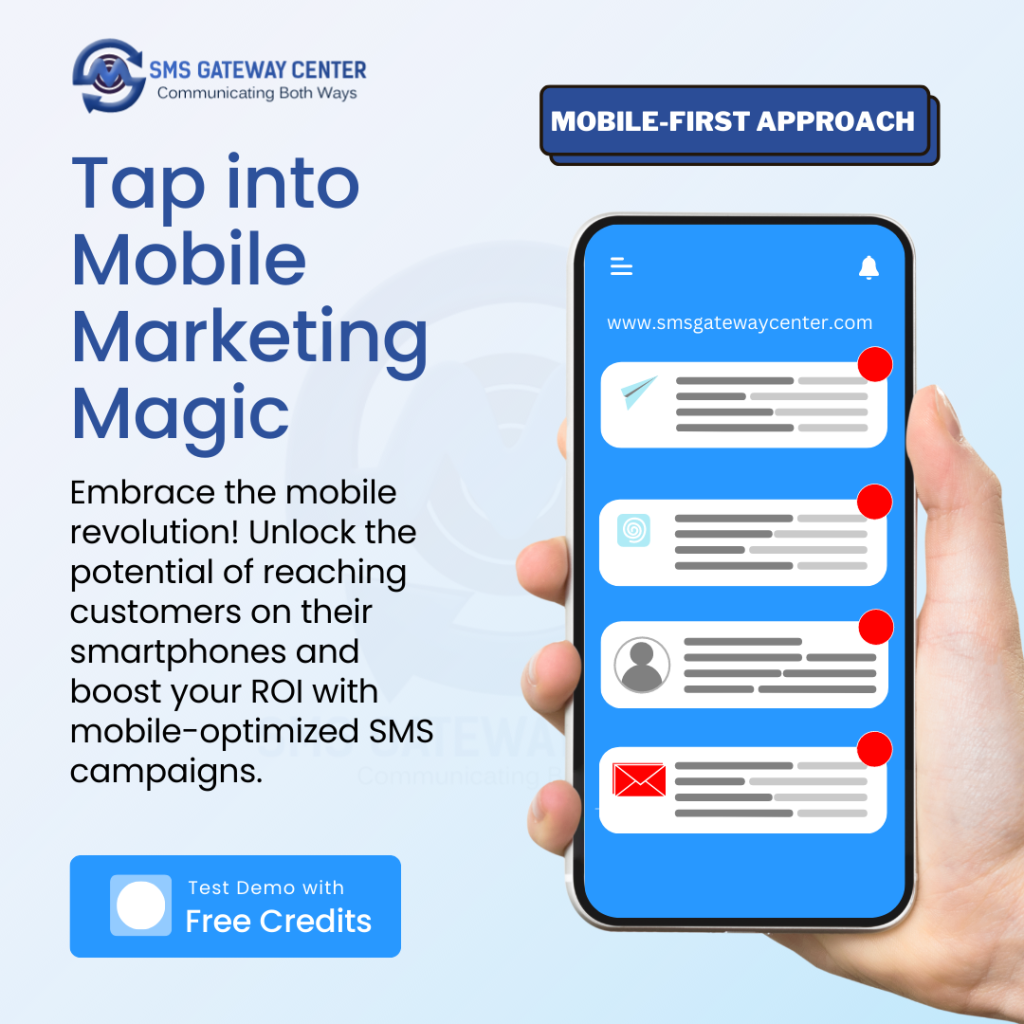 The Mobile Revolution
The proliferation of cellphones has altered our interactions with the world around us. With the majority of consumers owning mobile devices, there has never been a better time to reach your target audience. Let's look at some of the reasons why a mobile-first strategy is your passport to marketing success:
Unparalleled Reach
Mobile phones have become inseparable friends, giving them a great medium for connecting with your target demographic. SMS campaigns provide you with a direct channel to your clients, ensuring that your messages are seen and engaged with as soon as possible. By capitalizing on the mobile revolution, you may reach new heights.
Instant Engagement
The mobile-first strategy takes advantage of cellphones' inherent immediacy. SMS messages are opened in seconds, allowing you to interact with clients in real time. Deliver time-sensitive offers, announcements, and promotions that grab attention and prompt immediate engagement.
Enhanced Customer Experience
Mobile-optimized SMS campaigns provide recipients with a seamless and user-friendly experience. You deliver valuable information to your readers without overloading them with clear and compelling communications. This user-centric approach boosts consumer satisfaction and encourages pleasant relationships.
Increased ROI
The mobile-first strategy promises higher returns on investment. SMS campaigns targeted for mobile devices allow you to reach a receptive and engaged audience. SMS's tailored character, paired with its timeliness, increases conversions and income.
Interactive Possibilities
Interactive features such as clickable links, buttons, and surveys are available on modern SMS platforms. This allows you to design dynamic and compelling campaigns that urge recipients to act straight from their mobile devices. The interactive component deepens your dialogue and encourages greater participation.
Why Choose a Mobile-First Strategy
SMSGatewayCenter recognizes the importance of a mobile-first strategy. Our platform is designed to provide you all the tools and functionality you need to create effective mobile-optimized SMS campaigns. We ensure that your communications are not only viewed but also acted upon, with customizable templates and real-time reporting.
Conclusion
The mobile revolution has transformed the marketing landscape, and a mobile-first strategy is no longer an option; it is a requirement. You can reach clients where they are most engaged: on their smartphones, if you embrace mobile marketing magic. Use SMS advertising designed for mobile devices to gain instant engagement, better customer experiences, and higher ROI. We are your partners in navigating this revolutionary journey at SMSGatewayCenter. Elevate your marketing plan with a mobile-first mindset and watch the beauty of mobile marketing unravel in front of your eyes.
Ready to embark on a mobile-first journey? Connect with SMSGatewayCenter today and experience the power of mobile-optimized SMS campaigns that drive results.
---
Save this interesting page on your favorite Social Media
---