Capitalize on the Power of Flash Sales Alerts through SMSGatewayCenter
Flash sales have become a cornerstone of modern marketing strategies, leveraging the innate human inclination for urgency and exclusivity. These high-impact sales events offer customers limited-time deals that spark immediate action, resulting in rapid sales spikes for businesses. In this dynamic landscape, leveraging the potential of flash sales becomes paramount, and with SMSGatewayCenter's cutting-edge solutions, you can seamlessly harness this strategy for your business's success.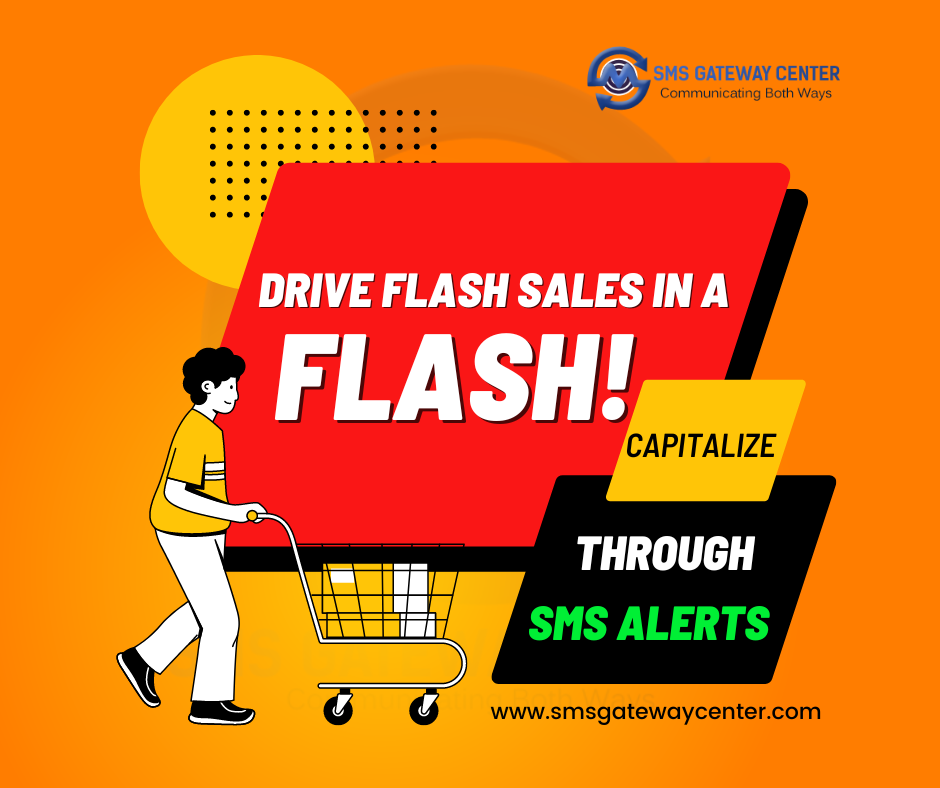 Creating Urgency with Flash Sales: A Winning Formula
The concept of flash sales is simple yet immensely effective: offer significant discounts or promotions for a short window of time. This scarcity-driven approach compels customers to make quick purchasing decisions, knowing that the opportunity will disappear swiftly. This urgency taps into the psychology of FOMO (Fear of Missing Out), driving conversions and enhancing brand engagement.
The Role of SMS Alerts in Flash Sales
One of the most potent tools for executing flash sales is SMS marketing. SMS alerts have a unique advantage in delivering time-sensitive offers directly to customers' mobile devices, ensuring instant visibility. With the prevalence of smartphones, SMS alerts enable businesses to connect with customers wherever they are, creating an unmatched avenue for immediate action.
Why Choose SMSGatewayCenter for Your Flash Sales Strategy?
SMSGatewayCenter, a pioneer in SMS marketing solutions, empowers businesses to orchestrate successful flash sales campaigns with ease. By seamlessly integrating SMS alerts into your marketing strategy, you can reap a multitude of benefits:
Instant Reach: SMS alerts reach customers instantly, ensuring your flash sale message is seen promptly.
High Open Rates: SMS boasts remarkably high open rates, ensuring your flash sale message doesn't get lost in the clutter.
Quick Conversions: The sense of urgency in flash sales prompts rapid conversions, driving immediate revenue.
Personalized Engagement: Utilize SMS to send personalized flash sale alerts, enhancing customer engagement and loyalty.
Ease of Execution: SMSGatewayCenter's user-friendly platform allows you to effortlessly schedule and send flash sale alerts.
Real-Time Tracking: Monitor the success of your flash sale in real time, allowing for strategic adjustments if needed.
Unlock the Potential of Flash Sales with SMSGatewayCenter
As a forward-thinking business, embracing flash sales as part of your marketing strategy can yield remarkable results. SMSGatewayCenter equips you with the tools and expertise to implement effective flash sales campaigns seamlessly. With our platform, you can create, schedule, and deliver compelling flash sale alerts directly to your customers' mobile devices, ensuring you stay at the forefront of their minds.
In the competitive landscape of today's business world, staying ahead requires innovation and utilizing strategies that resonate with your target audience. Flash sales, delivered through SMS alerts with the help of SMSGatewayCenter, exemplify this approach, enabling you to drive rapid sales spikes while nurturing customer engagement and loyalty.
Don't Miss Out on the Power of Flash Sales – Join SMSGatewayCenter Today!
---
Save this interesting page on your favorite Social Media
---