In today's fast-paced world, maintaining good health and well-being is a top priority for many. People are increasingly turning to their mobile devices for quick and accessible solutions to support their health goals. In this article, we'll explore how businesses can connect with health-conscious customers by delivering valuable health and wellness tips via SMS. Additionally, we'll show you how SMSGatewayCenter can simplify the process, making it easier than ever to engage and empower your audience on their wellness journey.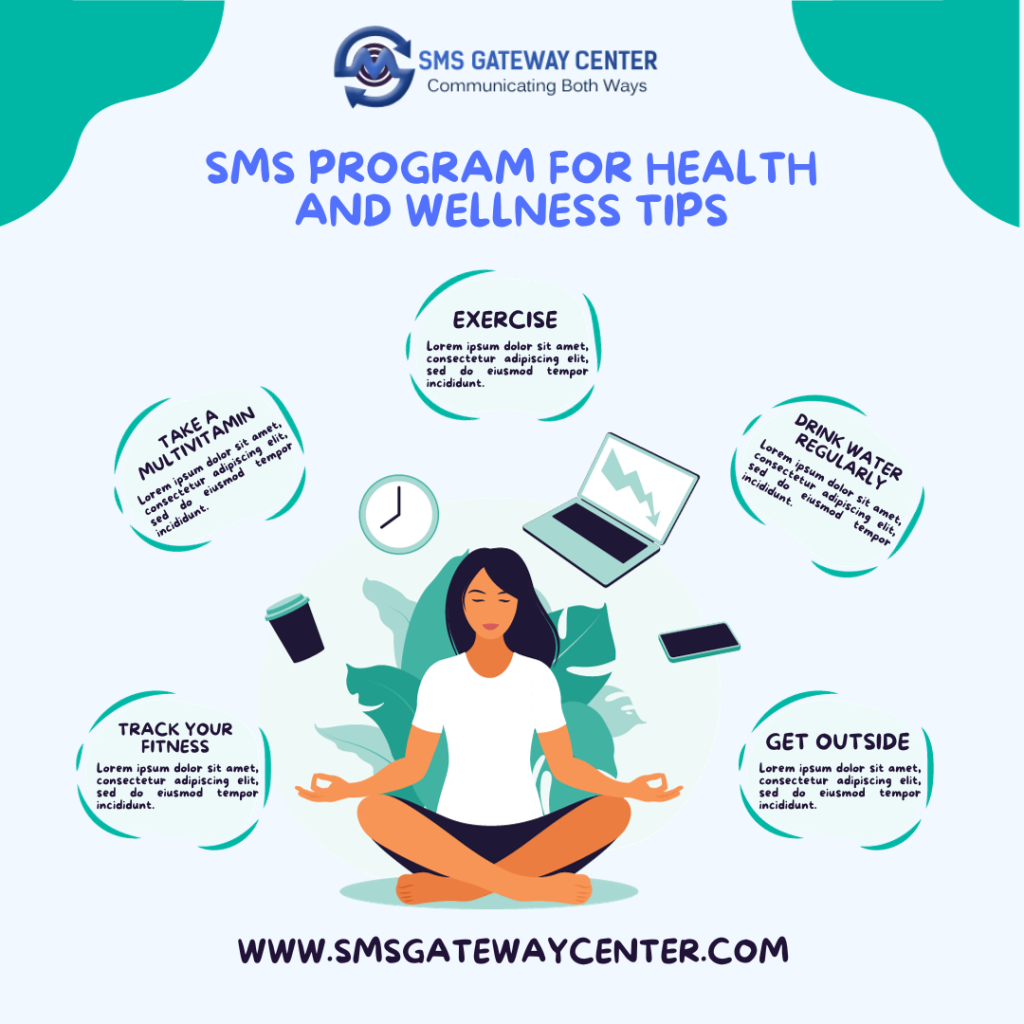 The Power of SMS for Wellness:
Convenient and Accessible: Wellness tips sent directly to customers' phones are just a text message away. This convenience encourages regular engagement.
Personalized Support: SMS allows for personalized wellness tips tailored to individual preferences and needs.
Immediate Impact: SMS is an immediate channel. Your wellness tips can be read and acted upon promptly, promoting healthy habits.
SMSGatewayCenter: Your Wellness Partner
SMSGatewayCenter offers a range of features to enhance your wellness tip delivery:
Customizable Content: Tailor your wellness tips to align with your brand and your audience's interests.
Scheduling: Plan ahead and send wellness tips at optimal times for maximum impact.
Audience Segmentation: Target specific customer segments with wellness tips that resonate with their goals.
Feedback and Analytics: Gather insights on which wellness tips are most effective and adjust your strategy accordingly.
Delivering Value to Your Audience:
Wellness tips via SMS can cover a wide range of topics, including nutrition, fitness, mental health, and more. Here are some engaging wellness tip ideas to consider:
Nutrition: "Did you know? Eating a variety of colorful fruits and veggies provides a wide range of essential nutrients. Taste the rainbow for better health!"
Exercise: "Take a 10-minute walk after meals. It aids digestion, boosts metabolism, and adds up to 30 minutes of exercise daily!"
Stress Management: "Practice deep breathing. Inhale for 4 counts, hold for 4, exhale for 4. Repeat. Instant stress relief!"
Sleep: "Quality sleep is key to wellness. Create a bedtime routine for better sleep. Dim the lights, put away screens, and relax."
Mental Health: "Mindfulness tip: Take 5 minutes to focus on your breath. It helps reduce stress and improve concentration."
Holistic Wellness: Encourage a holistic approach to wellness by sharing tips that encompass physical, mental, and emotional well-being. For example, "Remember to stay hydrated today. Drinking enough water not only keeps you physically healthy but also improves mood and cognitive function."
Healthy Recipes: Share occasional healthy recipes that align with your audience's wellness goals. For instance, "Try this easy and nutritious recipe: Quinoa salad with colorful veggies and a zesty lemon dressing. Your body will thank you!"
Wellness Challenges: Create short wellness challenges and invite your audience to participate. These challenges can focus on steps, meditation minutes, or even a week of mindful eating.
Expert Advice: Occasionally, feature wellness tips from experts in various fields such as nutritionists, fitness trainers, or mental health professionals. Their insights can add credibility and value to your SMS wellness program.
Wellness Facts: Share interesting wellness facts to pique curiosity. For example, "Did you know that laughter triggers the release of endorphins, the body's natural feel-good chemicals? Laugh your way to wellness!"
Mindful Product Recommendations: If your business offers wellness products, consider recommending them sparingly within your wellness tips. Ensure that the recommendations are relevant and genuinely beneficial to your audience.
Community Support: Encourage your audience to join wellness-focused communities or forums. These platforms can provide additional support and motivation on their wellness journeys.
Goal Setting: Periodically, remind your audience about the importance of setting achievable wellness goals. Encourage them to write down their goals and track their progress.
Celebrating Milestones: Celebrate milestones with your audience. For example, congratulate them on completing a wellness challenge or sticking to their wellness goals for a month.
Wellness Quotes: Share inspirational quotes related to wellness and self-care. Quotes can be a great way to boost motivation and positivity.
Wellness Events: If your business hosts wellness-related events or webinars, promote them through SMS. Invite your audience to join and learn more about specific wellness topics.
By incorporating these points, you can enrich your wellness SMS program and provide even more value to your audience. This approach will help you establish your brand as a trusted source of wellness information and support.
Conclusion:
In the quest for better health and wellness, SMS has emerged as a valuable tool. By delivering wellness tips directly to your audience's phones, you can be a trusted partner in their wellness journey. SMSGatewayCenter simplifies this process, allowing you to engage your audience with personalized, timely, and valuable wellness tips via SMS.
Join us at SMSGatewayCenter and start delivering wellness tips that empower your customers to lead healthier lives. Together, we can make wellness a daily priority.
Learn more about our SMS solutions and how they can transform your wellness engagement strategy. Contact us today.
---
Save this interesting page on your favorite Social Media
---