The world of ecommerce is always changing, but there are some constants out there that you need to know about. One such change has been the integration of SMS into a company's ecommerce platform. SMS integration is a great way for retailers to improve the customer experience by providing more personalized interactions and accurate product information.
Imagine being able to get a customer's text message and respond immediately with a personalized, relevant message. Impress your customers with messages that are tailored to their needs and not just a one-size-fits-all offer! This article will explore the basics of how it works and how you can use it to improve your conversion rates.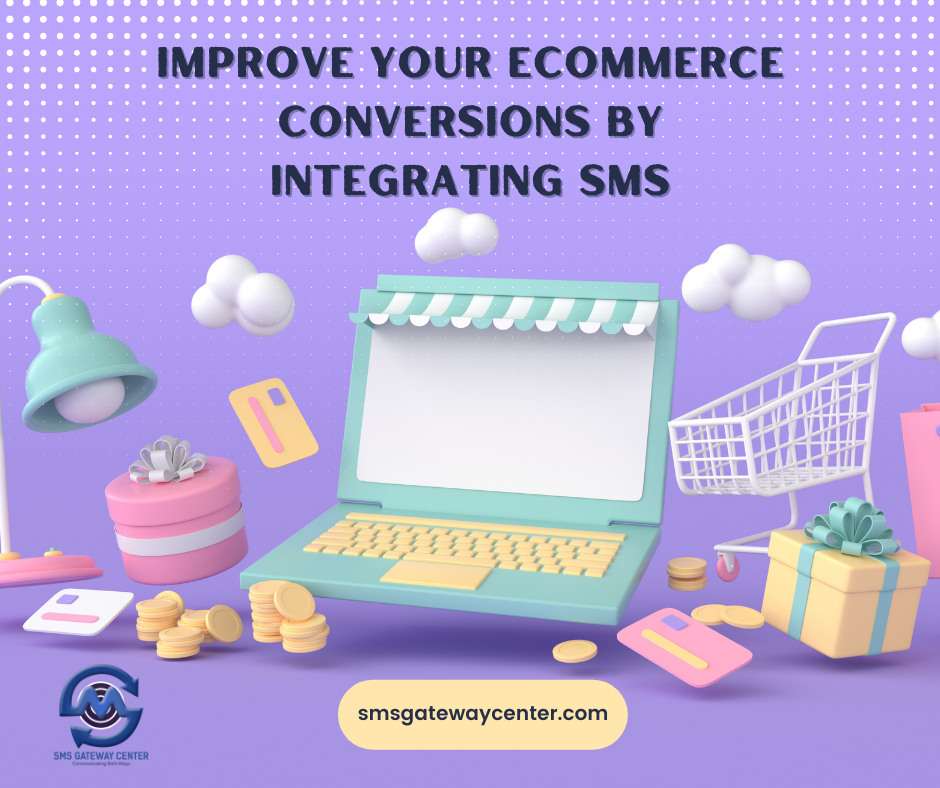 Why Should We Integrate SMS?
SMS messaging is one of the most popular and convenient ways to communicate. It's also an effective way to reach out to customers and promote your business.
Here are some reasons why you should consider integrating SMS into your ecommerce business:
SMS is Personal.
When you send an SMS message, it's like you're sending a personal message to your customer. This can help create a sense of connection and loyalty between you and your customer base.
SMS is Immediate.
Text messages are typically read within minutes of being received. This makes SMS an ideal tool for providing timely updates and special offers to your customers.
SMS is Versatile.
You can use SMS for a variety of purposes, such as sending order confirmation messages, shipping updates, or coupon codes. You can also use it to collect customer feedback or conduct surveys.
SMS is Affordable.
Compared to other marketing channels, SMS is relatively inexpensive. This makes it a great option for small businesses or businesses on a tight budget.
SMS is Easy to Set up and use.
There are many software platforms that make it easy.
What does Integrating SMS Mean for Us?
If you're like most ecommerce businesses, you're always looking for ways to improve your conversions. And one way you can do that is by integrating SMS into your ecommerce strategy. But what does that mean, exactly?
Basically, integrating SMS means using text messages to reach out to your customers and prospects at various points in their customer journey. For example, you could use SMS to:
Send abandoned cart reminders
Offer customer support
Send promotional offers
Conduct surveys
Integrating SMS can be a great way to boost your conversions and sales. But it's important to do it right. Here are a few tips:
Keep your messages short and to the point. No one wants to read a novel on their phone.
Make sure your messages are relevant and targeted. No one likes spam.
Give customers an easy way to opt out. No one wants to be forced into receiving texts from you.
If you follow these tips, you'll be well on your way to success with SMS marketing.
How can I Start Integrating SMS into My Ecommerce Business?
SMS, or short message service, is a powerful way to reach out to your customers and improve conversions. Here are a few ways to get started:
Use an SMS Gateway: An SMS Gateway allows you to send and receive SMS messages from your computer or phone. This makes it easy to keep track of customer interactions and follow up with them in a timely manner.
Offer Customer Support: Customers appreciate businesses that offer excellent customer support. By offering support via SMS, you can quickly resolve customer issues and build loyalty.
Send Appointment Reminders: Appointment reminders are a great way to improve customer satisfaction and reduce no-shows. You can use SMS to remind customers of upcoming appointments, or even send automatic reminders if they forget to confirm their appointment.
Run Promotions: Running promotions and discounts via SMS is a great way to increase sales and encourage customers to try new products or services. Just be sure to keep your promotional messages relevant and targeted, so you don't end up annoying your customers.
Get Feedback: Feedback is essential for any business, but it can be hard to get people to take the time to fill out surveys or leave reviews. Sending a reminder to your customers would help you to gain their confidence and trust your ecommerce platform.
What is SMS Gateway Center?
SMS Gateway Center is an SMS marketing platform that helps ecommerce businesses improve their conversions. By integrating TextWin with your ecommerce store, you can send automated SMS messages to your customers.
SMS Gateway Center helps you increase sales by sending targeted SMS messages to your customers. For example, you can send a message to customers who abandon their shopping carts, or you can send a message to customers who haven't purchased anything in a while.
TextWin also allows you to send SMS messages to your entire customer base at once. This is a great way to announce new products, sales, or promotions.
Overall, SMS Gateway Center is a powerful SMS marketing tool that can help you increase sales and conversions. If you're not already using SMS marketing, SMS Gateway Center is a great platform to get started with.
Case Study: Fitness Guru
SMS Marketing Case Study
How Fitness Guru Increased Ecommerce Conversions by 27% with SMS Marketing.
The Challenge:
Fitness Guru is an online retailer that specializes in fitness equipment and accessories. The company was looking for a way to increase ecommerce conversions and sales.
The Solution:
Fitness Guru decided to use SMS marketing to reach and engage their target audience. They used SMS to send discounts and promotions to their customers. The results were impressive, with ecommerce conversions increasing by 27%.
The Takeaway:
SMS marketing is a powerful tool that can help businesses increase ecommerce sales. If you're looking for a way to boost your online sales, consider using SMS marketing.
Conclusion
SMS can be a powerful tool for driving conversions on your ecommerce site. By integrating SMS into your ecommerce strategy, you can reach more customers, provide them with a better customer experience, and ultimately increase your sales. If you're looking for ways to improve your ecommerce conversions, give SMS Gateway Center a try.
---
Save this interesting page on your favorite Social Media
---