In today's dynamic business landscape, staying connected with your audience is more crucial than ever. One of the most effective ways to do this is by leveraging the power of SMS marketing. But let's dive deeper. Imagine combining the personal touch of seasonal greetings with exclusive offers that make your customers feel truly special. That's precisely what we're exploring in this article—how Seasonal SMS Greetings can be a game-changer for your marketing strategy.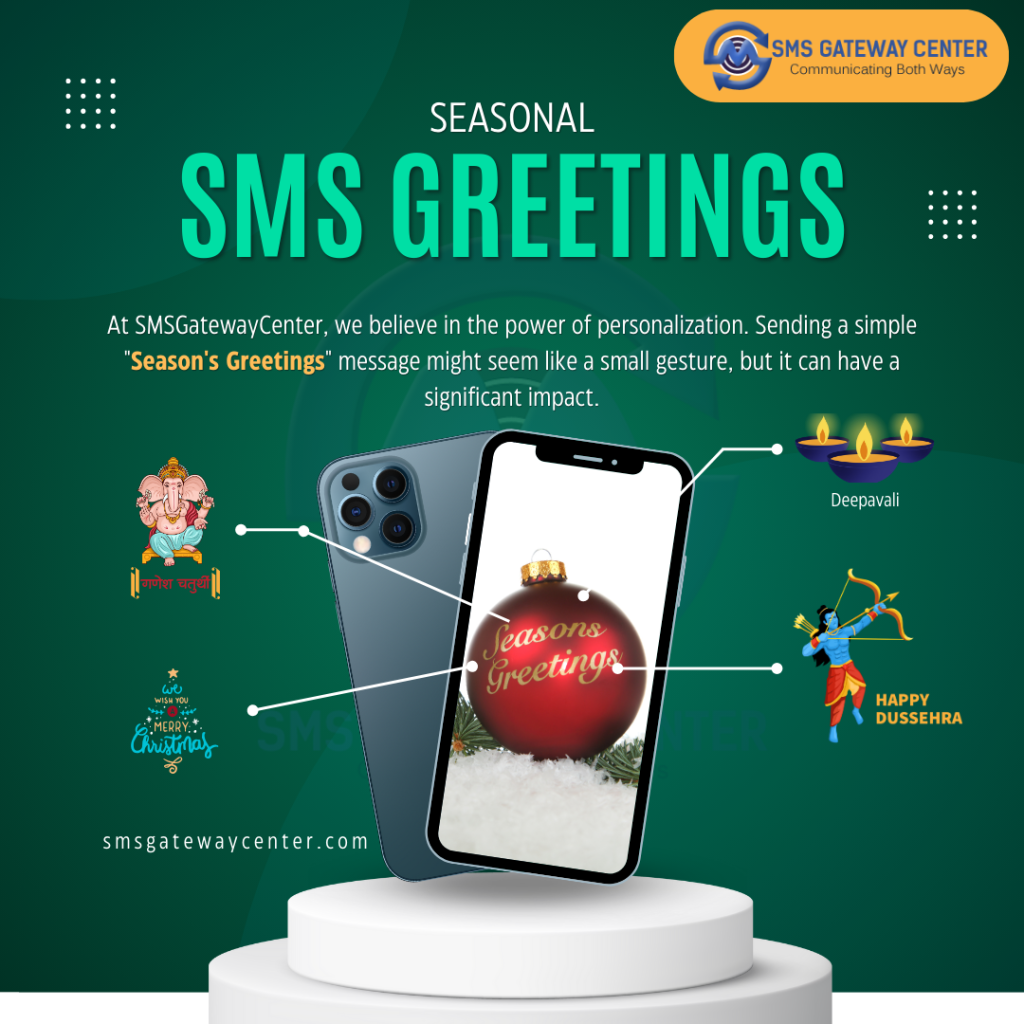 The Essence of Seasonal SMS Greetings
At SMSGatewayCenter, we believe in the power of personalization. Sending a simple "Season's Greetings" message might seem like a small gesture, but it can have a significant impact. It's a way of saying, "We value you, and we want to celebrate this special time with you."
Creating a Connection
In an age when digital interactions often lack that personal touch, Seasonal SMS Greetings offer a unique opportunity to connect with your audience on a more emotional level. Whether it's Ganesh Chaturthi, Dussehra, Diwali, Christmas, New Year, Thanksgiving, or any other occasion, sending a heartfelt greeting shows your customers that you care about them as individuals, not just as buyers.
The Element of Surprise
Now, here comes the exciting part—the exclusive offers. These aren't your run-of-the-mill discounts. These are special deals, tailor-made for the season. It's the element of surprise that makes it so effective. Imagine receiving a warm holiday greeting from your favorite brand, only to find out that they're offering you an exclusive discount or a freebie. It's delightful, and it creates a lasting memory.
Boosting Customer Loyalty
Building customer loyalty is an ongoing process. Seasonal SMS Greetings contribute to this by strengthening the bond between your brand and your customers. When you make your customers feel valued during the holiday season, they're more likely to remain loyal throughout the year. It's about creating a positive association between your brand and the joyous moments in their lives.
Enhancing Brand Image
Your brand image matters. When you send out thoughtful, well-timed Seasonal SMS Greetings, it reflects positively on your brand. You're not just another company trying to make a sale; you're a brand that genuinely cares about its customers. This can go a long way in building a positive reputation and fostering trust.
The Practical Side
From a practical standpoint, implementing Seasonal SMS Greetings is easy and cost-effective. With the right SMS marketing platform, you can schedule these greetings well in advance, ensuring they reach your customers precisely when you want them to. It's a simple yet powerful way to stay engaged with your audience.
Timing is Everything
Discuss the importance of sending these greetings at the right moment. For instance, sending Christmas greetings too early might not have the same impact as sending them a week before the holiday.
Crafting the Perfect Seasonal Message
Offer tips on how to write engaging and heartfelt seasonal messages. Provide examples and advice on striking the right balance between festive cheer and promotional content.
Creative Promotion Ideas
Explore creative ways to combine seasonal greetings with promotions. For instance, you can run a "12 Days of Christmas" campaign with different deals each day leading up to the holiday.
Mobile Coupons and Exclusive Deals
Dive deeper into the kinds of exclusive offers you can include, such as mobile coupons, limited-time discounts, and BOGO (Buy One, Get One) deals.
Measuring Success
Explain how to track the success of your Seasonal SMS Greetings. Discuss key performance indicators (KPIs) like open rates, click-through rates, and conversion rates.
Beyond Holidays
Highlight the potential of Seasonal SMS Greetings for other occasions, like birthdays, anniversaries, or even lesser-known holidays related to your industry.
Integrating SMS with Other Channels
Discuss how Seasonal SMS Greetings can complement your overall marketing strategy by integrating with other channels like email marketing or social media.
Customer Stories
Share real-life examples of businesses that have successfully used Seasonal SMS Greetings to boost customer engagement and sales.
Regulatory Compliance
Touch on the importance of adhering to SMS marketing regulations and obtaining proper consent from customers to receive promotional messages.
Personalization at Scale
Explain how businesses can use automation and data analysis to personalize Seasonal SMS Greetings for a large customer base without sacrificing the personal touch.
The Psychology of Gifting
Delve into the psychology behind giving and receiving gifts and how your Seasonal SMS Greetings can tap into these emotions.
Preparing for Seasonal Surges
Offer tips on how businesses can prepare their customer support and logistics for an increase in sales and inquiries during holiday seasons.
Conclusion
In conclusion, Seasonal SMS Greetings are more than just holiday wishes; they're a strategic tool for enhancing customer relationships, boosting loyalty, and ultimately driving sales. In a world where personalization and connection matter, don't miss out on the opportunity to show your customers that you care. Join us at SMSGatewayCenter in celebrating the magic of Seasonal SMS Greetings via Bulk SMS, and watch your customer relationships flourish.
---
Save this interesting page on your favorite Social Media
---