Learn about the benefits of SMSGatewayCenter's SMS customer support service. On-the-go assistance that is quick and efficient. You can reach us at any time, from anywhere, for assistance.
In today's fast-paced digital landscape, customer support is no longer confined to traditional phone lines and email. Instead, it has evolved to become more accessible and efficient, and one of the prominent channels that have emerged in this evolution is SMS customer support. In this article, we'll delve into how SMSGatewayCenter's SMS support service empowers you to connect with us effortlessly, whenever and wherever you need assistance.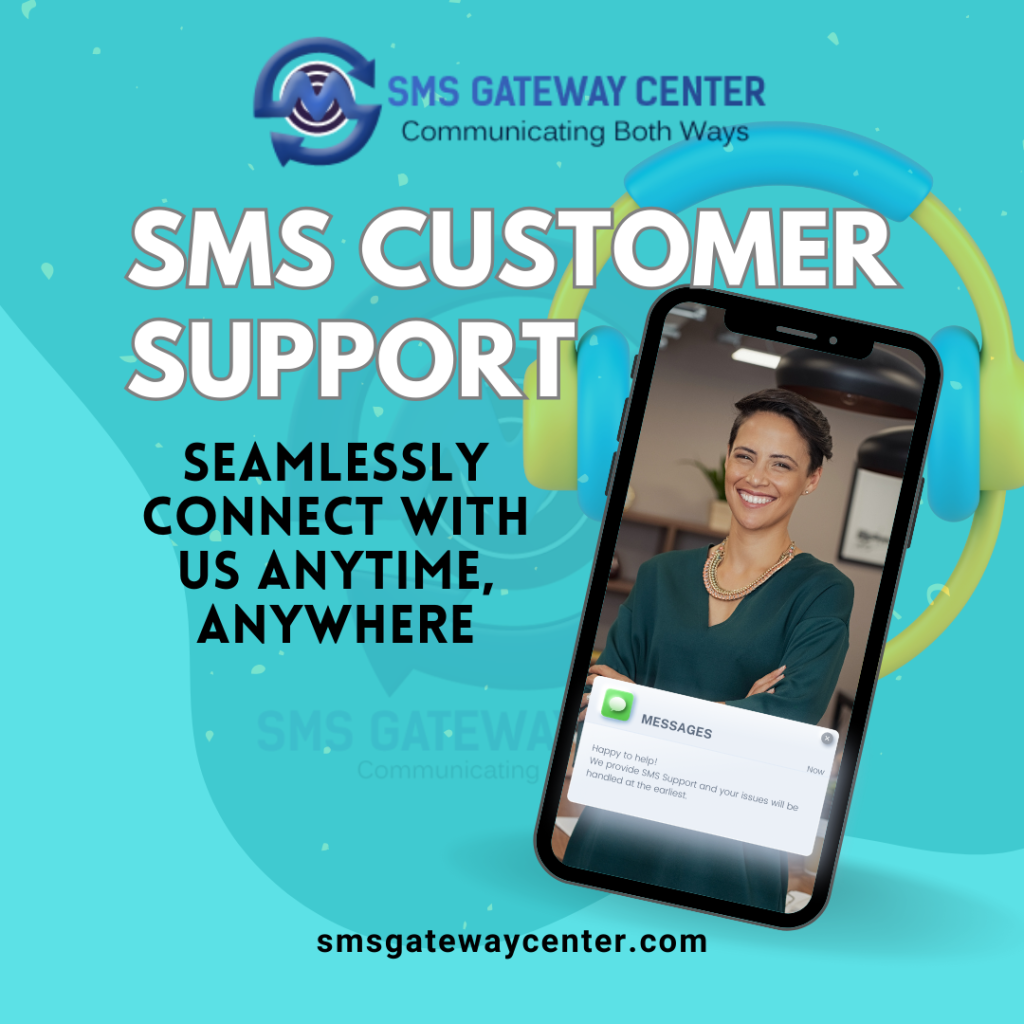 The Rise of SMS Customer Support
As technology advances, customer expectations for swift and convenient support have also evolved. Gone are the days when customers were willing to endure long wait times on phone calls or sift through cluttered email inboxes. Instead, they crave immediate, on-the-go solutions that match their busy lifestyles. This shift in customer behavior has led to the rise of SMS customer support, and SMSGatewayCenter has been at the forefront of this transformation.
Quick and Efficient Assistance
At SMSGatewayCenter, we understand the importance of providing timely and effective support to our customers. That's why we've embraced SMS as a support channel. SMS customer support allows us to offer you quick and efficient assistance without the hassle of waiting on hold or dealing with email backlogs.
How It Works
Getting support through SMS with SMSGatewayCenter is a breeze. Here's a step-by-step breakdown of how it works:
Reach Out: Whenever you encounter an issue, have a question, or need assistance, simply send us an SMS. You can do this from your mobile device, making it incredibly convenient.
Immediate Response: Once we receive your message, our dedicated support team swings into action. We prioritize your query and provide you with a prompt response.
Clear Communication: Through SMS, we ensure clear and concise communication. You'll receive the information you need without any unnecessary back-and-forth.
Convenience: SMS support offers unparalleled convenience. You can reach us from anywhere, at any time, making it ideal for those with busy schedules or urgent queries.
Benefits of SMS Customer Support
SMSGatewayCenter's SMS customer support service brings a host of benefits to the table:
Accessibility: Reach out to us from virtually anywhere with mobile network coverage. There's no need for an internet connection or specific devices.
Speed: Experience rapid response times, ensuring your issues are addressed promptly.
Conciseness: SMS forces clarity in communication due to its character limit, ensuring that information is conveyed concisely.
Efficiency: Cut through the noise of busy customer service lines and crowded email inboxes. Get straight to the point with SMS.
Flexibility: Our SMS support is adaptable to your schedule. You can send a message when it suits you, even outside of standard working hours.
Real-Time Updates: With SMS support, you can receive real-time updates on the status of your inquiries, orders, or support tickets. Stay informed without the need to constantly check emails or log in to a customer portal.
Security: SMS is a secure channel for communication. SMSGatewayCenter ensures that your sensitive information and data are protected during interactions, offering peace of mind for your privacy-conscious customers.
Multi-Language Support: We understand the diverse needs of our customers. SMSGatewayCenter's SMS support service can accommodate multiple languages, ensuring clear communication for a global audience.
Cost-Effective: SMS support can be more cost-effective than traditional phone support, especially for international customers. Avoid expensive international call charges and opt for budget-friendly SMS support.
Archival and Documentation: All SMS conversations are archived for your convenience. This means you can easily refer back to previous discussions, making it simpler to track issues or review important information.
Automation: SMSGatewayCenter employs automation where applicable, allowing us to provide quick responses to frequently asked questions and routine inquiries. This automation streamlines the support process, saving you time.
Integration: Our SMS support service can seamlessly integrate with your existing systems, making it easy to incorporate into your workflow and enhance your customer service capabilities.
Feedback Loop: We value your feedback. Our SMS support service provides a platform for you to share your thoughts, suggestions, and concerns, helping us improve our services continuously.
By highlighting these additional advantages, you can paint a more comprehensive picture of how SMSGatewayCenter's SMS customer support service not only connects you with us anytime, anywhere but also offers a range of features that enhance your overall customer support experience.
Conclusion
In conclusion, SMSGatewayCenter's SMS customer support service is designed with your convenience and satisfaction in mind. With the ability to connect with us anytime, anywhere, you can rest assured that assistance is just an SMS away. Say goodbye to long phone queues and email delays, and experience the efficiency and accessibility of SMS support. At SMSGatewayCenter, we're here for you, on your terms.
---
Save this interesting page on your favorite Social Media
---