In today's fast-paced digital landscape, keeping attendees informed and engaged is vital for the success of any event. The age-old adage, "information is power," rings truer than ever before, and in this context, SMS Event Notifications emerge as a powerful tool to achieve precisely that. Let's delve into how this simple yet effective communication method can elevate your event management game to the next level.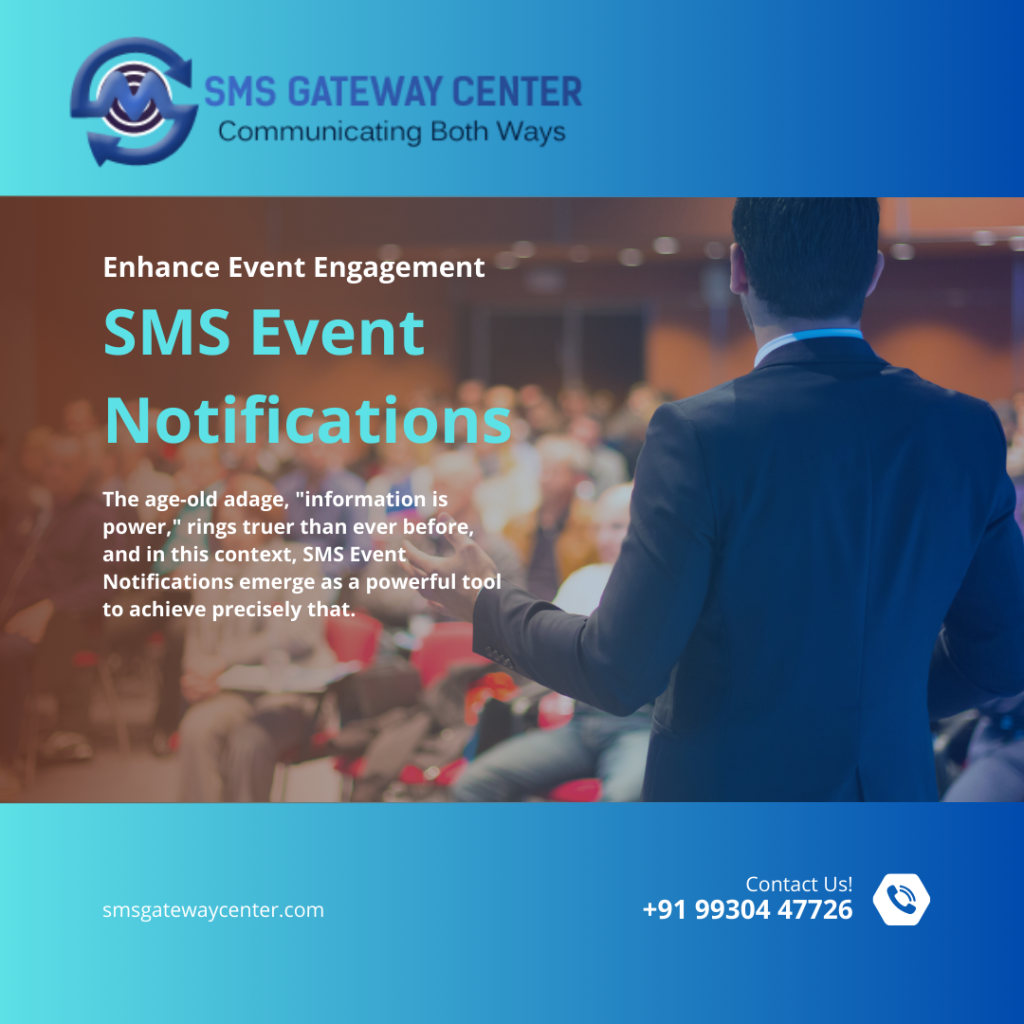 Instant Communication for Event Success
At SMSGatewayCenter, we understand the pivotal role that timely information plays in ensuring your event's triumph. That's why we offer SMS Event Notifications as a reliable solution for event planners, organizers, and businesses. With SMS, you can effortlessly send out event notifications, reminders, and updates directly to your attendees' mobile phones.
Real-Time Updates: The Game Changer
In the world of event management, changes happen. Whether it's a last-minute venue alteration, a speaker substitution, or a schedule adjustment, you need to convey these updates swiftly. SMS Event Notifications offer the perfect platform for real-time communication. Messages are delivered almost instantly, ensuring that your attendees are always in the loop.
Maximizing Attendance
One of the foremost challenges for any event organizer is ensuring a high attendance rate. SMS Event Notifications play a crucial role in achieving this goal. By proactively sending out event reminders, you can minimize the chances of no-shows. Attendees appreciate the convenience of receiving a timely SMS reminder, which helps them plan their schedules accordingly.
Enhanced Attendee Experience
The attendee experience is at the heart of every successful event. SMS notifications provide a personalized touch to your communication strategy. You can address attendees by their names and send them tailored event details. This level of personalization fosters a positive connection and leaves a lasting impression.
Reduced Cancellations
Last-minute cancellations can throw a wrench into your event planning. However, with SMS Event Notifications, you can significantly reduce this occurrence. By keeping attendees well-informed and engaged, you minimize the chances of attendees backing out due to confusion or lack of information.
Why Choose SMSGatewayCenter?
At SMSGatewayCenter, we take pride in offering a robust and user-friendly platform for sending SMS Event Notifications. Our service ensures high deliverability rates, which means your messages reach their intended recipients without delay.
Our platform allows you to schedule messages, ensuring that attendees receive notifications at the most convenient times. Additionally, you can track the delivery status of each message, giving you peace of mind knowing that your notifications have reached their destination.
Conclusion
In conclusion, SMS Event Notifications are a game-changer in the realm of event management. They empower you to provide real-time updates, maximize attendance, enhance the attendee experience, and reduce cancellations. At SMSGatewayCenter, we're here to unlock the potential of SMS Event Notifications for your events, ensuring they are a resounding success.
So, why wait? Elevate your event management strategy with SMS Event Notifications from SMSGatewayCenter and watch your events flourish like never before.
---
Save this interesting page on your favorite Social Media
---