Businesses are continuously looking for new ways to attract their audience's attention in a fast-paced world where information flows freely. Enter the world of sneak peeks and previews, a deliberate strategy that not only captivates but also keeps your clients eagerly expecting what's next. In this post, we'll look at how businesses may leverage sneak peeks and previews using SMS marketing to remain ahead of the competition. And, of course, we'll look at how SMSGatewayCenter can play a key role in this exciting adventure.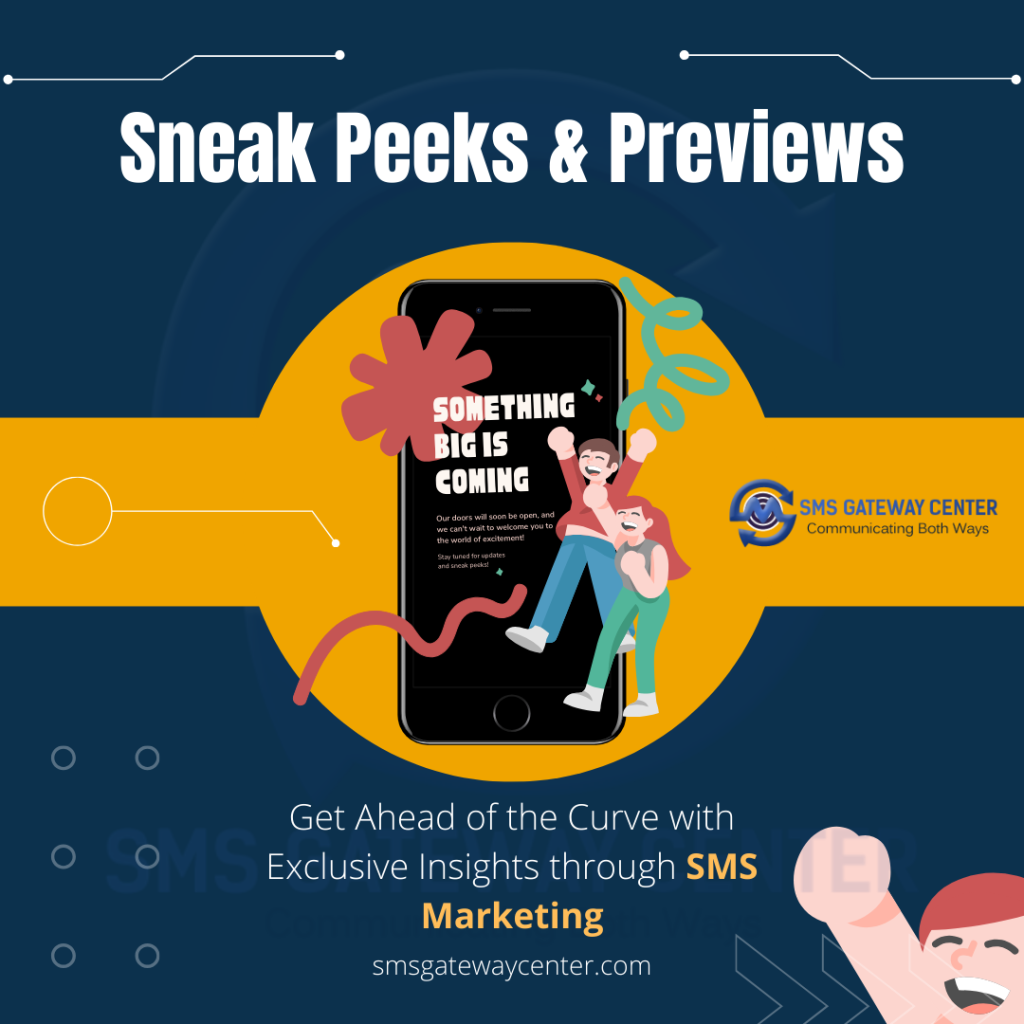 The Art of the Tease
Picture this: your favorite artist is about to drop a new album, and suddenly, you receive a message on your phone. It's a short video clip showcasing a snippet of one of the tracks, accompanied by a cryptic message: "Something big is coming." That's the power of a sneak peek. It tantalizes, intrigues, and stirs curiosity. It makes your audience feel special because they're among the first to get a glimpse of what's to come.
Creating Anticipation
Anticipation is a potent emotion. It keeps your audience engaged and invested in your brand. By offering sneak peeks and previews via SMS, you give your customers a reason to stay connected. Whether it's a new product, a service upgrade, or an upcoming event, teasing the highlights can generate buzz and excitement.
Why SMS Marketing Works
SMS marketing is a direct and personal channel. When you send a sneak peek via SMS, you're reaching your audience where they're most attentive—their mobile devices. Studies show that SMS messages have open rates as high as 98%. This means that your sneak peek is almost guaranteed to be seen.
SMSGatewayCenter: Your Partner in Engagement
Now, you might be wondering how to seamlessly incorporate sneak peeks and previews into your SMS marketing strategy. This is where SMSGatewayCenter steps in. Our platform is designed to help you create, manage, and send engaging SMS content, including sneak peeks.
Key Features of SMSGatewayCenter
Easy Campaign Management: With our user-friendly interface, you can effortlessly create and schedule sneak peek campaigns.
Audience Segmentation: Target specific customer segments based on their preferences and behaviors.
Real-Time Analytics: Track the performance of your sneak peeks in real time to make data-driven decisions.
Personalization: Craft personalized messages that resonate with each recipient.
Reliability: Rest easy knowing that your sneak peeks will be delivered promptly and reliably.
Interactive Engagement: Make your sneak peeks and previews even more engaging by encouraging your audience to respond. Ask them questions or invite them to guess what's coming next. Interactivity can create a deeper connection.
Exclusive Access: Highlight the exclusivity factor. Let your audience know that they're part of an elite group getting early access. This makes them feel valued and special.
Countdowns and Timers: Mention how adding countdowns or timers to your sneak peek messages can create a sense of urgency. When people see a ticking clock, they're more likely to take action.
Feedback Loop: Discuss the importance of listening to your audience. After sending a sneak peek, be open to feedback. It can help you tailor your offerings to what your customers truly want.
Multimedia Magic: Emphasize the versatility of SMS marketing. You can send images, videos, or audio clips as sneak peeks. Different types of media can cater to various preferences.
Seamless Integration: Explain how SMS marketing can seamlessly integrate with other marketing channels. For instance, you can send a sneak peek through SMS and then follow up with an email or social media campaign.
Storytelling: Share how storytelling can elevate sneak peeks. Instead of just showing a product, narrate a story around it. People love stories, and it can make your sneak peeks more memorable.
Measurement Matters: Highlight the importance of measuring the success of your sneak peeks. Use analytics to understand what works best and refine your strategy accordingly.
Customer Testimonials: If you have success stories or testimonials from customers who loved your sneak peeks, include them. Real-life examples add credibility.
A Glimpse into the Future: Discuss the potential of sneak peeks in forecasting trends. By analyzing the response to your sneak peeks, you can get insights into what might be a hit in the future.
Conclusion
In a world where capturing attention is an art form, sneak peeks and previews can be your masterpiece. They give your audience a reason to stay engaged, excited, and connected to your brand. By harnessing the potential of SMS marketing and partnering with SMSGatewayCenter, you can elevate your sneak peek game and be the first choice for your customers.
Stay ahead of the curve. Be the first to know. Choose SMSGatewayCenter for engaging and effective SMS marketing campaigns.
Learn more about how SMSGatewayCenter can transform your marketing strategy. Contact us today.
---
Save this interesting page on your favorite Social Media
---