In a fast-paced world, staying connected and informed is crucial for businesses and their customers. One of the most effective tools for achieving this is through SMS alerts, a direct and immediate way to keep your audience in the loop. Let's explore the significance of SMS alerts and how SMSGatewayCenter can help you harness their potential.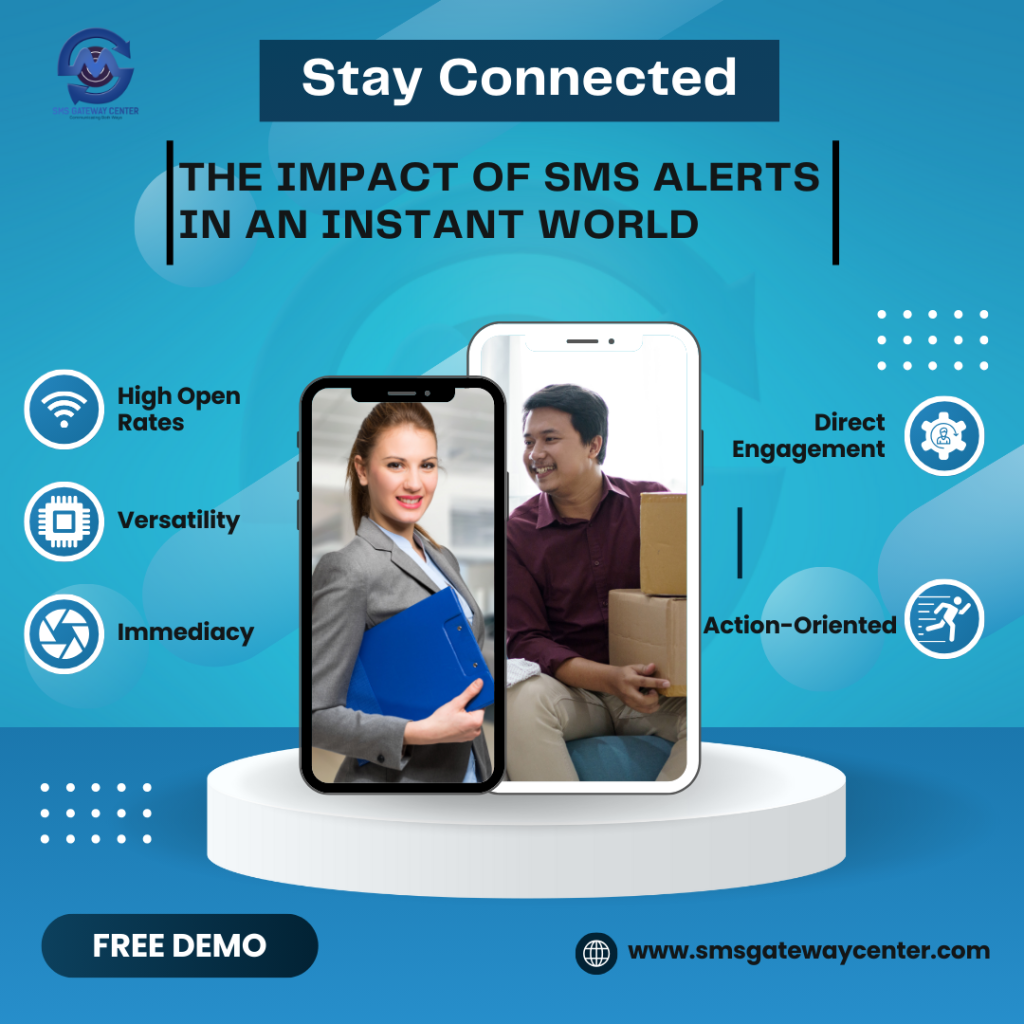 The Essence of SMS Alerts
SMS alerts are concise, real-time notifications sent directly to your customers' mobile phones. These messages are designed to provide timely information, updates, or alerts about your business, products, or services. What sets SMS alerts apart is their speed and efficiency. In a world where information travels at the speed of light, SMS alerts ensure that your messages reach your audience instantly.
Why SMS Alerts Matter
Here's why SMS alerts have become an essential tool for businesses of all sizes:
Immediacy: SMS alerts are delivered instantly, ensuring that your customers receive important updates promptly.
High Open Rates: Text messages have an exceptionally high open rate, with most people reading messages within minutes of receipt.
Versatility: SMS alerts can be used for a wide range of purposes, from notifying customers about new product launches to sending time-sensitive offers and reminders.
Direct Engagement: SMS alerts engage customers directly on their mobile devices, a place they frequent throughout the day.
Action-Oriented: These alerts often include a clear call to action, making it easy for customers to respond or make a purchase.
SMSGatewayCenter: Your Partner in SMS Alerts
At SMSGatewayCenter, we recognize the power of SMS alerts in keeping your audience engaged and informed. Our platform offers a range of features to enhance your SMS alert campaigns:
Segmentation: Target specific customer groups with tailored SMS alerts based on their preferences and behavior.
Personalization: Craft personalized SMS alerts that resonate with your customers, increasing their relevance and impact.
Scheduling: Send SMS alerts at the perfect time to ensure they are read and acted upon promptly.
Automation: Set up automated SMS alert campaigns to streamline your communication efforts and save time.
Analytics: Gain insights into the performance of your SMS alerts to refine your strategies and maximize results.
Conclusion
In an era where information is king, SMS alerts serve as the loyal messengers that bridge the gap between your business and your customers. They are the key to keeping your audience informed, engaged, and, most importantly, connected to your brand.
Are you ready to leverage the power of SMS alerts? Join SMSGatewayCenter today and discover how staying connected with your customers through SMS alerts can transform your business.
Learn more about SMS alerts and SMS marketing at SMSGatewayCenter Blog.
---
Save this interesting page on your favorite Social Media
---