Most successful marketing tool is present in today's world is Bulk SMS Marketing. Are you using one? If not let us help you understand how it will really boost your sales and marketing team.
Are You Still Marketing Like 60s?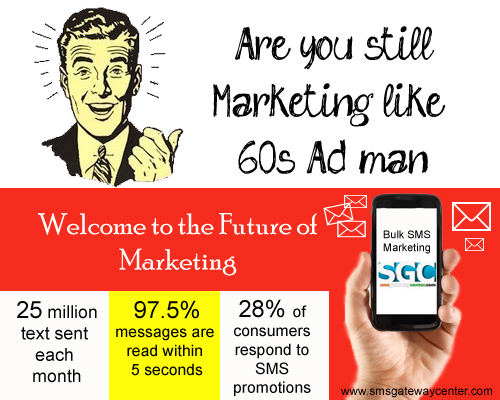 Welcome to the Future Marketing!
Bulk SMS is the only marketing tool which can give you lot more than expected results. Bulk SMS has unique features, advantages and benefits.
25 Million bulk SMS sent every month.
97.5% bulk SMS messages are read within 5 seconds.
28% of consumers respond to SMS promotions.
Switch to Bulk SMS Marketing and take your business to new heights.
SMS Gateway Center provides bulk SMS Marketing campaign services in India. You can select terriotry and your sms marketing campaign will be taken care of.
Sign up at https://www.smsgatewaycenter.com/registration.php
---
Save this interesting page on your favorite Social Media
---