The current challenges in recruiting are many, and the ones that have risen the most over the last few years are the changes in technology and demographics. The way we communicate has changed from landlines to SMS, email, and social media networks like Twitter. So what role does an SMS solution play in the recruitment process?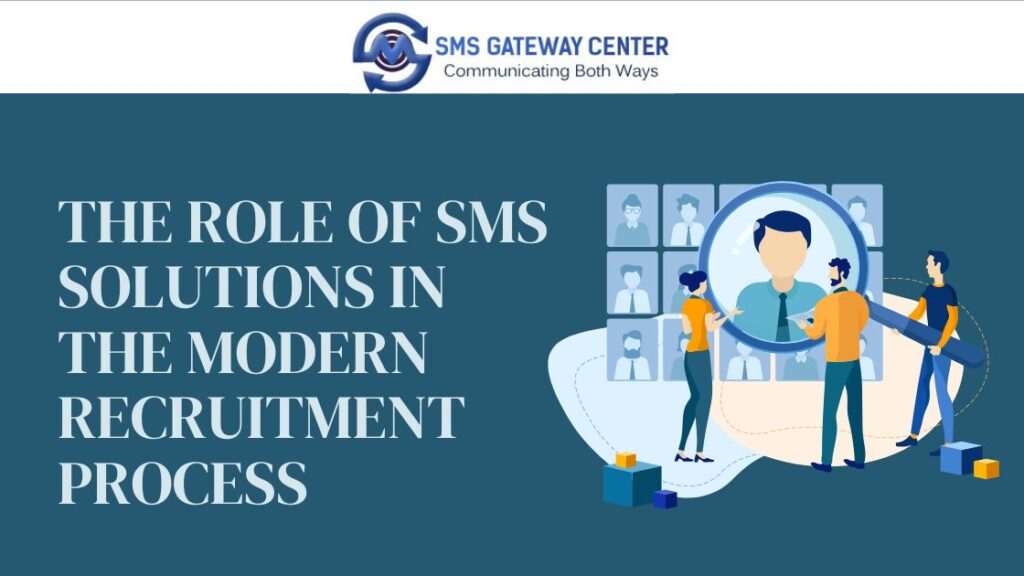 What is an SMS Solution?
An SMS solution is a software that allows you to send and receive text messages from a computer or mobile device. This can be a useful tool in the recruitment process, as it allows you to communicate with potential candidates quickly and easily.
There are a few different SMS solutions on the market, so it is important to find one that best suits your needs. Some of the features you may want to look for include the ability to send bulk messages, schedule messages, and track delivery rates.
SMS solutions can be a great way to keep in touch with potential candidates and keep them updated on the latest news from your company. However, it is important to use this tool wisely, as overuse can lead to candidates feeling overwhelmed or even ignored.
HR-Recruitment Process and How The Role of an SMS Solution Changes
In the modern recruitment process, the role of an SMS solution is to provide a communication tool that is fast, efficient, and reliable. With SMS solutions, recruiters can quickly send out messages to candidates and vice versa. This helps to save time and energy while also ensuring that everyone is on the same page.
An SMS solution can help to make the recruitment process more streamlined and efficient. It can also help to improve communication between recruiters and candidates.
Where Should an Employer Implement an SMS Solution?
An employer should implement an SMS solution at the very beginning of their recruitment process in order to save time and resources. By automating the process of sending out texts to potential candidates, employers can quickly identify who is interested in the position and who is not. Additionally, SMS solutions can be used to keep candidates updated on the status of their application, as well as provide them with links to additional resources that may be of interest.
SMS Solutions: Cost Benefits
SMS solutions offer a number of benefits for businesses, including the recruitment process. The ability to send and receive SMS messages is a cost-effective way to communicate with potential candidates. There is no need to print or post materials, and the process can be completed quickly and easily.
SMS solutions also offer a number of features that can streamline the recruitment process. Automated messages can be sent to candidates to keep them updated on the status of their application, and reminders can be sent for upcoming interviews. These features can save businesses time and money by reducing the need for manual communication.
Conclusion
SMS solutions are becoming an increasingly popular tool in the recruitment process, especially for smaller businesses. They offer a fast and efficient way to communicate with candidates, and can help create a more personalised recruitment experience. If you're looking for a way to streamline your recruitment process and improve candidate engagement, Bulk SMS solutions could be the answer.
---
Save this interesting page on your favorite Social Media
---