Effective communication plays a crucial role in the success of any business. Of the multitude of communication methods available, bulk SMS messaging stands out as a potent and direct method of contacting the intended audience. However, for Bulk SMS to be truly effective, it must be delivered on time and accurately. This article delves into the significance of timely and precise Bulk SMS delivery and its impact on enhancing customer engagement and achieving overall business success.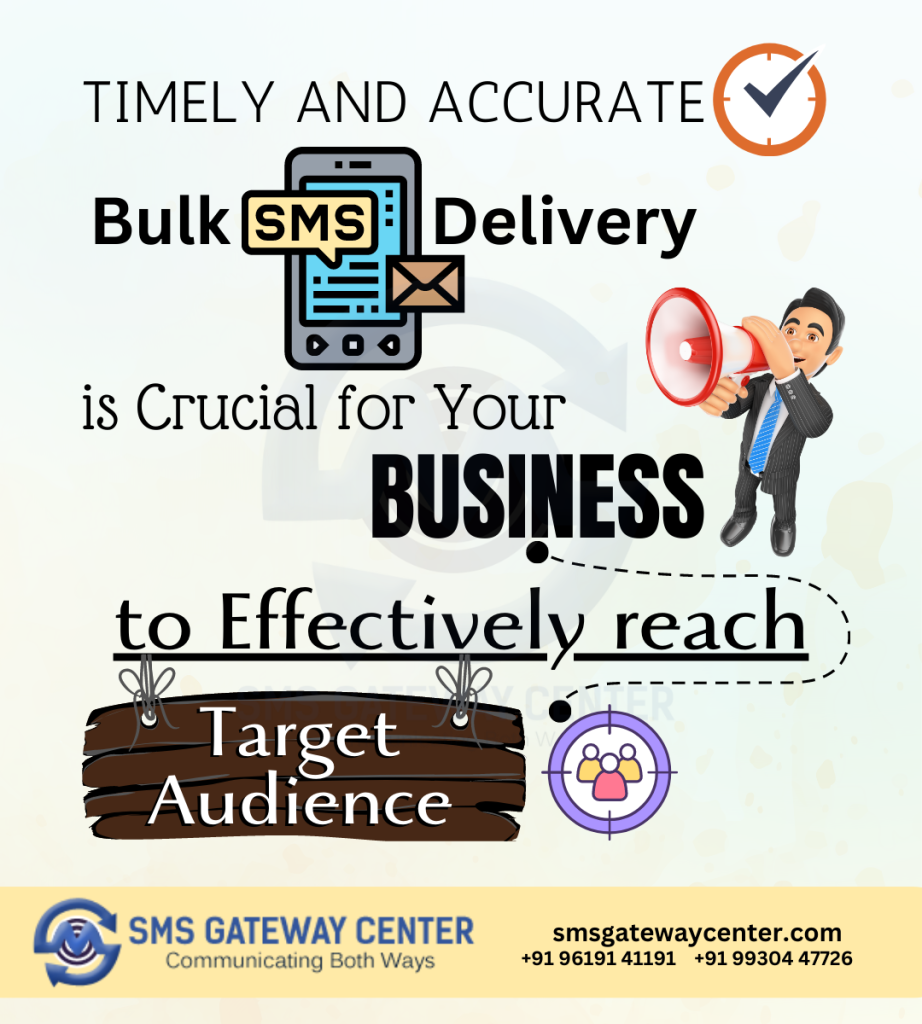 The Importance of Timely Delivery
Instant Reach: A timely delivery makes sure that your messages get to the recipients straight away and grab their attention when it matters most. This is especially important for promotions, urgent alerts, and time-limited offers.
Increased Open Rates: When recipients get timely SMS messages, they are more apt to open and read them promptly. Studies show that bulk SMS has an impressive open rate of up to 98%, making it an ideal medium for important communications.
Effective Call-to-Action: Timely SMS delivery lets enterprises include actionable content in their SMS content, such as limited-time discounts or exclusive offers. This sense of urgency motivates recipients to take immediate action, leading to higher conversion rates.
Enhanced Customer Engagement: Consistently delivering SMS messages at the right time advances a positive customer experience. Customers acknowledge being informed promptly, which builds trust and loyalty towards the brand.
The Significance of Accurate Delivery
Targeted Messaging: Accurate SMS delivery ensures that messages are sent to the targeted recipients only. This precision in targeting helps avoid spamming and enhances the relevance of the SMS content, resulting in a higher response rate.
Personalization: Accurate delivery allows businesses to personalize their SMS messages with the recipients' names or other relevant details. Personalized SMS messages create a more intimate connection with customers and oscillate better with them.
Data Integrity: Accurate SMS delivery safeguards the integrity of your customer data. Maintaining accurate contact information ensures that SMS messages reach the right individuals and helps prevent bounced SMS.
Brand Reputation: Inaccurate delivery might result in miscommunication, causing frustration among recipients. Ensuring accurate delivery indicates a professional and reliable image, positively impacting the brand's reputation.
Best Practices for Timely and Accurate Bulk SMS Delivery
Choose a Reliable SMS Gateway Provider: Partner with a reputable SMS gateway provider such as SMS Gateway Center that assures timely and accurate delivery. A reliable provider will have robust infrastructure and cutting-edge technology to ensure SMS delivery.
Segment Your Audience: Segment your contact list based on relevant factors such as location, preferences, or demographics. This enables personalized messaging, leading to better engagement and response rates.
Schedule SMS Campaigns Wisely: Time your bulk SMS campaigns strategically based on your intended audience's behaviour. Optimize factors like time zone differences and peak activity hours to maximize impact.
Regularly Update Customer Information: Keep your customer database records up-to-date by regularly updating contact information and removing inactive or duplicate entries. This assists maintain data accuracy and ensures effective SMS delivery.
Conclusion
In conclusion, timely and accurate Bulk SMS delivery is a critical factor in any successful SMS marketing campaign. By reaching the intended audience at the right moment with personalized and relevant content, enterprises can enhance customer engagement, drive conversions, and reinforce their brand reputation. Partnering with SMS Gateway Center and implementing best practices for delivery will set the foundation for an effective and efficient communication strategy. Take advantage of the power of bulk SMS to interact with your audience directly and effectively, and watch your company flourish in the digital age.
---
Save this interesting page on your favorite Social Media
---