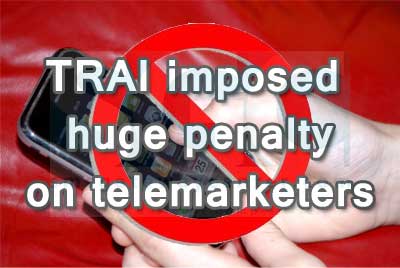 INR 5 Crore penalty imposed in 2013 for poor service and pesky calls on telecom operators by TRAI
In rarest of the rare case, the Telecom Regulatory Authority of India (TRAI) has imposed fine amounting to Rs 5 Crore in 2013 on telecom operators as well as telemarketers for providing poor services and pesky calls respectively. During the year, TRAI disconnected over 9 lakh phone numbers and blacklisted around 1.74 lakh unregistered individuals for making unnecessary pesky calls and SMSes.
As per the TRAI's existing rules and regulations, mobile operators who fail to meet Quality of Service (QOS) parameter can be imposed fine up to Rs. 50,000 and penalty upto Rs1 lakh for ignoring and repeating such mistakes again. To put it simple, if any operator does not follow call drop rate benchmark of (less then) two percent then a penalty upto Rs.50, 000 can be imposed on the same. Also in case call drop rate benchmark is not met in any of the subsequent quarters in the same financial year, then financial disincentive up to Rs.1 lakh can be imposed by Telecom regulatory.
Recently while releasing activities of the telecom regulator during 2013, the TRAI's Advisor for QoS, informed that penalty amounting to Rs.2.8 crore was imposed across all telecom operators for violating QoS benchmark for that financial year. Earlier operators in 170 circles (number of circles counted on individual operator basis) were not following proper norms to offer quality of services. But now the number of circles where operators did not meet the parameters has come down to 104. However there has been major improvement in quality of services provided by operators.
About pesky calls by telemarketers, the number of complaints has come down from 50,000 to 11,000 per month. The reason being that for the past four months strict actions were imposed on telemarketers. A monetary penalty of Rs.2.15 crore was levied on them for making pesky calls.  Also 9 lakh telecom resources along with approximately 60 business houses including 40 real estate companies and miscellaneous entities were disconnected by TRAI. As banking and insurance companies were sincere in keeping their promises till last December, certain leniency has been granted to these sectors by the regulator. On regular basis, Telecom authorities are monitoring activities and if any operator found guilty then stern actions will be taken against them.
---
Save this interesting page on your favorite Social Media
---