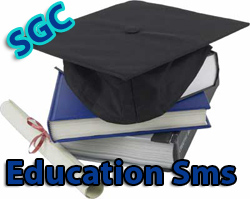 Nowadays, education is a business as we all register the facts. Parents have been associated with having a tendency of loosing sleep whenever administration season arrives, be it admission of their wards in pre-prep classes of admission for professional course or even a simple graduate core, it is similar. Parents do worry endlessly about the well being of their wards as well as being very keen of what is happening at the school and how their own wards are fairing on.
Looking at the education system which has changed drastically, almost all parents are more concerned in a small extra edge that one institution has over the other, for instance, school SMS is the most advanced and efficient text message information disbursal and marketing system which is available in most institutions. With the school SMs as well as the power of today's mobile phones, you can easily revolutionize the way you communicate with students and even their family members. There are a number of reasons why education institution should adopt the SMS technology. For instance, if parents would like to know whether their children's have arrived in schools safely: getting informed about their grades, health status and even in times of being aware of the loans which they are entitled as well as their outstanding fees.
Improving availability and communication channel of your educational institution by including Education SMS extension to the existing IT system will definitely allow you to send a number of SMS messages from your computer to the individual mobile phones of students, other staffs and even parents. In order to achieve this, a powerful SMS gateway must be installed, for example SmsGatewayCenter.com gateway which allows easy forwarding of SMS messages to the mobile network either through HTTP API SMS connection or even from Sms Website. Once such a system is in place, then instances they will provide real time service where immediate interaction and reactions for essential matters are required. Considering college SMS reporting solution, they make work easier as information flow seamless and more efficient by allowing interventions between students and their parents as well as their teachers. It only involves sending SMS alerts, notifications as opposed to other means of communications.
Now, another important thing is how to implement these education SMS report systems. This can be comfortable be done through downloading and installing the SMS gateway to achieve the above mentioned objectives. Immediately after the installation you can start sending messages from your computer or laptop to mobile devices. The number of SMS is not limited as SmsGatewayCenter.com has an outstanding capacity, thus, it can greatly handle a wider number of messages at professional way. This forwarding process is made possible in two ways as seen earlier, i.e. with Sms Website connection or HTTP API SMS connection.  The entire system will relieve communication constrains and will provide further advantage for both students and the institutions as a whole. There will be growth in efficiency, performance and responsiveness for the institution and makes all students well informed about any current information. Above all, parents are able to keep in touch with the administration and their student, therefore, being in a better position to monitor the progress of their children without any barrio.
---
Save this interesting page on your favorite Social Media
---