Efficiency is essential for staying one step ahead of the competition in the fast-paced business world of today. Whether you're a seasoned marketer or just getting started, you understand the importance of seamlessly and efficiently connecting with your audience. This is when SMSGatewayCenter steps in with a complete voice campaign management system that streamlines every step, from planning broadcasts to evaluating performance.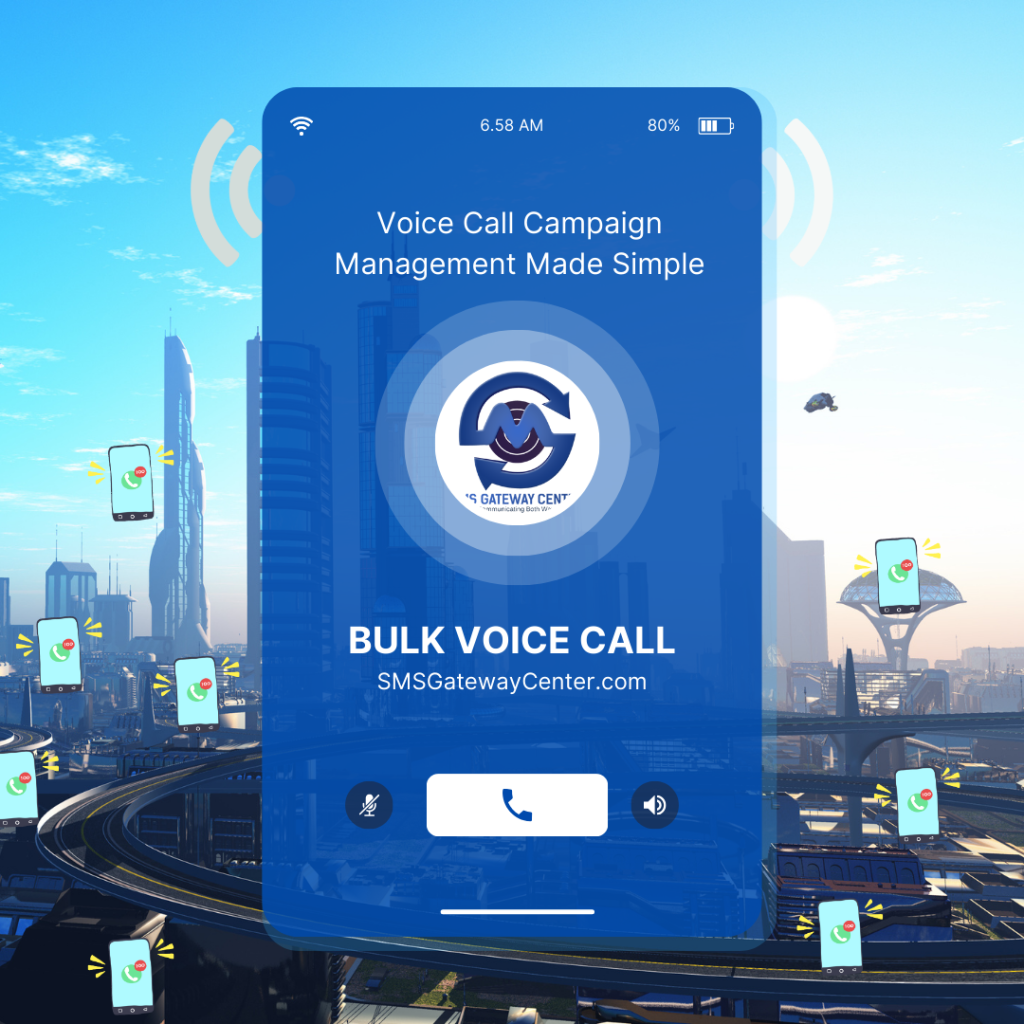 Voice campaigns' Influence
Voice initiatives, a frequently underappreciated treasure in the marketing world, have enormous potential. The human voice is a potent weapon that can communicate feelings and ideas in a manner that text can't possibly match. Think about using individualized audio messages to connect with your audience and convey your brand's message. This one-on-one interaction has the potential to be influential and distinguish your company.
Simple Scheduling
You have access to a simple platform that makes campaign scheduling with SMSGatewayCenter's voice campaign management. You may easily arrange voice broadcasts whether you're organizing a product launch, a special announcement, or a customer engagement project. By ensuring that your communications are delivered to your audience at the ideal time, you can increase their impact.
Complete Monitoring
Continuous improvement depends on your ability to comprehend the effects of your voice campaigns. Real-time analytics are offered by SMSGatewayCenter, allowing you to monitor the success of your voice transmissions. Performance indicators like phone pick-up rates, response rates, and even message recordings may all be listened to. You may make informed judgments and improve upcoming campaigns with this data-driven strategy.
Complete Analysis
The easy-to-use tools at SMSGatewayCenter make it simple to evaluate the success of your voice campaigns. Discover trends, comprehend user behavior, and learn what appeals to your audience the most. You can improve your messaging, pinpoint the correct audience, and make sure your voice campaigns are as successful as possible by effortlessly analyzing the data.
Enhanced Individualization
The capacity to develop highly customized messages is one of the main benefits of bulk voice call marketing. Make personal recommendations, use their names, and have genuine conversations with your audience. This individualization forges a closer bond with your audience and has a big impact on how they view your brand.
Integral Reliability
Any form of communication needs to be dependable, and SMSGatewayCenter's voice call campaign management makes sure your messages are delivered on time and every time. By enhancing the trustworthiness and professionalism of your brand, your voice broadcasts will be a dependable addition to your overall marketing plan.
Conclusion: Elevate Your Voice Campaigns with SMSGatewayCenter
A vital skill in the quick-paced world of marketing is the capacity to interact naturally with your audience. With the help of SMSGatewayCenter's voice call campaign management, you can use the persuasive qualities of the human voice to make an impact while also taking advantage of effective scheduling, thorough tracking, easy analysis, improved customization, and, most importantly, dependability.
With voice call campaigns handled by SMSGatewayCenter, you may improve your marketing approach, establish a more personal connection with your audience, and get measurable results. Whether you run a small business or a major enterprise, our solution is made to suit your requirements. We're here to help you get your voice heard because that is your brand.
Find out more about how your voice campaigns can be revolutionized by SMSGatewayCenter. Call us right away.
---
Save this interesting page on your favorite Social Media
---