The automotive industry is constantly evolving, and businesses within this sector are always looking for innovative ways to connect with their customers. In recent years, the rise of messaging apps has presented new opportunities for businesses to engage with their audience in a more personal and convenient manner. One such platform that has gained significant popularity is WhatsApp, and with the introduction of the WhatsApp Business API, the automotive industry can now leverage this powerful tool to enhance their customer experience and streamline their operations.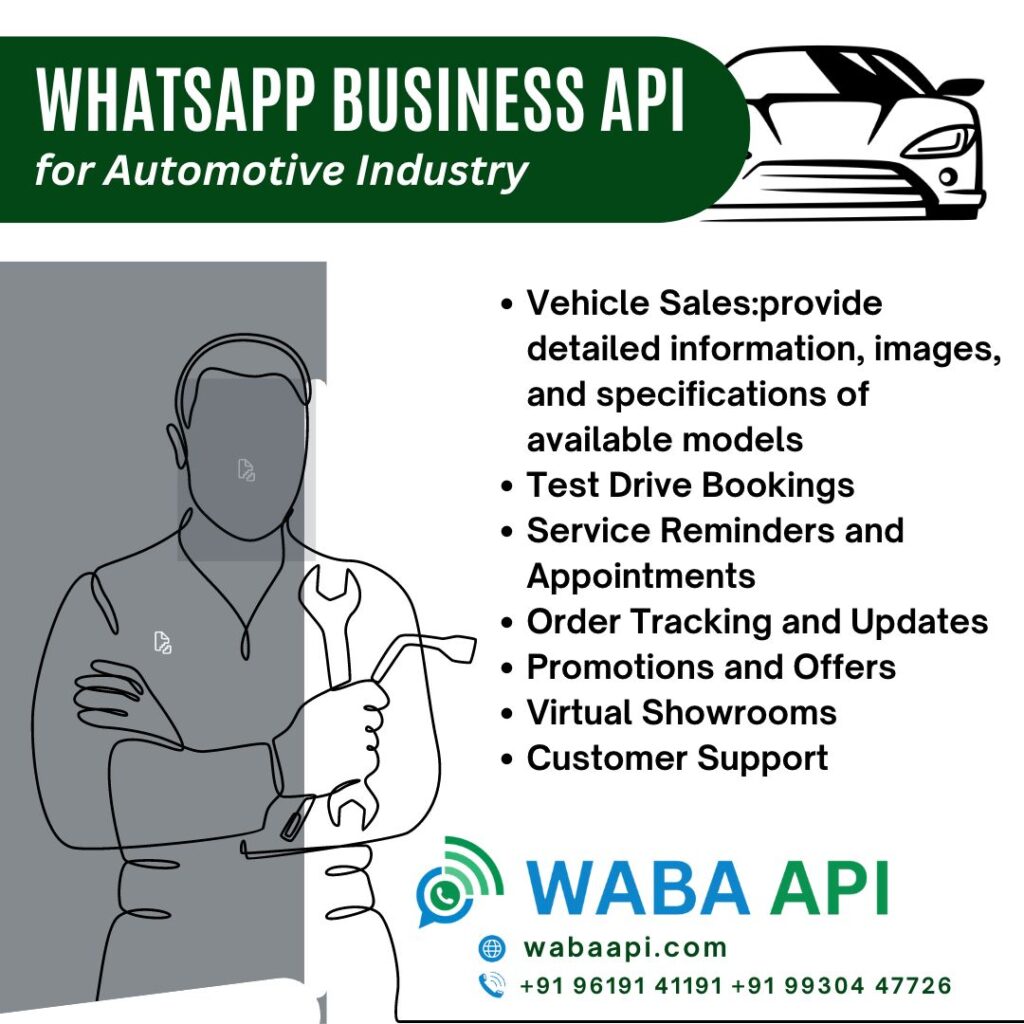 WhatsApp Business API Key Features for Automotive Industry
One of the key features of the WhatsApp Business API for the automotive industry is the ability to provide detailed information, images, and specifications of available vehicle models. This can be immensely beneficial for potential buyers who are researching their options and looking for a comprehensive overview of the vehicles on offer. By integrating WhatsApp Business API into their sales process, automotive businesses can easily share brochures, images, and even video content with interested customers, allowing them to make more informed decisions.
Test Drive Booking Process
In addition to showcasing vehicle information, the WhatsApp Business API enables businesses to streamline the test drive booking process. Prospective customers can simply send a message through WhatsApp to schedule a test drive, eliminating the need for time-consuming phone calls or emails. This convenience can significantly improve the customer experience, making it easier and quicker for individuals to engage with the automotive dealership.
Reminders and Appointments
Service reminders and appointments are crucial for maintaining a healthy relationship with existing customers, and the WhatsApp Business API can play a vital role in this area. Businesses can set up automated reminders for routine maintenance, service appointments, and even send notifications when the vehicle is due for a check-up. This proactive approach helps customers stay on top of their vehicle's maintenance schedule and enhances their overall ownership experience.
Order Tracking
Order tracking and updates are another essential aspect of the automotive industry. Whether it's a new vehicle purchase or spare parts, customers appreciate being kept informed about the progress of their order. With the WhatsApp Business API, businesses can send real-time updates on order status, estimated delivery times, and any other relevant information. This level of transparency and communication helps build trust and confidence in the brand.
Promotions and Offers
Promotions and offers are an effective way to attract new customers and incentivize existing ones. With the WhatsApp Business API, automotive businesses can send personalized promotional messages directly to their customers' WhatsApp accounts. These messages can include exclusive discounts, limited-time offers, or special financing options. By targeting the right audience with relevant offers, businesses can increase customer engagement and drive sales.
Virtual Showrooms
Virtual showrooms have gained significant traction in recent years, allowing customers to explore vehicles from the comfort of their own homes. The WhatsApp Business API can be integrated with virtual showroom experiences, allowing customers to interact with the vehicles, ask questions, and even schedule virtual consultations with sales representatives. This immersive and interactive experience brings the showroom to the customer, providing convenience and accessibility.
Customer Support
Customer support is a critical aspect of the automotive industry, and the WhatsApp Business API offers a seamless way to provide assistance. Customers can reach out to the dealership directly through WhatsApp, asking questions, seeking guidance, or even requesting technical support. The ability to have a two-way communication channel enhances the customer experience, as queries can be addressed promptly and efficiently.
Conclusion
In conclusion, the WhatsApp Business API has revolutionized the way the automotive industry can connect and engage with customers. From providing detailed vehicle information to facilitating test drive bookings, service reminders, order tracking, promotions, virtual showrooms, and customer support, this powerful tool offers a wide range of features that can enhance the overall customer experience. By embracing the WhatsApp Business API, automotive businesses can stay ahead of the competition, build stronger customer relationships, and drive growth in this rapidly evolving industry.
---
Save this interesting page on your favorite Social Media
---