In today's fast-paced world, effective communication and seamless customer experience are vital for businesses in every industry. The insurance sector is no exception, as insurers strive to provide excellent service, prompt assistance, and personalized interactions to policyholders. In this digital age, leveraging technology to achieve these goals is crucial, and one tool that has gained significant popularity is the WhatsApp Business API.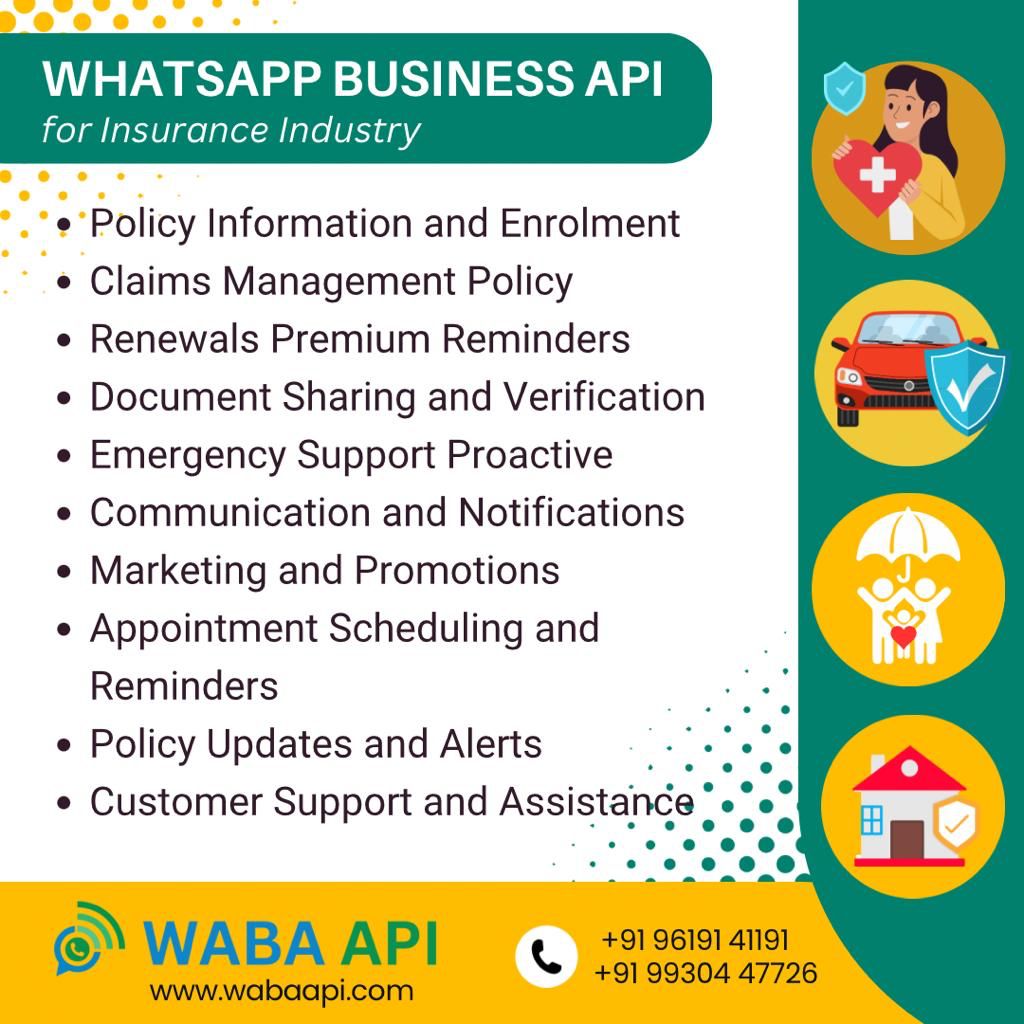 The WhatsApp Business API offers a range of features and benefits tailored specifically for the insurance industry. Let's explore how insurers can harness the power of this API to transform their operations and enhance customer experience.
Policy Information and Enrolment
With the WhatsApp Business API, insurance companies can efficiently share policy information with customers and facilitate the enrolment process. By sending policy details, coverage options, and premium calculations through WhatsApp, insurers can ensure clear and transparent communication, simplifying the decision-making process for potential policyholders.
Claims Management
Handling insurance claims can be a complex and time-consuming process. However, with the WhatsApp Business API, insurers can streamline and expedite claims management. Customers can submit their claims, provide necessary documentation, and track the progress of their claims in real-time, all within the familiar WhatsApp interface. This efficient and transparent claims process enhances customer satisfaction and loyalty.
Renewals and Premium Reminders
Keeping policyholders informed about policy renewals and premium payments is crucial for insurers. The WhatsApp Business API enables insurers to send timely reminders to customers, ensuring that policies remain active and premiums are paid promptly. This proactive communication reduces the risk of policy lapses and enhances customer retention.
Document Sharing and Verification
Traditionally, the exchange of documents and verification processes could be cumbersome for both insurers and policyholders. With the WhatsApp Business API, insurers can securely share policy documents, claim forms, and other necessary paperwork with customers. Additionally, customers can upload and submit their documents for verification, simplifying the entire process and reducing administrative burdens.
Emergency Support
During emergencies or unforeseen events, customers often require immediate assistance and support from their insurance providers. The WhatsApp Business API enables insurers to deliver proactive communication and support during critical situations. Insurers can send alerts, safety guidelines, and emergency contact information, providing policyholders with the necessary information and reassurance they need.
Marketing and Promotions
WhatsApp Business API opens up new avenues for insurers to engage with their customers and promote their products and services. Insurers can send targeted marketing messages, policy updates, and promotional offers directly to customers' WhatsApp accounts. This personalized approach enhances customer engagement and increases the chances of cross-selling or upselling insurance products.
Appointment Scheduling and Reminders
For policyholders who require in-person meetings or consultations, the WhatsApp Business API can simplify the appointment scheduling process. Customers can book appointments, receive confirmation messages, and receive reminders prior to their scheduled appointments. This streamlined approach saves time and enhances customer convenience.
Policy Updates and Alerts
Keeping policyholders informed about any updates or changes to their policies is essential for maintaining transparency and trust. With the WhatsApp Business API, insurers can send timely policy updates, alerts, and notifications directly to customers' WhatsApp accounts. This ensures that policyholders are always aware of any modifications to their coverage, terms, or conditions.
Customer Support and Assistance
The WhatsApp Business API serves as a convenient channel for policyholders to seek customer support and assistance. Customers can reach out to insurers with queries, concerns, or claims-related issues, and receive prompt responses from the insurer's support team. This real-time communication helps in resolving customer issues quickly and efficiently, further enhancing customer satisfaction.
In conclusion, the WhatsApp Business API offers numerous benefits for insurance companies, empowering them to deliver exceptional customer experiences and streamline their operations. From
enhanced policy information sharing to streamlined claims management, premium reminders, document sharing, and emergency support, the WhatsApp Business API revolutionizes the insurance industry.
By leveraging this powerful tool, insurers can establish a direct and personalized line of communication with policyholders, fostering trust, satisfaction, and loyalty. The seamless integration of WhatsApp into insurers' operations brings convenience, efficiency, and transparency to every step of the insurance journey.
The versatility of the WhatsApp Business API allows insurers to adapt its features to meet their specific needs. Whether it's providing policy information and enrollment details, managing claims seamlessly, sending timely reminders for renewals and premium payments, or sharing important documents for verification, insurers can ensure a smooth and hassle-free experience for their policyholders.
Moreover, the API's marketing capabilities enable insurers to reach out to their customer base effectively. Through targeted messaging, insurers can promote new insurance products, communicate policy updates, and offer personalized discounts and promotions. This not only drives customer engagement but also presents opportunities for cross-selling and upselling.
Appointment scheduling and reminders further enhance the customer experience, allowing policyholders to conveniently book and manage in-person meetings or consultations. By leveraging WhatsApp's user-friendly interface, insurers can streamline the appointment process and ensure that policyholders receive timely reminders, reducing no-shows and enhancing overall customer satisfaction.
The WhatsApp Business API also empowers insurers to keep policyholders informed of any updates or changes to their policies. This proactive communication builds transparency, reduces confusion, and strengthens the relationship between insurers and their customers. Additionally, the API serves as a reliable channel for policyholders to seek customer support and assistance, facilitating quick and efficient issue resolution.
For insurers in the competitive insurance market, staying ahead requires embracing innovative technologies. The WhatsApp Business API offers a cutting-edge solution to engage with customers effectively and deliver personalized experiences. Its integration with existing systems and processes ensures a seamless transition, allowing insurers to optimize their operations without disrupting workflow.
In summary, the WhatsApp Business API is a game-changer for the insurance industry. Its features and capabilities, ranging from policy information sharing to claims management, premium reminders, document verification, emergency support, marketing, appointment scheduling, policy updates, and customer support, empower insurers to deliver exceptional service and exceed customer expectations.
As the insurance landscape continues to evolve, embracing digital transformation is key to success. The WhatsApp Business API provides insurance companies with the necessary tools to adapt, thrive, and create meaningful connections with policyholders. By leveraging this powerful platform, insurers can differentiate themselves, build customer loyalty, and drive growth in an increasingly competitive market.
So, if you're an insurer looking to enhance customer experience, streamline operations, and stay ahead in the insurance industry, it's time to explore the possibilities offered by the WhatsApp Business API.
---
Save this interesting page on your favorite Social Media
---