In today's digital age, businesses across various industries are leveraging the power of messaging apps to connect with their customers in a more convenient and personalized way. The legal industry is no exception to this trend. With the advent of WhatsApp Business API, legal professionals can now streamline their communication processes, improve client engagement, and enhance overall efficiency.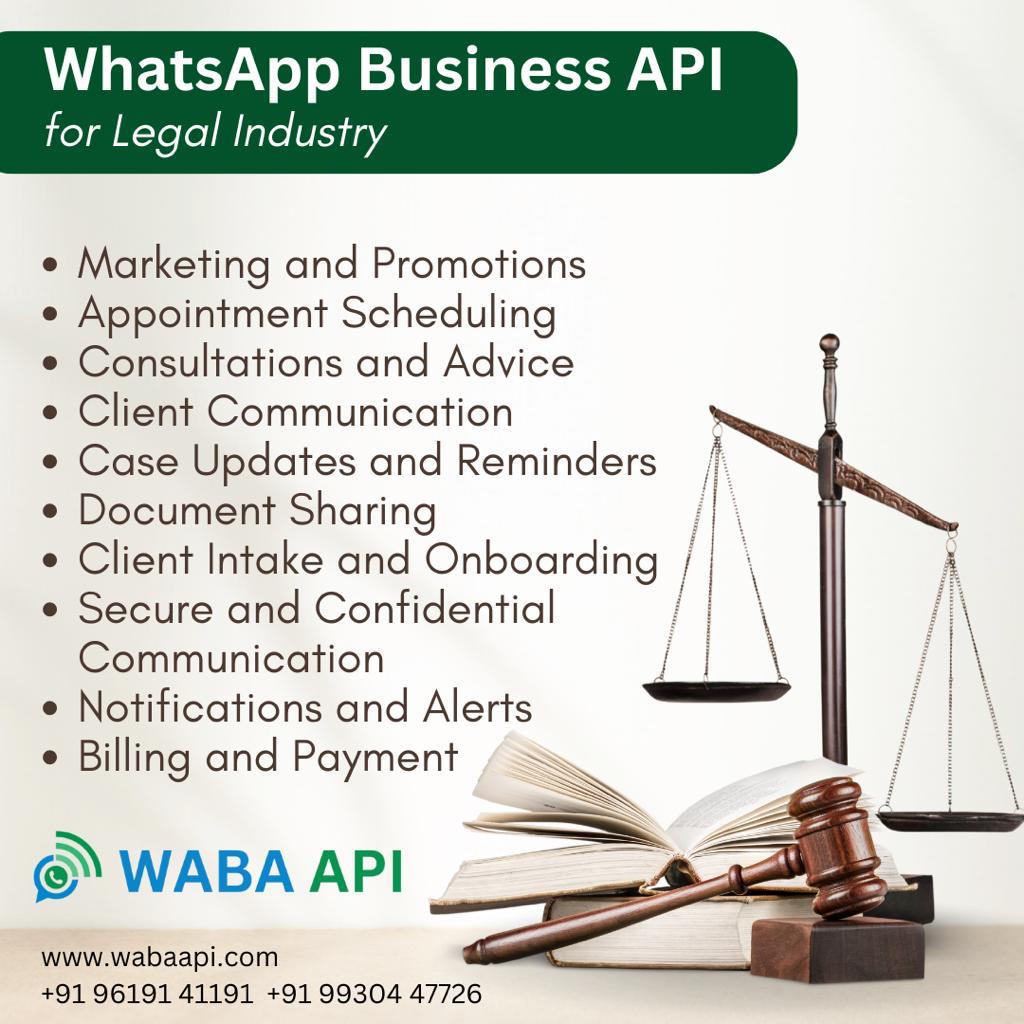 Marketing and Promotions
One of the key advantages of using WhatsApp Business API in the legal industry is the ability to promote services and share important updates with clients. Law firms can send targeted marketing messages, announce new services or practice areas, and share valuable content to attract and engage potential clients. This enables legal professionals to stay connected with their audience and build brand awareness.
Appointment Scheduling
WhatsApp Business API simplifies the process of scheduling appointments for legal consultations. Clients can easily request appointments, check availability, and receive confirmation messages through the messaging platform. This not only saves time for both clients and legal professionals, but also ensures a seamless and efficient scheduling experience.
Consultations and Advice
WhatsApp Business API enables legal professionals to provide consultations and legal advice to clients through secure and encrypted messaging. Clients can ask questions, seek guidance on legal matters, and receive prompt responses from their lawyers. This real-time communication channel enhances accessibility and convenience for clients, fostering stronger client-lawyer relationships.
Client Communication
Effective communication is essential in the legal industry. WhatsApp Business API offers a convenient and efficient platform for legal professionals to communicate with their clients. Lawyers can send updates on case progress, request additional information, and provide necessary documentation. The instant messaging feature of WhatsApp allows for quick and clear communication, ensuring that clients are well-informed throughout the legal process.
Case Updates and Reminders
Keeping clients informed about their case status and important milestones is crucial for a positive client experience. WhatsApp Business API allows legal professionals to send timely updates and reminders to clients, ensuring that they are aware of upcoming court dates, document submissions, or other significant deadlines. This proactive approach enhances transparency and client satisfaction.
Document Sharing
WhatsApp Business API enables secure document sharing between lawyers and clients. Legal professionals can securely send and receive legal documents, contracts, and other confidential information through the messaging platform. This eliminates the need for traditional methods such as email or physical mail, streamlining the document exchange process and ensuring data privacy.
Client Intake and Onboarding
WhatsApp Business API can facilitate the client intake and onboarding process for law firms. New clients can provide necessary information, complete intake forms, and submit required documents through the messaging platform. This simplifies the onboarding process, reduces paperwork, and allows legal professionals to efficiently gather and organize client information.
Secure and Confidential Communication
Privacy and confidentiality are paramount in the legal industry. WhatsApp Business API offers end-to-end encryption, ensuring that client communication remains secure and confidential. Legal professionals can discuss sensitive matters, share confidential information, and provide legal advice with peace of mind, knowing that client data is protected.
Notifications and Alerts
WhatsApp Business API can be utilized to send important notifications and alerts to clients. This includes court date reminders, payment due notices, or updates on changes in legal regulations. By leveraging the instant and direct nature of WhatsApp, legal professionals can ensure that clients are promptly informed of critical information.
Billing and Payment
WhatsApp Business API can simplify the billing and payment process for legal services. Lawyers can send invoices, payment reminders, and securely accept payments through the messaging platform. This reduces administrative tasks, improves cash flow, and provides a convenient payment option for clients.
Conclusion
In conclusion, WhatsApp Business API offers numerous benefits for the legal industry. From streamlined communication and efficient appointment scheduling to secure document sharing and personalized client engagement, legal professionals can leverage this powerful tool to enhance their services, improve client satisfaction, and drive overall efficiency. By embracing WhatsApp Business API,
law firms can leverage the convenience and accessibility of WhatsApp to stay ahead in an increasingly digital world.
It is important to note that while WhatsApp Business API offers valuable features for the legal industry, it is essential for law firms to ensure compliance with relevant laws and regulations regarding client communication and data privacy. Legal professionals should implement appropriate measures to safeguard client information and adhere to professional ethics and confidentiality standards.
In conclusion, WhatsApp Business API has emerged as a game-changer for the legal industry. With its array of features, including marketing and promotions, appointment scheduling, secure communication, document sharing, and streamlined billing, legal professionals can enhance their client experience, improve efficiency, and stay competitive in today's fast-paced digital landscape.
By harnessing the power of WhatsApp Business API, law firms can effectively connect with clients, provide personalized services, and build stronger client relationships. Embracing this technology enables legal professionals to adapt to the changing needs and preferences of clients, ultimately driving growth and success in the dynamic legal landscape.
Are you ready to embrace the power of WhatsApp Business API for your legal practice? Take advantage of this innovative tool and unlock new possibilities in client communication, efficiency, and overall success in the legal industry.
To learn more about how WhatsApp Business API can benefit your legal practice, visit our website at https://www.smsgatewaycenter.com/whatsapp-business-api/. Stay ahead of the competition and revolutionize your legal services with WhatsApp Business API.
Remember, the legal industry is evolving, and adopting innovative technologies like WhatsApp Business API can position your firm for success in the digital age. Don't miss out on the opportunities that await you. Embrace the power of WhatsApp Business API and take your legal practice to new heights.
---
Save this interesting page on your favorite Social Media
---