Non-Governmental Organizations (NGOs) play a crucial role in driving social change and making a positive impact in communities around the world. To maximize their reach, engage with stakeholders, and effectively manage their operations, NGOs are increasingly turning to innovative technologies. One such technology that has transformed communication strategies for NGOs is the WhatsApp Business API.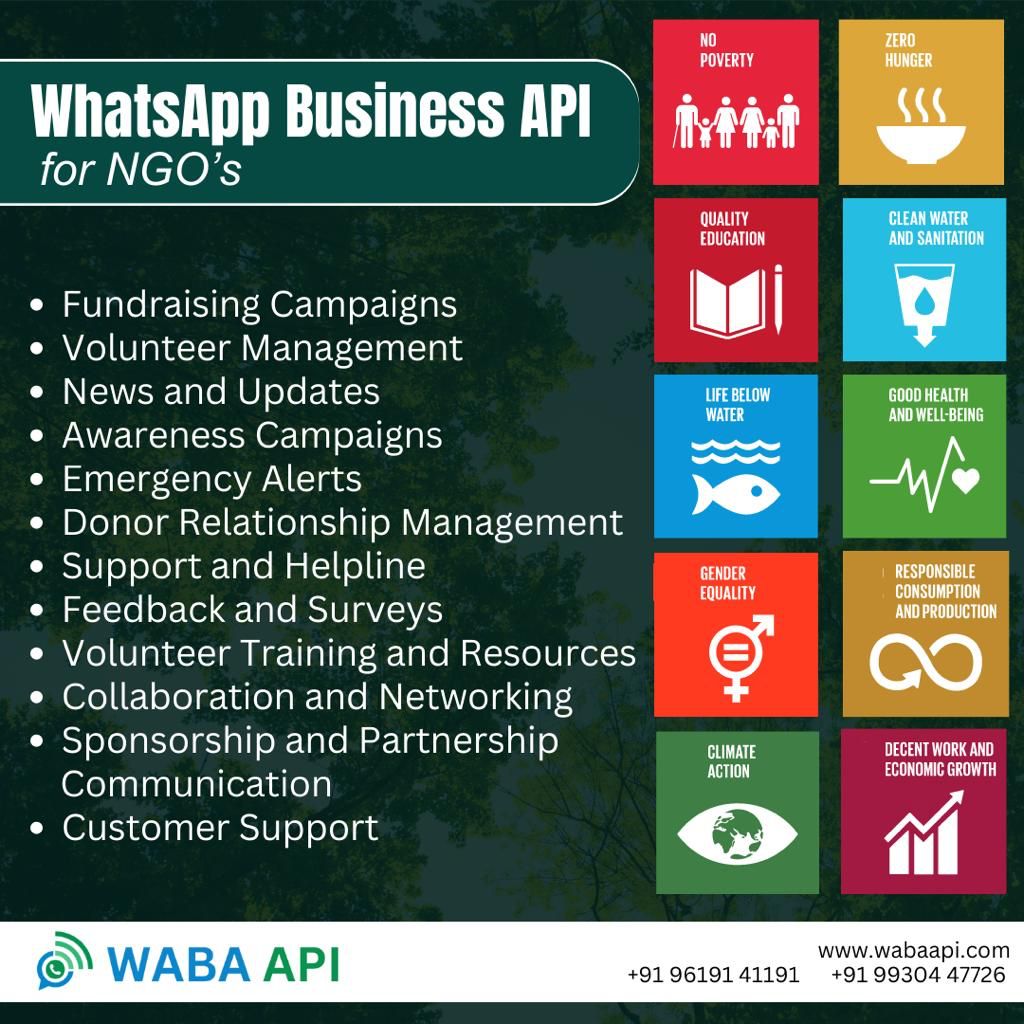 The WhatsApp Business API offers a powerful platform for NGOs to connect with their audience, streamline operations, and create meaningful impact. With its extensive user base and user-friendly interface, WhatsApp provides an ideal channel for NGOs to engage with their supporters, donors, volunteers, and beneficiaries. Let's explore some key ways in which NGOs can leverage the WhatsApp Business API.
Fundraising Campaigns
Fundraising is an essential activity for NGOs, and the WhatsApp Business API can significantly enhance their efforts. NGOs can create personalized fundraising campaigns and share them directly with their supporters through WhatsApp. By leveraging the platform's multimedia capabilities, NGOs can share compelling stories, images, and videos to inspire donations and raise awareness about their cause.
Volunteer Management
Efficient volunteer management is crucial for NGOs, and the WhatsApp Business API simplifies the process. NGOs can use WhatsApp to recruit, communicate with, and coordinate their volunteers. Whether it's sending volunteer schedules, providing training materials, or organizing volunteer appreciation events, WhatsApp streamlines volunteer management, ensuring smooth collaboration and effective contribution.
News and Updates
Keeping stakeholders informed about the latest news and updates is essential for NGOs. With the WhatsApp Business API, NGOs can deliver timely updates directly to the smartphones of their audience. This includes sharing project updates, success stories, impact reports, and other relevant information. The real-time nature of WhatsApp ensures that stakeholders are always in the loop, fostering transparency and trust.
Awareness Campaigns
NGOs often run awareness campaigns to educate the public about social issues and promote behavioral change. The WhatsApp Business API provides a valuable platform to drive awareness campaigns. NGOs can send educational materials, infographics, videos, and interactive content through WhatsApp, reaching a wider audience and sparking meaningful conversations around critical social issues.
Emergency Alerts
In times of emergencies or disasters, NGOs need to communicate urgent information quickly and efficiently. The WhatsApp Business API enables NGOs to send emergency alerts, safety guidelines, and evacuation instructions directly to the smartphones of individuals in affected areas. This real-time communication can be lifesaving and helps NGOs ensure the safety and well-being of communities during crises.
Donor Relationship Management
Maintaining strong relationships with donors is vital for the sustainability of NGOs. The WhatsApp Business API allows NGOs to engage with donors on a more personal level. NGOs can send personalized thank-you messages, impact updates, and exclusive content to donors, nurturing a sense of connection and appreciation. This personalized approach strengthens donor loyalty and encourages long-term support.
Support and Helpline
NGOs often provide support and helpline services to individuals in need. The WhatsApp Business API enables NGOs to offer real-time support and assistance through direct messaging. Individuals can reach out to NGOs for guidance, resources, or emotional support, creating a safe and accessible space for those seeking help.
Feedback and Surveys
To continuously improve their services and programs, NGOs require feedback from their stakeholders. The WhatsApp Business API allows NGOs to send surveys and collect feedback directly from their audience. This valuable input helps NGOs understand the needs and preferences of their beneficiaries, supporters, and volunteers, enabling them to make data-driven decisions and deliver impactful initiatives.
Volunteer Training and Resources
NGOs invest in the training and development of their volunteers to ensure the delivery of high-quality services. The WhatsApp Business API simplifies volunteer training by enabling NGOs to share training materials, resources, and updates directly through WhatsApp. Volunteers can access training modules, participate in discussions, and receive ongoing support, enhancing their knowledge and skills, ultimately improving their effectiveness in carrying out the NGO's mission.
Collaboration and Networking
The WhatsApp Business API facilitates collaboration and networking among NGOs, enabling them to connect, share insights, and collaborate on joint initiatives. NGOs can create dedicated WhatsApp groups where like-minded organizations can exchange ideas, share best practices, and explore opportunities for partnership. This collaboration fosters a sense of community and collective action, amplifying the impact of NGOs in addressing social challenges.
Sponsorship and Partnership Communication
NGOs rely on sponsorships and partnerships to support their initiatives. The WhatsApp Business API offers a direct and convenient channel for NGOs to communicate with sponsors and partners. NGOs can provide regular updates on project progress, share impact stories, and express gratitude for their support. This transparent and efficient communication strengthens relationships and encourages ongoing collaboration.
Customer Support
Providing excellent customer support is essential for NGOs to address inquiries, resolve issues, and maintain positive relationships with their stakeholders. The WhatsApp Business API enables NGOs to offer prompt and personalized customer support through direct messaging. Individuals can reach out to NGOs with their queries, concerns, or requests, and receive timely responses, ensuring a seamless and satisfactory experience.
Conclusion
In conclusion, the WhatsApp Business API has revolutionized communication for NGOs, empowering them to engage with their audience, streamline operations, and create a greater social impact. From fundraising campaigns to volunteer management, awareness campaigns to donor relationship management, the WhatsApp Business API offers a versatile platform that supports the diverse needs of NGOs.
By leveraging the features and capabilities of the WhatsApp Business API, NGOs can effectively communicate their mission, inspire action, and build meaningful relationships with their stakeholders. Whether it's raising funds, promoting causes, delivering emergency alerts, or providing support services, the WhatsApp Business API provides a powerful tool for NGOs to amplify their reach, drive engagement, and make a positive difference in the world.
So, if you're an NGO striving to enhance your communication strategies and maximize your impact, consider harnessing the potential of the WhatsApp Business API. Embrace this technology, connect with your stakeholders, and leverage its capabilities to create lasting change and build a better future.
WABA API is here to assist NGOs in implementing and optimizing the WhatsApp Business API for their specific needs. With our expertise and support, NGOs can harness the full potential of this communication platform and make a significant difference in the communities they serve.
To learn more about how WABA API can empower your NGO's communication efforts, visit our website at https://www.wabaapi.com. Together, let's harness the power of technology and communication to create a brighter future for all.
---
Save this interesting page on your favorite Social Media
---