In the dynamic world of business management and client communication, tools that streamline processes are essential. One such tool that can significantly enhance the efficiency of WHMCS (Web Host Manager Complete Solution) is the SMS Manager Addon. Developed by WHMCS Services, this third-party paid addon offers seamless bulk SMS connectivity, allowing you to stay in touch with your clients effectively. In this article, we'll delve into the features and benefits of the WHMCS SMS Manager Addon and how it can be integrated with the services offered by SMS Gateway Center.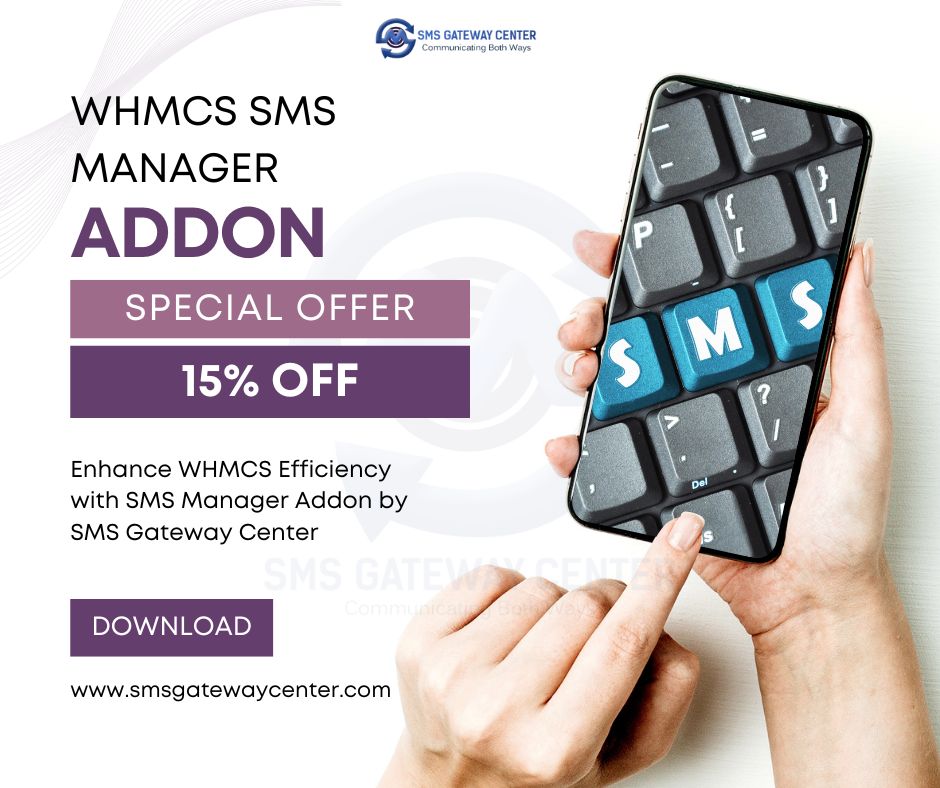 Understanding WHMCS
WHMCS is a comprehensive client management, billing, and support platform designed specifically for web hosting businesses. It simplifies the process of managing clients, automating billing, and providing support services. However, to take WHMCS to the next level, integrating it with the SMS Manager Addon can bring a host of advantages.
Benefits of WHMCS SMS Manager Addon
Seamless Integration:
The SMS Manager Addon seamlessly integrates with your WHMCS platform, enabling you to send SMS notifications, alerts, and updates to your clients directly from the WHMCS interface.
Timely Communication:
With bulk SMS notifications, you can ensure that your clients receive important updates promptly. This includes payment reminders, service alerts, and other time-sensitive information.
Enhanced Client Engagement:
SMS communication offers a personal touch that emails may lack. It engages your clients directly on their mobile devices, increasing the likelihood of their interaction and response.
Versatile Messaging:
The addon allows you to send various types of messages, from service activation notifications to promotional offers, ensuring effective client communication across the board.
Integration with SMS Gateway Center:
By utilizing the services of SMS Gateway Center, you can enhance the capabilities of the WHMCS SMS Manager Addon. As a bonus, entering the "SMSGC" promo code at whmcsservices.com/smsgc.php when purchasing the addon grants you a 15% discount.
Up-to-Date Compatibility:
WHMCS Services consistently updates the SMS Manager Addon, ensuring compatibility with the latest versions of WHMCS. This means you can upgrade your WHMCS version worry-free.
Conclusion
For businesses relying on WHMCS for client management and communication, the SMS Manager Addon presents an invaluable solution. Its seamless integration, timely communication, and enhanced engagement capabilities make it an essential tool for maintaining a strong connection with your clients. By partnering with SMS Gateway Center, you can further amplify the benefits of the SMS Manager Addon, ensuring your clients receive the utmost attention and service excellence.
---
Save this interesting page on your favorite Social Media
---