The resonance of the human voice continues to be unmatched in a world where businesses are constantly looking for more direct and interesting methods to connect their audience. It's a format that communicates feeling, sincerity, and a unique touch. Instant Voice Marketing, enabled by SMSGatewayCenter, takes advantage of this capacity to strengthen relationships between companies and their clients. We'll explore how Instant Voice Marketing can be your hidden weapon for effective and speedy communication in this article.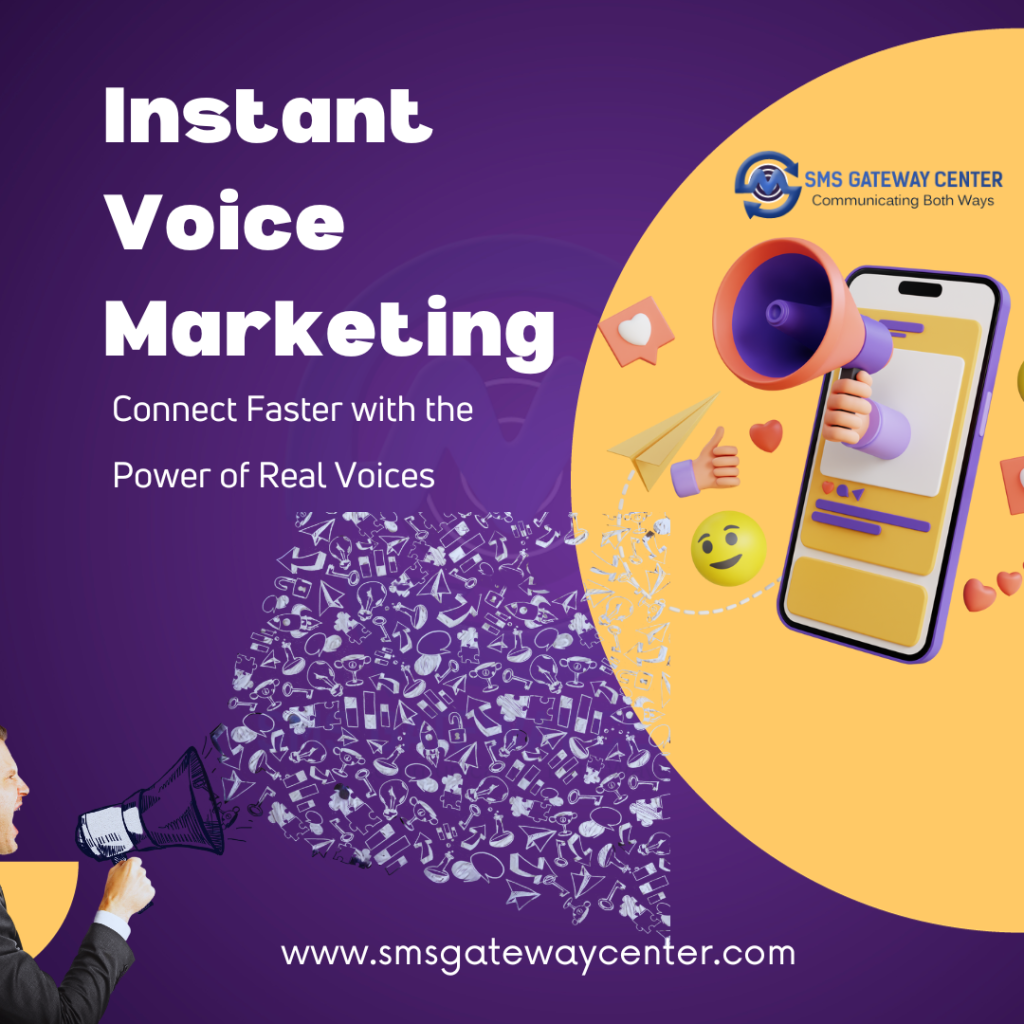 The Influence of Voice
Even while emails and text messages are often used forms of contact in the world of digital marketing, they frequently lack a personal touch. However, vocal conversations have the capacity to elicit feelings and foster a sense of connection that text-based communications frequently lack. An effective marketing effort can be greatly increased by the authenticity, immediacy, and empathy that a human voice can elicit.
The Voice Advantage
The human voice is a powerful tool. It carries nuances that text-based messages simply can't replicate. When your customers hear a real human voice, it humanizes your brand and creates a deeper emotional connection. This is where Instant Voice Marketing excels – it lets you convey your message with authenticity and sincerity.
Instant Voice Marketing: A Revolutionary Tool
A cutting-edge technique called instant voice marketing combines the speed of instant messaging with the emotional impact of voice communication. Using this cutting-edge marketing technique, companies can instantaneously give clients tailored voice messages. It serves as more than simply a marketing tool; it also facilitates the development of solid, lasting connections with clients.
Instant Voice Marketing's Benefits
The use of Instant Voice Marketing has a number of advantages. The first benefit is that it enables quick communication, ensuring the timely delivery of crucial communications. Additionally, it fosters a more intimate relationship with clients, which can boost client loyalty and engagement. Last but not least, it provides a distinctive and interesting manner of connecting with clients, making it a powerful strategy for standing out from the competitors.
Rapid Reach with Real Voices
The core of Instant Voice Marketing is its ability to reach your audience rapidly. You record your message, upload it, and our service takes care of the rest. In seconds, your message can be delivered to thousands of customers, ensuring that your communication is both immediate and personalized.
Why Instant Voice Marketing Works
Personal Connection: The human voice establishes a personal connection, making your customers feel valued.
Higher Engagement: Voice messages capture attention more effectively than text, reducing the chances of being overlooked.
Instant Delivery: When time is of the essence, Instant Voice Marketing ensures your message reaches recipients swiftly.
How SMSGatewayCenter Elevates Instant Voice Marketing
SMSGatewayCenter is your partner in harnessing the potential of Instant Voice Marketing.
Key Features of SMSGatewayCenter
Effortless Message Recording: Record and upload your messages with ease.
Seamless Campaign Management: Manage your voice marketing campaigns effortlessly using our intuitive interface.
Real-Time Analytics: Gain insights into your campaign's performance through real-time analytics.
Personalization: Customize voice messages to resonate with each recipient.
Reliable Delivery: Trust in the reliability of our service, ensuring that your voice messages are delivered promptly.
Take Advantage of Instant Voice Marketing's Power
To stay relevant in the face of technology's rapid growth, organizations must adapt and innovate. One such innovation that companies can use to improve their marketing efforts is instant voice marketing. It provides a distinctive approach to engage with clients and establish enduring relationships. Therefore, it can be worthwhile to investigate Instant Voice Marketing if you're seeking for a productive strategy to increase your marketing efforts.
Conclusion
In the fast-paced world of modern business, Instant Voice Marketing is a beacon of personalized and rapid communication. It infuses the power of the human voice into your marketing efforts, creating meaningful connections with your customers. When you partner with SMSGatewayCenter, you gain access to a platform designed to streamline your Instant Voice Marketing campaigns.
Discover the potential of Instant Voice Marketing with SMSGatewayCenter. Contact us today.
---
Save this interesting page on your favorite Social Media
---