The dynamic synergy between cost-effective marketing and exceptional engagement can be achieved through bulk SMS strategy. You can explore how leveraging significantly higher open rates sets the stage for success, all while keeping costs in check with SMSGatewayCenter.
---
Finding the proper balance between cost-effectiveness and engagement is a holy grail in the world of digital marketing, where customer attention spans are fleeting and competition is fierce. Enter bulk SMS marketing, a dynamic technique that has repeatedly shown to produce high open rates at minimal costs, making it a must-have tool for modern businesses seeking efficient outreach.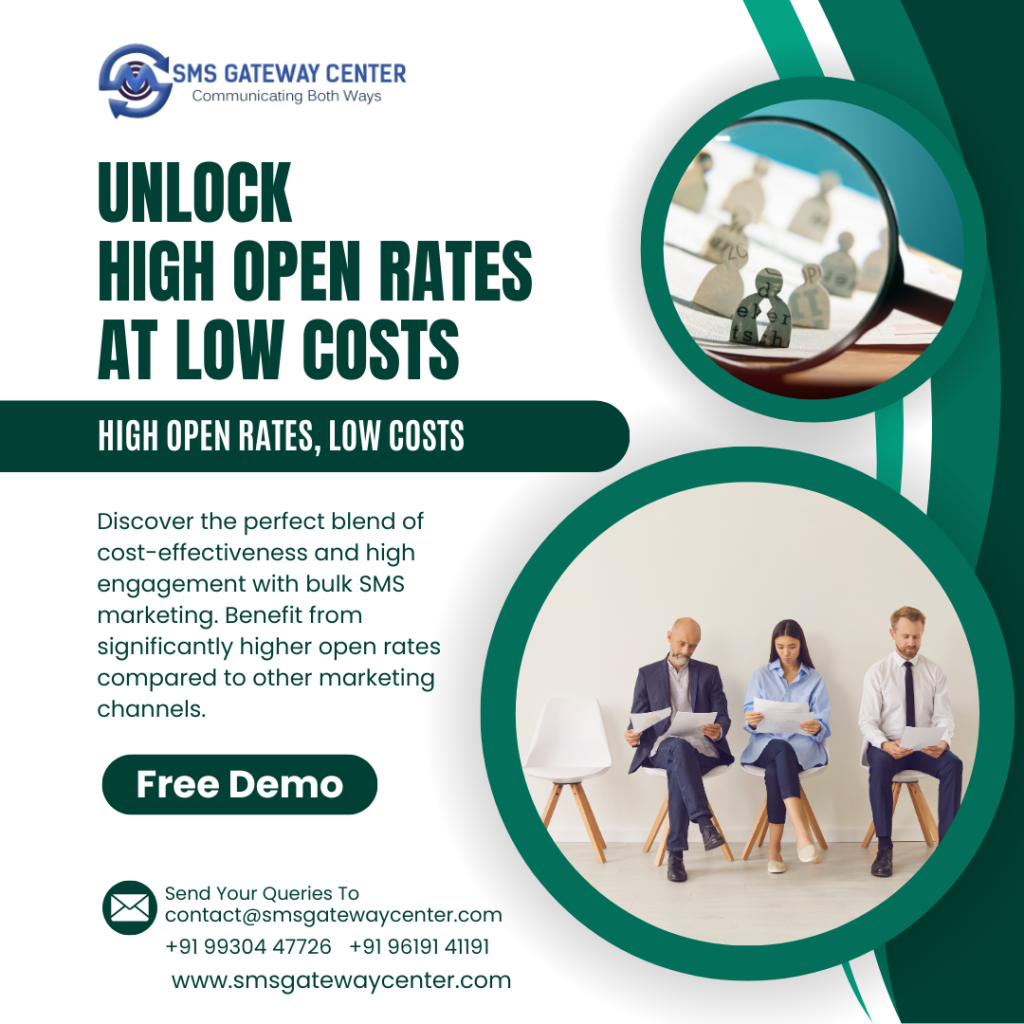 The Rising Star: Bulk SMS Marketing
Bulk SMS marketing, or the practice of concurrently delivering massive numbers of text messages to a intended audience, has established itself as a dependable and impactful marketing tool. While email marketing and social media have their advantages, SMS is generally the favored alternative for both businesses and consumers due to its simplicity, directness, and immediacy.
High Open Rates: The Game-Changer
The astonishingly high open rates of bulk SMS marketing are one of its most appealing features. According to studies, SMS messages have an open rate of over 98%, with the majority of messages being read within minutes of being received. This immediate accessibility provides a distinct benefit in ensuring that your message reaches its intended audience as soon as possible, a feat that other marketing channels may fail to achieve.
High open rates have the capacity to ensure that practically every receiver sees your brand's most recent promotion, event announcement, or significant update. This unmatched engagement potential encourages rapid actions, from website visits to shopping decisions, and creates the foundation for meaningful connections.
Cost-Effectiveness: Doing More with Less
Cost-effectiveness is of the utmost importance in a time when marketing funds are closely reviewed. Bulk SMS marketing shines in this department as well. Compared to traditional advertising methods or even other digital marketing avenues, SMS campaigns require minimal financial investment, yet yield substantial returns.
Due to SMS's ease of use and high open rates, businesses can successfully communicate their message without expending unnecessary resources. Small and medium-sized businesses (SMEs) who must maximize their reach on a tight budget may find this cost-efficiency particularly tempting.
A Match Made in Marketing Heaven
Bulk SMS marketing is in an exceptional position to produce significant benefits for companies of all sizes and industries due to the combination of high open rates and inexpensive expenses. Bulk SMS marketing offers a flexible and efficient solution, whether you're a merchant pushing a flash sale, a healthcare provider providing appointment reminders, or a financial institution sharing customised updates.
We at SMSGatewayCenter are committed to assisting businesses in maximizing the power of this marketing tool since we appreciate its importance. Our state-of-the-art software enables you to easily build, schedule, and monitor SMS campaigns, ensuring that your message precisely reaches your target demographic.
Conclusion: Harnessing the Power of Bulk SMS Marketing
The capacity to effectively engage clients while preserving financial restraint is a valuable asset in the constantly changing world of digital marketing. Bulk SMS marketing serves as a perfect illustration of how to strike this balance. It provides a unique approach to expand the reach of your brand and foster genuine interactions thanks to its high open rates and cost-effectiveness.
Accept the magic of low costs and high open rates. Come join us at SMSGatewayCenter to maximize the benefits of bulk SMS marketing for your company. Without sacrificing your resources, learn the art of masterful interaction. Make every SMS count because your audience is waiting.
Discover more about our bulk SMS services at SMSGatewayCenter.com.
---
Save this interesting page on your favorite Social Media
---