In today's fast-paced world, staying fit and taking care of our overall well-being has become a top priority. As fitness and wellness centers strive to meet the evolving needs of their customers, they are turning to innovative tools and technologies to enhance their services and engage with their clientele effectively. One such tool that has gained immense popularity in recent years is the WhatsApp Business API.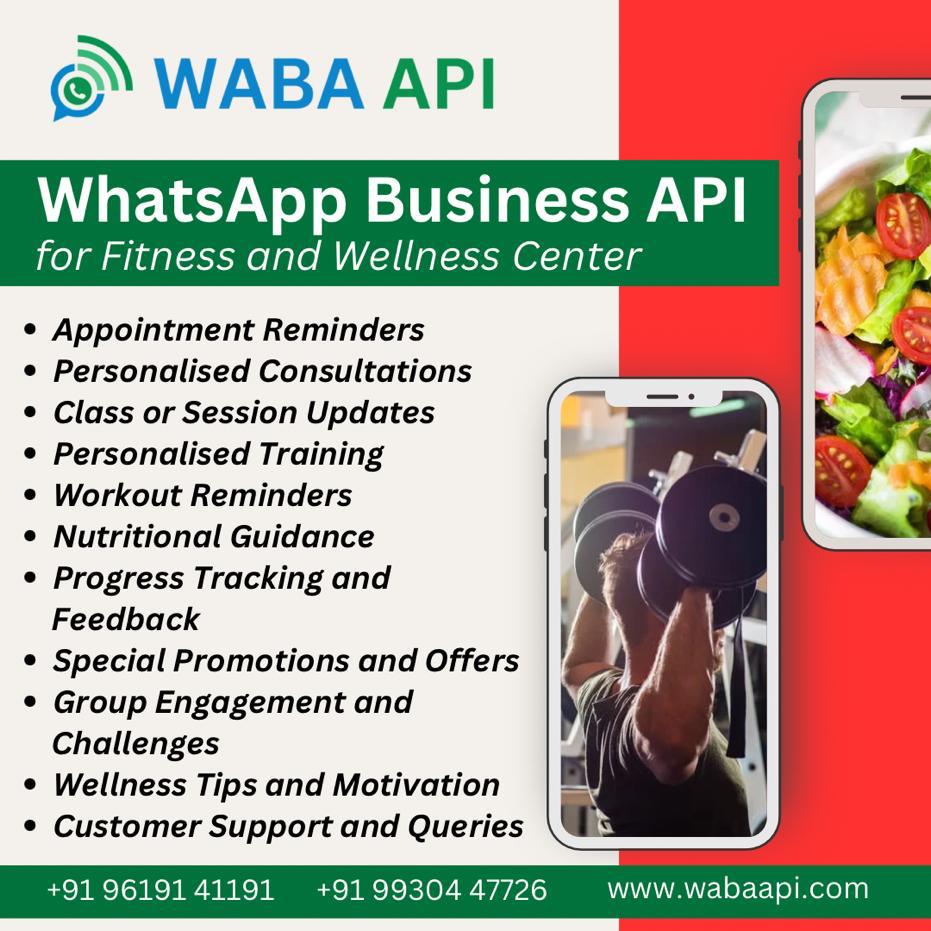 The WhatsApp Business API offers a range of features specifically designed to cater to the unique requirements of fitness and wellness centers. From appointment reminders to personalized consultations, this powerful tool provides a seamless and convenient communication channel between fitness centers and their clients. Let's delve deeper into the key features and benefits of the WhatsApp Business API for the fitness and wellness industry.
Appointment Reminders:
Managing appointments is a crucial aspect of any fitness or wellness center. With the WhatsApp Business API, centers can send automated appointment reminders to their clients, ensuring they never miss a session. This feature helps reduce no-shows and improves overall customer satisfaction.
Personalized Consultations:
Every individual has different fitness goals and requirements. The WhatsApp Business API enables fitness centers to provide personalized consultations via chat, allowing trainers to offer tailored advice, address specific concerns, and guide clients on their fitness journey.
Class or Session Updates:
Fitness centers often offer a variety of classes and sessions. With the WhatsApp Business API, centers can inform clients about class schedules, updates, and any changes in real-time. This ensures that clients stay well-informed and can plan their workouts accordingly.
Personalized Training:
To maximize results and provide a superior fitness experience, personalized training is essential. The WhatsApp Business API allows trainers to send customized workout plans, exercise videos, and tips directly to their clients' WhatsApp accounts. This level of personalization enhances client engagement and motivation.
Workout Reminders:
Staying consistent with workouts can be challenging for many individuals. The WhatsApp Business API offers the ability to send workout reminders to clients, helping them stay on track with their fitness goals and maintain a regular exercise routine.
Nutritional Guidance:
Diet plays a crucial role in overall fitness and wellness. Fitness centers can leverage the WhatsApp Business API to share nutritional guidance, meal plans, and healthy recipes with their clients. This feature helps clients make informed choices and adopt a balanced approach to their nutrition.
Progress Tracking and Feedback:
Tracking progress is vital for clients to assess their fitness journey. The WhatsApp Business API enables fitness centers to collect progress updates from clients, provide feedback, and offer support and encouragement along the way. This fosters a sense of accountability and helps clients stay motivated.
Special Promotions and Offers:
To attract new clients and retain existing ones, fitness centers often run special promotions and offers. With the WhatsApp Business API, centers can notify their clients about exclusive discounts, membership deals, or upcoming events, fostering customer loyalty and engagement.
Group Engagement and Challenges:
Creating a sense of community and fostering a supportive environment is crucial in the fitness and wellness industry. The WhatsApp Business API allows fitness centers to create group chats, organize challenges, and facilitate group engagement, where clients can interact, motivate each other, and share their achievements.
Wellness Tips and Motivation:
Beyond workouts and nutrition, the WhatsApp Business API enables fitness centers to share wellness tips, motivational quotes, and inspirational content with their clients. This holistic approach helps clients develop a positive mindset and maintain a healthy lifestyle.
Customer Support and Queries:
Prompt and efficient customer support is essential for any fitness center. The WhatsApp Business API offers real-time communication, allowing clients to reach out with queries, concerns, or feedback. Fitness centers can provide swift responses and resolve any issues promptly, enhancing the overall customer experience.
By leveraging the power of the WhatsApp Business API, fitness and wellness centers can elevate their communication strategies and create meaningful connections with their clients. This not only improves customer satisfaction but also helps in building long-term relationships and fostering loyalty.
Moreover, the convenience and accessibility offered by the WhatsApp Business API make it an ideal platform for fitness centers to connect with clients on a personal level. The ability to send personalized consultations, workout reminders, and nutritional guidance directly to clients' WhatsApp accounts creates a seamless and immersive fitness experience.
The real-time nature of the WhatsApp Business API enables fitness centers to stay connected with their clients throughout their fitness journey. From sharing class or session updates to tracking progress and providing feedback, fitness centers can actively support and motivate their clients, driving them towards their goals.
Additionally, the WhatsApp Business API facilitates group engagement and challenges, fostering a sense of community among clients. By creating group chats and organizing fitness challenges, fitness centers can encourage clients to interact, share their experiences, and inspire each other, creating a supportive environment that enhances motivation and accountability.
Promotiona & Offers
With the ability to send special promotions, offers, and exclusive content, fitness centers can effectively market their services and attract new clients. The WhatsApp Business API serves as a powerful marketing tool, allowing fitness centers to engage with their target audience directly and deliver personalized messages that resonate with their interests and goals.
Furthermore, the instant messaging nature of the WhatsApp Business API enables efficient customer support and query resolution. Clients can reach out to fitness centers with their concerns, questions, or feedback, and receive prompt responses, ensuring a positive and satisfactory customer experience.
It's important to note that while the WhatsApp Business API provides numerous benefits and opportunities, fitness centers must also prioritize data privacy and security. Implementing necessary measures to protect client information and ensuring compliance with data protection regulations is crucial.
Conclusion
In conclusion, the WhatsApp Business API has revolutionized the way fitness and wellness centers engage with their clients. Its diverse range of features, including appointment reminders, personalized consultations, workout tracking, and community engagement, enables fitness centers to deliver exceptional services and build strong client relationships. By embracing this powerful tool, fitness, and wellness centers can enhance their operations, boost customer satisfaction, and thrive in the digital age of fitness.
---
Save this interesting page on your favorite Social Media
---