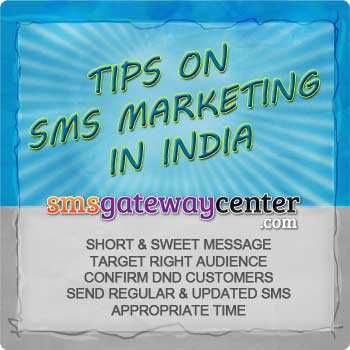 Today, Short Message Service (SMS) Marketing is been the buzzword among all business houses to promote their product and brand. In a very short span this form of marketing has gained popularity. SMS Marketing provides an excellent platform for many businesses to get in touch with consumers directly, increase profits and help to enhance the brand. The study says that SMS marketing is one of the cost effective and easily accessible methods of marketing. It is the only mode of communication where you can have direct interaction and get an immediate response.  While using other techniques of promotional campaigns along with SMS marketing, the research shows that there has been increase in sales and profits for the business.
The major advantage of SMS marketing is it is relatively inexpensive to implement and does not need much efforts. With the help of SMS marketing one can reach larger target audience. Once customers find it interesting, they tend to respond and recall immediately. Being a two way communicator, SMS marketing can conduct direct dialogues with its customers. This will help the businessman to understand the mindset of the market and make necessary changes to increase sales and make profits.
Consider following tips for Marketing through SMS Service:
Firstly keep the message short and simple – while sending messages, it is always better to use plain and simple language.  Within a short text message space you need to grab your customer's attention. So usage of popular texting shortcuts can be applicable.
Target Audience – it is very important to segment your customers. This will help you to personalize information according to their requirements. Hitting the right target can help you achieve greater profits.
Confirm DND customers – while sending out bulk smses, also make sure that you do not include Do Not Disturb (DND) customers. Ensure you have customer's permission to contact them by SMS. It is mandatory by Govt. Of India to keep check on the list of DND customers.
Keep sending regular and updated SMSes – it is very essential to regularly notify your customers about promotions, sales and new products in the market. Your business can also retain customers by sending vouchers to customers via SMS as an incentive for their business. This will help to widen and deepen relationships with your customers.
Select Appropriate timing to send SMS – understanding the business tactics of sending the message at an appropriate time is very important. It is always better to not send messages during late night times. Capturing the customer during festivals and special days can increase your sales target.
Mix with other promotional and advertising campaigns – allow customers to sign up for text alerts and updates through your Facebook page or websites. Make sure you include your contact details like address and contact number on website or other social networks.
Last but not the least, insists on feedbacks – make sure you ask your customer for prompt feedback. This will help you to focus on any brickbats received and rectify your business.
---
Save this interesting page on your favorite Social Media
---