The SMS Gateway Center takes great pride in offering exceptional customer support that goes above and beyond to address your concerns and ensure the success of your SMS campaigns. We strive to be your trusted partner in every step of your marketing journey, and our dedication to providing top-notch customer service sets us apart from the competition.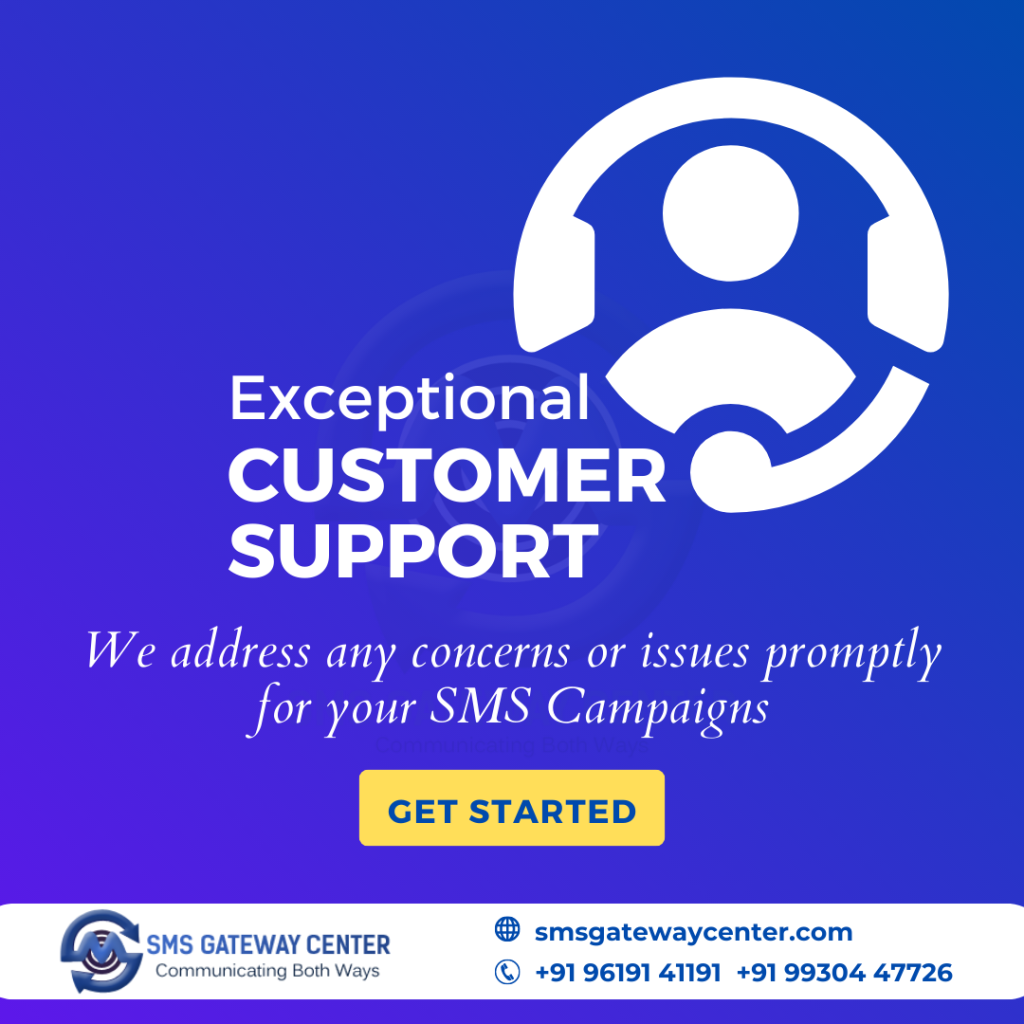 Dedicated Support Team
Our committed customer assistance team is always available to resolve any questions or issues you may encounter while employing our SMS gateway solutions. We are just a call or email away if you need help setting up an SMS campaign, fixing a problem, or asking questions about our SMS features.
Prompt Response
We recognize the value of prompt support, particularly when it comes to SMS campaigns that have a limited window of opportunity. Because of this, our support staff is dedicated to provide a rapid and responsive service and making sure that your inquiries are swiftly answered. When you need us the most, you can rely on us to be there.
24/7 Availability
We are aware that your bulk SMS campaigns may not always follow to a standard 9-to-5 schedule. That's why we provide round-the-clock support to meet your needs at any time of the day or night. Our 24-hour availability assures that you may contact us anytime you need help, regardless of your location or time zone.
Comprehensive Solutions
Our support team is made up of educated individuals who have a thorough understanding of our SMS gateway platform. They can walk you through numerous features and functionalities while also providing comprehensive solutions geared to your individual needs. We have you covered whether you are a seasoned SMS marketer or a newcomer.
Proactive Monitoring
Our support team actively monitors our systems and infrastructure to ensure the smooth running of your SMS campaigns. This proactive strategy enables us to identify and address any potential issues before they escalate, keeping your SMS campaigns running seamlessly.
Educational Resources
We believe in empowering our customers with knowledge and insights to maximize the benefits of our bulk SMS services. Alongside our customer support, we provide educational tools, guides, and best practices to help you make the most out of your SMS campaigns and achieve your marketing goals.
Client Success Stories
Our success is inextricably linked to yours, and nothing gives us greater satisfaction than seeing our customers achieve their goals through successful SMS campaigns. We are inspired by the success stories of our customers and strive to replicate these positive outcomes for every user of our SMS platform.
Conclusion
At SMS Gateway Center, great customer assistance is at the heart of our services. We are committed to ensuring that your SMS campaigns run successfully, smoothly and effectively by providing prompt, reliable, and expert support. As your reliable SMS gateway partner, we are dedicated to walking with you every step of the way, empowering your enterprise to connect with your targeted audience and accomplish remarkable results. Reach out to us today, and experience unparalleled customer support for your SMS campaigns.
---
Save this interesting page on your favorite Social Media
---