Communication is critical in the fast-paced world of healthcare to ensure effective and timely service delivery. Diagnostics centres, as leaders in medical diagnostics, require excellent communication solutions to keep patients informed and interested. Bulk SMS has emerged as an effective solution for diagnostics centres looking to improve their communication procedures and provide better healthcare experiences. In this essay, we will look at the 18 most important advantages of utilising bulk SMS for diagnostics centres.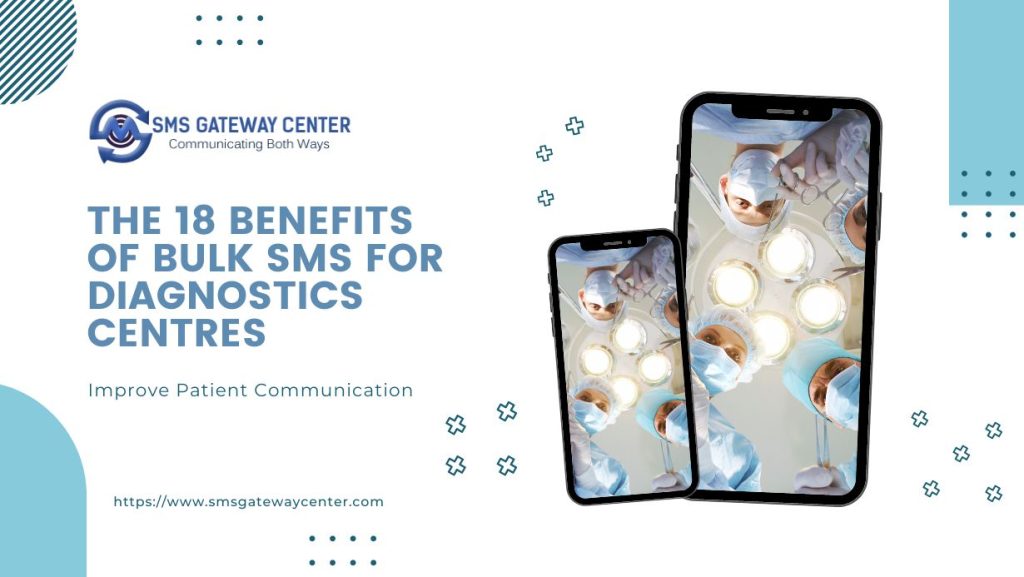 1. Instant Appointment Reminders
Diagnostics facilities may use bulk SMS to provide appointment reminders to patients in real time. These reminders decrease no-shows and ensure that patients keep their planned appointments, resulting in a more efficient workflow and optimal resource utilization.
2. Prompt Test Results Delivery
Diagnostics labs may quickly transmit test results to patients via bulk SMS, reducing worry and ambiguity. Quick distribution of test results increases patient satisfaction and promotes the center's reputation for dependable and timely services.
3. Health Camp Notifications
Diagnostics centres frequently hold health camps in order to reach a larger audience. Bulk SMS enables centres to efficiently promote and invite people to these camps, increasing community participation and awareness.
4. Preventive Health Check-up Alerts
Regular health check-ups are crucial for preventive care. Bulk SMS empowers diagnostics centres to send personalized reminders for check-ups, helping patients stay proactive about their health.
5. Medication and Follow-up Reminders
Following prescribed medication and attending follow-up appointments are essential for successful treatment. Bulk SMS enables diagnostics centres to remind patients of their medication schedules and upcoming visits, ensuring better treatment adherence and improved patient outcomes.
6. Special Offers and Discounts
Bulk SMS may be used by diagnostic centres to notify patients about special deals, discounts, and health packages. This smart marketing technique increases patient involvement while also attracting new patients.
7. Time-sensitive Public Health Alerts
During epidemics or public health situations, diagnostics centres can utilize bulk SMS to transmit vital information including disease preventive strategies, vaccination efforts, and safety instructions.
8. Cost-effective Communication
Bulk SMS is a more cost-effective communication tool than traditional means such as phone calls and postal letters. It drastically lowers communication costs while reaching a larger audience.
9. Enhanced Customer Service
Bulk SMS increases total customer service by keeping patients informed and engaged. Patients like timely communication and feel valued, which leads to greater patient loyalty.
10. Increased Efficiency in Communication
Bulk SMS enables diagnosis centres to send a huge number of messages at the same time, saving time and effort in manual communication. This increased productivity leads into more productive processes.
11. Customized Messaging
Personalised SMS communications have a greater impact on receivers. Diagnostics facilities may use bulk SMS to customise messages based on patient data, making communication more relevant and effective.
12. Opt-in and Opt-out Mechanisms
Bulk SMS complies to opt-in and opt-out systems, respecting patient communication choices. This compliance guarantees that patients only get communications if they have expressly approved to them.
13. Improved Patient Engagement
Bulk SMS allows for two-way communication, allowing patients to reply to texts with questions or criticism. This participatory method increases patient involvement and builds trust.
14. Minimal Environmental Impact
In an increasingly environmentally conscious society, bulk SMS greatly decreases paper consumption and environmental effect, making it an eco-friendly communication tool.
15. Real-time Alerts
Bulk SMS may be used by diagnostic centres to transmit real-time notifications for emergency circumstances or urgent updates, assuring patients' quick attention and action.
16. Seamless Integration with CRM
Bulk SMS can seamlessly integrate with Customer Relationship Management (CRM) systems, enabling diagnostics centres to manage patient communication efficiently and maintain comprehensive records.
17. Increased Patient Compliance
Bulk SMS enhances patient compliance with appointments and medical advice through timely reminders and alerts, resulting in improved healthcare results.
18. Data Analytics and Insights
Bulk SMS solutions provide data analytics, allowing diagnostic centres to evaluate the efficacy of their communication efforts. Data analysis aids in the refinement of future campaigns for better results.
Conclusion
Bulk SMS is a game changer for diagnostics centres, providing a plethora of benefits that improve patient involvement, operational efficiency, and overall healthcare quality. Diagnostics facilities can provide seamless communication experiences and leave a great impression on patients by using the power of bulk SMS. Embracing this contemporary communication solution is not a choice; it is a need for diagnostics centres looking to stay ahead in today's competitive healthcare industry.
---
Save this interesting page on your favorite Social Media
---