Eid is here and a great opportunity to reconnect with your customers and clients. According to data held by Google, there is a significant uplift in search of Eid Gifts.
Today, there are many ways to market your products or services. One of the best, high ROI, cost-effective, instant and targeted marketing platform is Bulk SMS Marketing. You can promote your offers or deals successfully to wider spectrum of customers with a single click within few minutes.
SMS Marketing on EID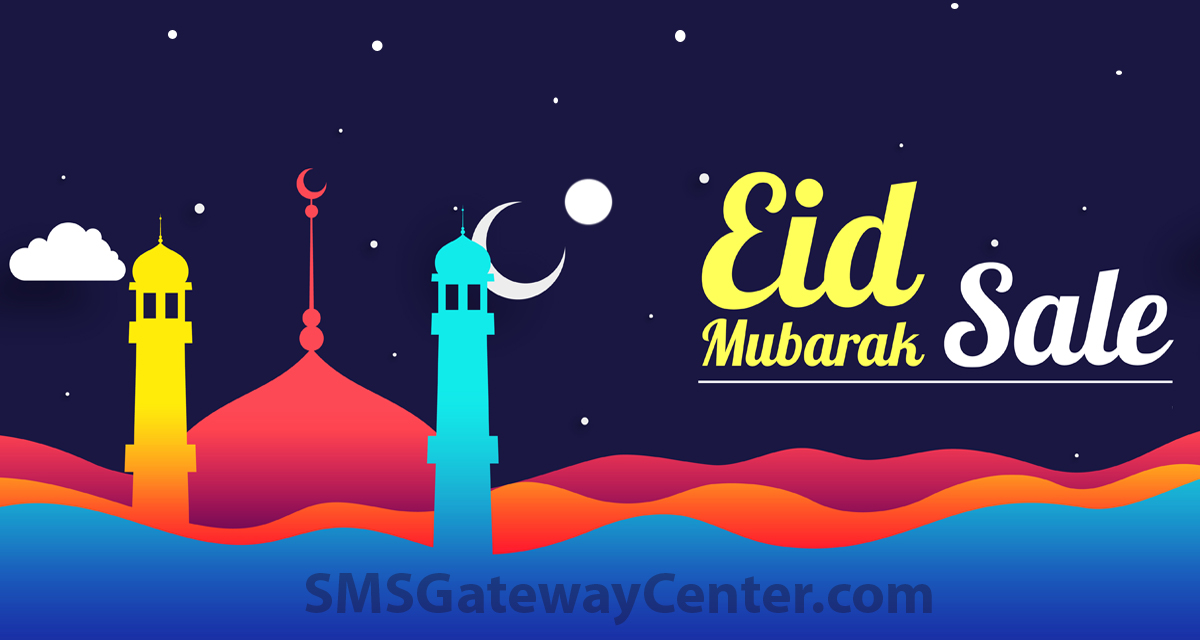 Bulk SMS campaign can increase sale up to 200% in just a couple of days during the festivals. Many popular Brands use bulk SMS for marketing their products or services.
Bulk SMS Marketing Tips on Eid
Here are the few tips on how you can use Bulk SMS this auspicious festival to increase sale:
Welcome New Customers:
Sending an SMS to welcome a new customer is an effective way of showing interest and contributes to a high level of customer service. More particularly, if a customer has signed up to an online newsletter or opted in to a SMS marketing list. It's a good practice to let customers know their details have been received and customer's interest in the company is appreciated.
Discount Offers:
97% of text messages are opened within minutes. 42% of shoppers say sales and discounts are the most important factor for festive shopping and they prefer SMS over emails.
Mobile Coupon Redemption:
Coupons delivered via SMS have redemption rates 10 times higher than the printed coupons.
Send Festival Greeting SMS:
Festive season is the time when usually people willing to do shopping and sending the festive greeting SMS. At this time, will surely bring customers to your shop again.
Using Links to Promote your Online Presence:
You can incorporate links in SMS messages to encourage the customer to look at your site and view seasonal promotions, new products and blogs. Smartphone capabilities can effectively ensure customers are simply a text and a click away from viewing your site.
Order Confirmations and Delivery updates:
Updating customers with a text SMS to know customer's order has been received. It is another significant way of providing exemplary customer service. In addition, it's helpful for customers to know the status of their order, estimated delivery times and when their package is on the way.
Interaction with customers has become an essential part of the modern age marketing. By sending your mouth watering deals through SMS campaign on this Eid, you are not only engaging your customer this time, but also for long run. It's a complete win-win situation.
Customers prefer brands that maintain a personal communication with them and they look forward for upcoming offers. Update your customers every time about your discount offers, new arrival and other deals with your SMS campaign and make your customers HAPPY!!
SMS Marketing engages your customer directly, at a personal level, and can direct them straight to your business. It is important to take advantage of SMS marketing this Eid.
SMSGatewaycenter.com is one of the leading bulk SMS providers in India since a decade. We have well-established track record and our services have always met high with great customer satisfaction. SMS Gateway Center offers great service at a very competent price and have never been known to compromise on quality . We completely follow the TRAI guidelines to protect interest of our clients.
---
Save this interesting page on your favorite Social Media
---