Bulk SMS is quickly becoming one of the most popular marketing tactics in today's world. The idea is to minimize marketing spending by transmitting the best quality SMSs to the maximum number of people. These days, it has become easier to get started with SMS marketing, despite there being several options out there for SMS providers.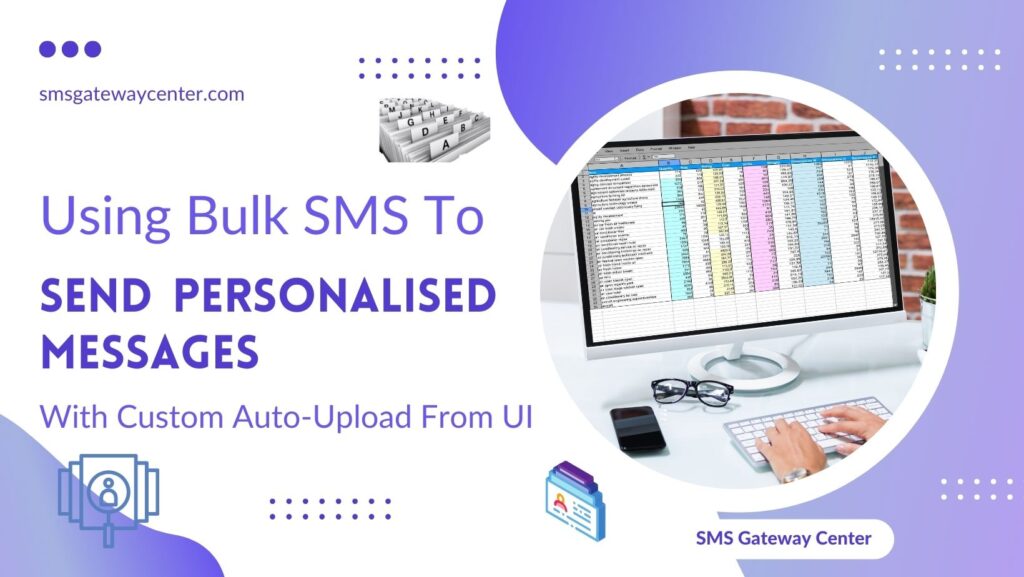 Personalised Bulk SMS: Why Should I Use it?
Sending bulk SMS is a great way to communicate with a large group of people at once. But what if you want to personalise your messages and make them more targeted? That's where personalised bulk SMS comes in.
Personalised bulk SMS allows you to send messages that are tailored to the individual recipient. This means that you can include their name, company name or any other information that would make the message more relevant to them.
What's more, personalised bulk SMS is easy to set up and use. With our custom auto-upload feature, you can quickly and easily upload your contacts from your UI, making it easy to get started.
So why not try personalised bulk SMS today? It's a great way to boost your communication and make sure that your messages are always on point.
How does it work?
Bulk SMS is a great tool for sending personalised messages to your customers or prospects. With Custom Auto-Upload, you can easily upload your contacts from your UI and send them bulk SMS messages without having to manually input their information.
Send Customised SMS
Looking for a way to send mass text messages with a personalised message content? SMS Gateway Center platform is the perfect solution! With our easy-to-use interface, you can upload your contact list along with dynamic messages and create customised messages with just a few clicks. Plus, our auto-upload feature ensures that your messages are always up-to-date!
What are the Benefits of Using a Bulk SMS Sender?
Bulk SMS is an excellent way to send personalised messages with custom auto-upload from your UI. This service can save you time and money by reducing the number of texts you need to send, while still providing a high degree of personalisation.
There are several benefits of using bulk SMS, including:
The ability to send a high volume of messages at a lower cost than traditional methods.
The ability to personalise each message with easy-to-use tools.
The ability to auto-respond to customers or leads, saving you time and hassle.
The ability to upload your contact list from your UI, making it easy to keep track of whom you've contacted.
Conclusion
Bulk SMS is a powerful tool that allows businesses to send personalised SMS messages with custom auto-upload from their UI. This can be an extremely effective way to improve customer engagement and loyalty. By using Bulk SMS, businesses can keep their customers updated on new products, services, or promotions in a highly efficient and cost-effective manner.
---
Save this interesting page on your favorite Social Media
---