Send SMS Notifications from your vTiger CRM and integrate our SMPP connectivity to communicate with your clients efficiently. Keep your customers notified with our SMS integration using SMPP connectivity about the things they are interested to do business with you. Your business will require quality communication tools available to deliver great experiences, which thus can assist form good customer relationships.

What is vTiger CRM?
vTiger is a CRM (Customer Relationship Management) open source software that helps you market to potential clients, improves your interactions with clients, and smooths out your correspondence with different workers and people in general. vTiger assists you with arranging and store data on your deals and advertising endeavors and triumphs, mechanizes errands to assist take out your plan for the day, and can work with client assistance in a similar stage where client information is stored securely.
Configuring SMPP Connectivity
Now, you can connect to SMS Gateway Center as your SMS provider via SMPP interface in vTiger. To configure SMPP Gateway in vTiger, you'll need to register SMS Gateway Center and activate your account.
SMS Gateway Center will act as connector which route the message to its destination. You are supposed to request with us to get access to SMPP Interface.
Here's how to configure your SMS Gateway Center's SMPP gateway in vTiger CRM.
Click the Main menu.
Click SMS Notifier under ESSENTIALS.
Now, Click SMS Provider Configuration as shown in the below screenshot.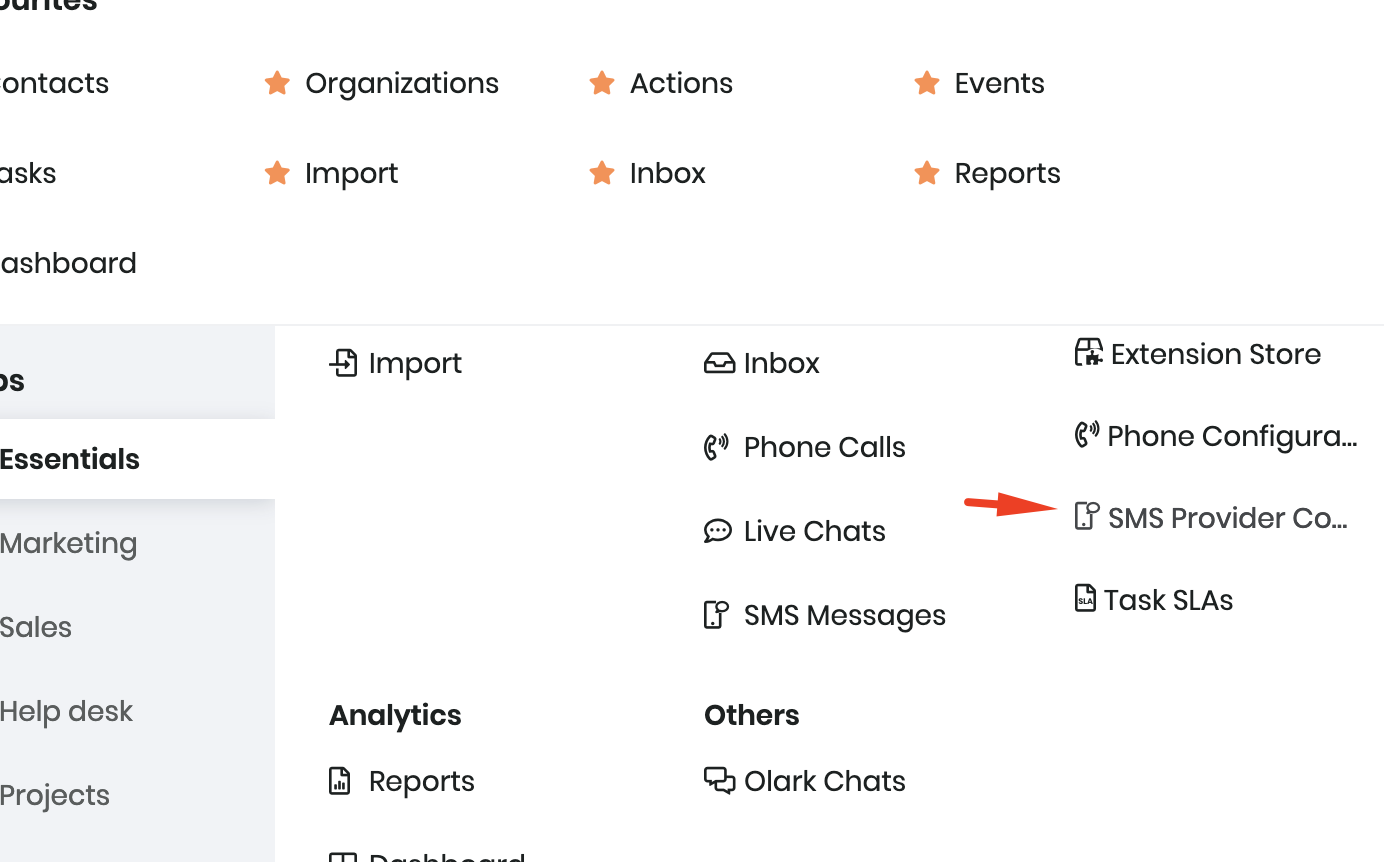 A new tab opens up, on the top right, click on New Configuration.
New modal pop-ups to configure your SMPP Gateway. Enter activated SMPP details which are gathered from SMS Gateway Center as explained below.
From the provider select field drop-down, select SMPP.

In the Active field, enable the radio-button Yes. Then, SMPP becomes your default SMS Gateway.
Enter your SMPP Service Provider name as SMS Gateway Center in the Provider Name field.
The System Type should be set to SMPP.
Enter the values for Host, Port, Username, Password, TON( Type of Number), NPI(Numbering Plan Identification), Address Range, Short Code and Bind Type as given by our team.
TON and NPI fields: If the sender address is alphanumeric (contains both letters and numbers) or non-numeric, TON is set to 5 and NPI to 0.
Bind Type: Set to Transceiver Mode. (It is similar to have a transmitter and receiver connection over the same network link and allows both submitting and receiving the messages)
Click save after the configuration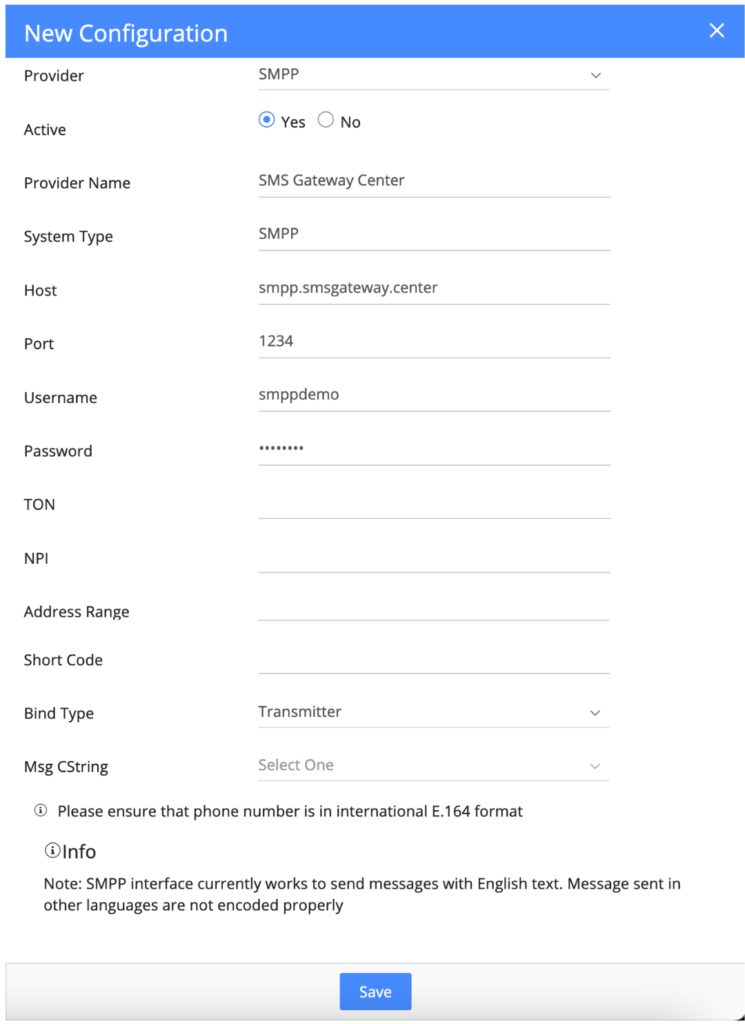 Note:

Ensure that the phone number to which you intend to send out an SMS is in International E.164 format. Currently, SMPP supports only English text messages, the messages sent in other languages are not encoded and appear as ? (Question Mark) in vTiger CRM, so avoid using Unicode message content.
You can also refer this guide for setting up SMPP, https://smpp.org/SMPP_v3_4_Issue1_2.pdf
Do you own vTiger CRM? Connect SMS Gateway Center as your SMPP provider and send SMS notifications seamlessly. We offer good discounts to vTiger customers. Contact us today to configure vTiger SMPP Gateway and get the best deals for SMS Notifications.
---
Save this interesting page on your favorite Social Media
---