Birthdays are more than just a day; they are an opportunity to celebrate, appreciate, and create cherished memories. At SMSGatewayCenter, we believe that the best way to celebrate a customer's special day is by making them feel truly valued. That's where our Birthday Surprises come into play – a simple yet powerful way to show your customers that you care.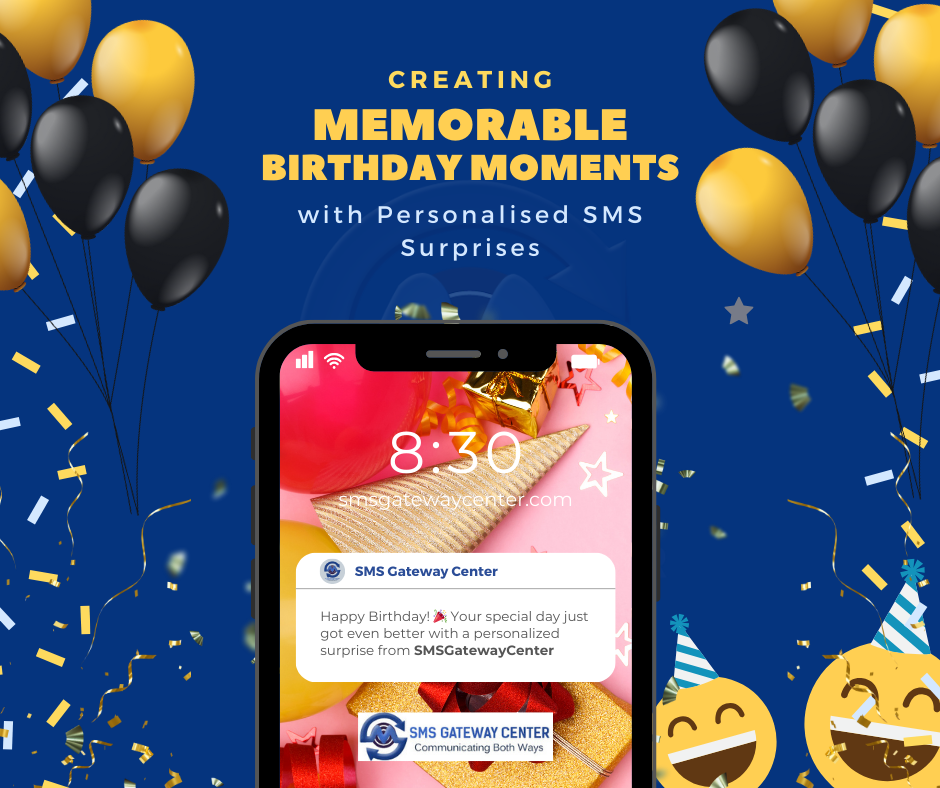 Why Choose Birthday Surprises?
Imagine receiving a personalised SMS on your birthday, not just with generic wishes, but with a heartfelt message from your favorite brand. It's a gesture that goes beyond the transactional, forging a genuine connection. With Birthday Surprises, you have the chance to make your customers' birthdays truly special, ensuring that your brand remains etched in their memory.
How Does It Work?
Sending out personalised birthday wishes doesn't have to be complicated. Our platform lets you effortlessly schedule and send out SMS greetings to your customers on their birthdays. But here's where the magic happens – along with the warm wishes, you can include exclusive offers, discounts, or even a freebie as a gift. This thoughtful touch not only adds value to your customer's day but also encourages them to engage with your brand.
The Impact of Personalised Gestures
In a sea of digital noise, personalization is the key that unlocks meaningful interactions. By acknowledging your customers' birthdays, you create a positive sentiment around your brand. It's a chance to stand out, not through extravagant measures, but through genuine care.
How to Get Started
Getting started with Birthday Surprises is as easy as a breeze. Our user-friendly platform allows you to set up and customize SMS greetings and offers. You can schedule these messages in advance, ensuring that each customer receives their special message right on time.
The Result: Customer Loyalty
By adding the element of surprise and delight, you cultivate customer loyalty. Customers appreciate brands that go the extra mile to make them feel valued. The ripple effect of a simple birthday wish can lead to increased engagement, word-of-mouth recommendations, and repeat business.
Conclusion
Birthdays are an opportunity to show your customers that you see them as more than just transactions. With Birthday Surprises from SMSGatewayCenter, you can craft genuine connections that leave a lasting impact. The simplicity of a birthday wish combined with an exclusive offer can create a loyal customer for life. Let your brand be the reason behind your customers' smiles on their special day.
Join us in celebrating your customers' birthdays, making them feel cherished and valued – because it's not just about a purchase, it's about creating moments that matter.
---
Save this interesting page on your favorite Social Media
---