Timing is essential in the fast-paced world of business. The ability to deliver SMS messages with precision and immediacy can make a epochal difference in your business marketing efforts. At SMS Gateway Center, we understand the significance of instant impact, and that's why we recommend for the use of Bulk SMS to drive instant results. In this article, we delve into the power of real-time SMS marketing and how you can leverage Bulk SMS to create instant sales and engagement for your business.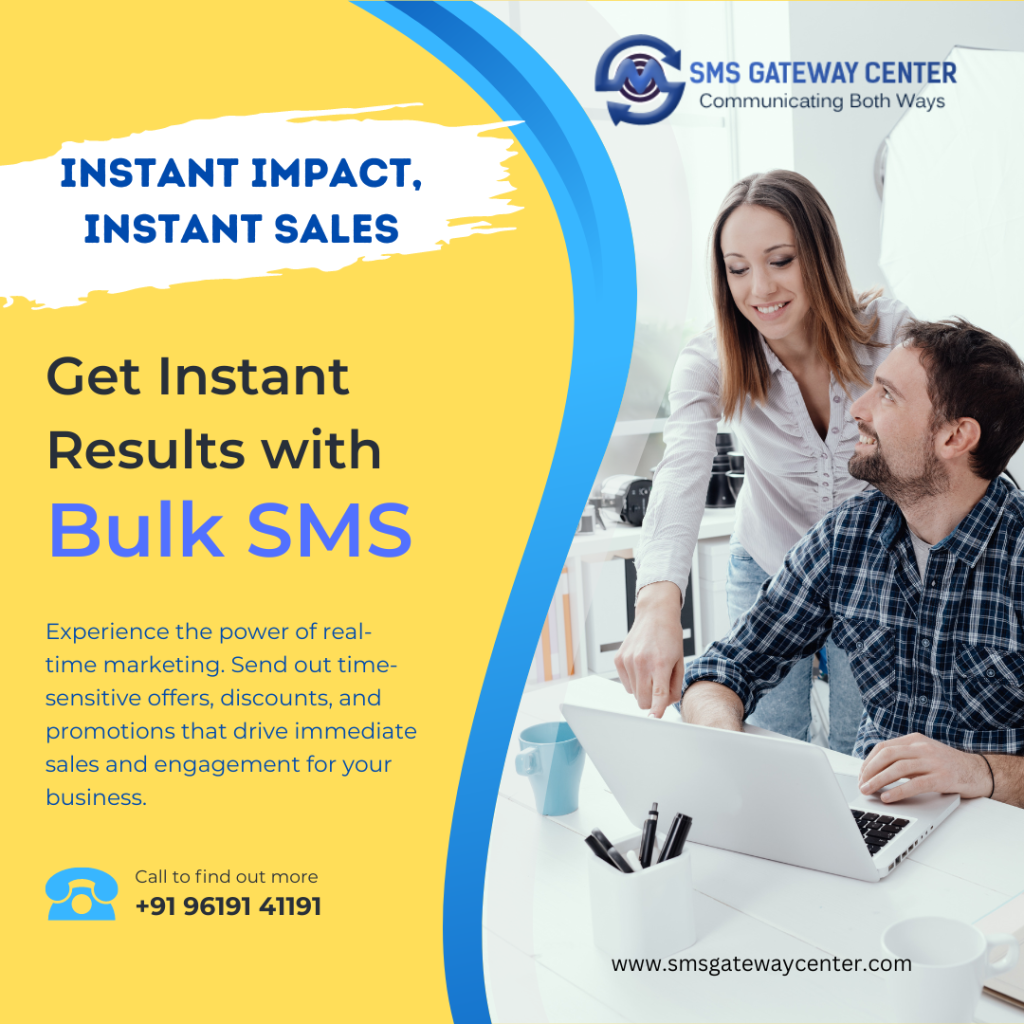 The Power of Instant Impact
The phrase "strike while the iron is hot" remains true in the realm of your business marketing. Real-time marketing through Bulk SMS capacitates you to connect with your intended audience at the precise moment when their interest is piqued. Let's look into how this strategy can transform your marketing campaigns:
Time-Sensitive Offers
Bulk SMS allows you to send time-sensitive offers, discounts, and promotions directly to the mobile devices of your clients. Create limited-time offerings that drive immediate action to capitalize on the power of urgency. SMS's immediate nature ensures that your message reaches your target audience quickly, causing people to make swift purchasing decisions.
Flash Sales and Limited Deals
Want to generate excitement for a flash sale or a limited-time offer? Bulk SMS is the tool to use. Create appealing messages that emphasize your offer's exclusivity and time constraints. With quick delivery, you may instill a sense of excitement and urgency in your clients, resulting in greater sales in a short period of time.
Event Promotion
Bulk SMS can rapidly spread the news about a webinar, the debut of a product, or the organization of an event. Send out event reminders, registration information, and changes in real time to keep your audience informed. The rapid effect ensures that your event receives the most attention and engagement.
Personalized Engagement
Personalization is not sacrificed in real-time marketing. Bulk SMS can be used to send customized SMS messages based on individual preferences and behaviors. Address them by name and personalize your communications to their interests to increase the chances of rapid engagement and conversion.
Feedback and Surveys
SMS surveys allow you to quickly collect client feedback and insights. Customer satisfaction should be measured, opinions should be gathered, and data-driven decisions should be made to better your products and services. The direct and swift communication of Bulk SMS see to it that you get responses promptly.
Why Choose Bulk SMS for Instant Impact
SMS Gateway Center is your partner in leveraging the power of Bulk SMS for immediate impact. Our strong infrastructure ensures that your communications are delivered immediately, ensuring that your offers and promotions reach your target audience without delay. You can track the efficacy of your campaigns in real-time with tools like real-time reporting and analytics, allowing for quick adjustments to optimize results.
Conclusion
In a world when attention spans are short and competition is intense, immediate effect is critical. Bulk SMS emerges as a dynamic technology that enables businesses to generate instant sales and engagement. SMSGatewayCenter provides the means to efficiently utilize this potential. Unleash the power of real-time marketing by sending out time-sensitive offers, discounts, and promotions that produce immediate results. Bulk SMS can help you elevate your marketing approach and experience the revolutionary influence of instant impact on your business.
Ready to witness the instant impact of Bulk SMS? Connect with SMS Gateway Center today and embark on a journey of immediate engagement and sales growth.
---
Save this interesting page on your favorite Social Media
---