Information is power in today's fast-paced world. Customers desire relevant insights and knowledge relating to their interests in addition to obtaining offers and promotions from businesses. This is where Educational SMS Tips might help. They enable organizations to educate, inform, and establish trust with their customers rather than just sell to them.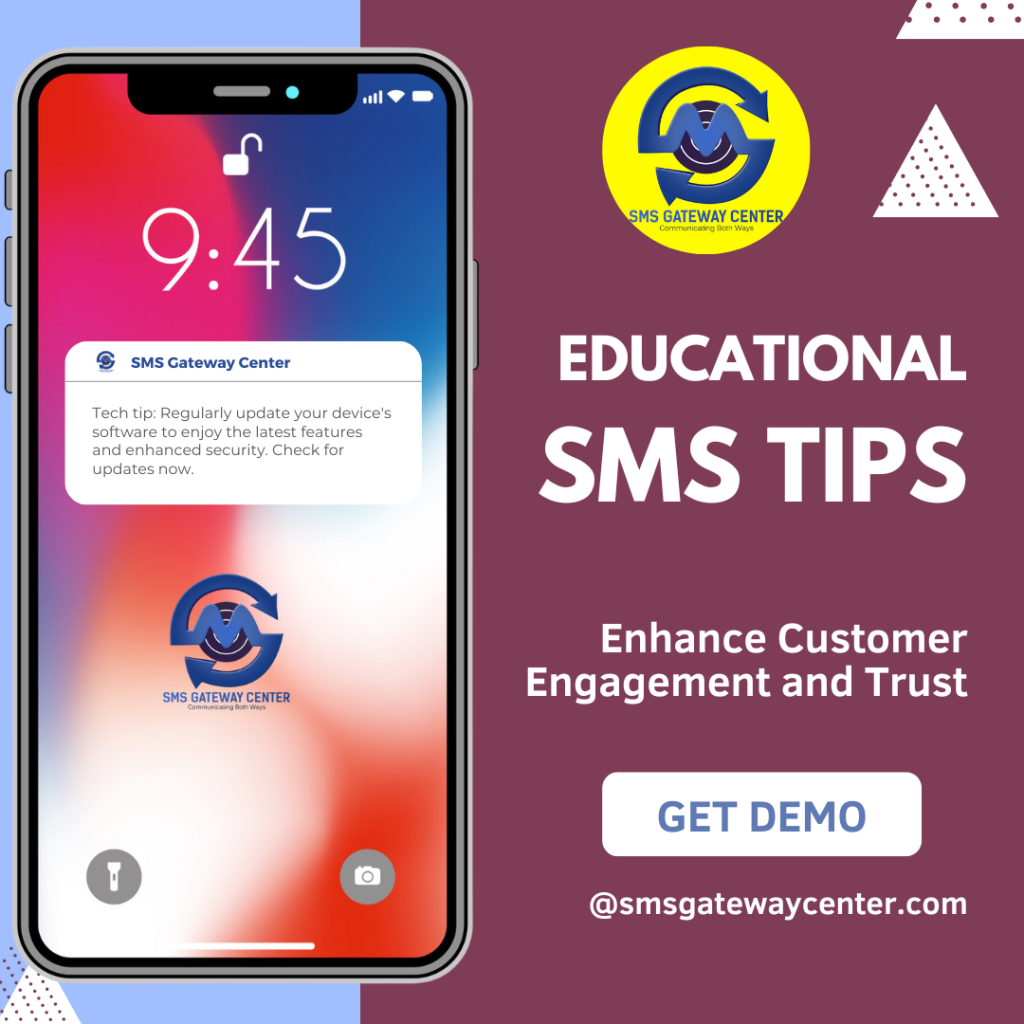 The Power of Educational SMS Tips
Educational SMS Tips are concise, bite-sized pieces of information that provide valuable knowledge, tips, or insights to your customers. They serve multiple purposes, such as:
1. Building Authority: By sharing valuable information related to your industry, you establish your brand as an authority. Customers are more likely to trust and engage with businesses that provide them with useful knowledge.
2. Strengthening Customer Relationships: Educational tips help you engage with your customers in a non-intrusive way. You're not just selling; you're offering something of value. This fosters a stronger and more positive relationship.
3. Encouraging Repeat Engagement: When customers receive valuable tips via SMS, they are more likely to keep an eye on their messages, anticipating more useful information from your brand.
4. Increasing Brand Loyalty: Brands that consistently provide educational content are seen as more customer-centric and caring. This can lead to higher customer loyalty.
Effective Educational SMS Tips Strategies
Now, let's explore some effective strategies for implementing Educational SMS Tips into your marketing mix:
1. Know Your Audience: Understand your customers' interests, pain points, and needs. Tailor your tips to address these specific areas.
2. Short and Sweet: Keep your SMS tips short and to the point. Bulk SMS is all about brevity. Concise tips are more likely to be read and remembered.
3. Timely Tips: Send tips that are relevant to current events or seasons. For instance, if you run a fashion store, share style tips for the upcoming season.
4. Regularity: Consistency is key. Create a schedule for sending out educational tips. Whether it's weekly, bi-weekly, or monthly, stick to the schedule.
5. Call to Action: Include a clear call to action (CTA) in your SMS. After providing the tip, guide the customer on what to do next, whether it's visiting your website, signing up for a webinar, or making a purchase.
6. Use Automation: Consider using SMS marketing automation tools to schedule and send out tips at the right times without manual effort.
7. Seek Feedback: Encourage customers to provide feedback on the tips. This not only shows that you value their opinion but also helps you improve the quality of your tips.
8. Measure and Optimize: Track the engagement and conversion rates resulting from your SMS tips. Use this data to refine your strategy over time.
Examples of Educational SMS Tips
Here are some examples of Educational SMS Tips that businesses from different industries can use:
For a Fitness Center:
"Tip: Hydration is key! Remember to drink water before, during, and after your workout for optimal performance and recovery."
For a Financial Advisor:
"Did you know? Paying off high-interest debts first can save you money in the long run. Start with those credit cards!"
For a Cooking School:
"Cooking tip: Use fresh herbs to add flavor without extra calories. Try basil, mint, or cilantro in your dishes today."
For a Tech Retailer:
"Tech tip: Regularly update your device's software to enjoy the latest features and enhanced security. Check for updates now."
Educational SMS Tips are a powerful tool for customer engagement and trust-building. By sharing valuable knowledge, you not only enrich your customers' lives but also strengthen your brand's reputation. So, consider adding Educational SMS Tips to your marketing arsenal and watch your customer relationships flourish.
Conclusion
Educational SMS Tips are more than just pieces of advice; they are a means to connect with your customers on a deeper level. By offering valuable insights and information, you not only empower your customers but also build trust and loyalty. In a world where knowledge is highly regarded, becoming a source of expertise in your industry can set your brand apart.
At SMSGatewayCenter, we understand the importance of effective SMS marketing strategies. Our platform not only enables you to send educational tips but also provides a range of tools and features to enhance your SMS marketing efforts. Whether you're looking to engage, inform, or promote, our platform is designed to meet your unique business needs.
So, why wait? Start exploring the world of Educational SMS Tips and discover how they can transform your customer relationships. With SMSGatewayCenter, you have a reliable partner to help you every step of the way.
Ready to get started? Contact us today and let's embark on this SMS journey together.
---
Save this interesting page on your favorite Social Media
---