The need for swift and reliable communication during emergencies has never been more critical, especially in a rapidly changing world where staying informed can make all the difference. Enter the realm of emergency notifications through bulk SMS, a tool that can serve as a lifeline during crises. In this article, we'll explore the pivotal role that bulk SMS, particularly through SMSGatewayCenter, plays in ensuring the safety and well-being of communities and organizations.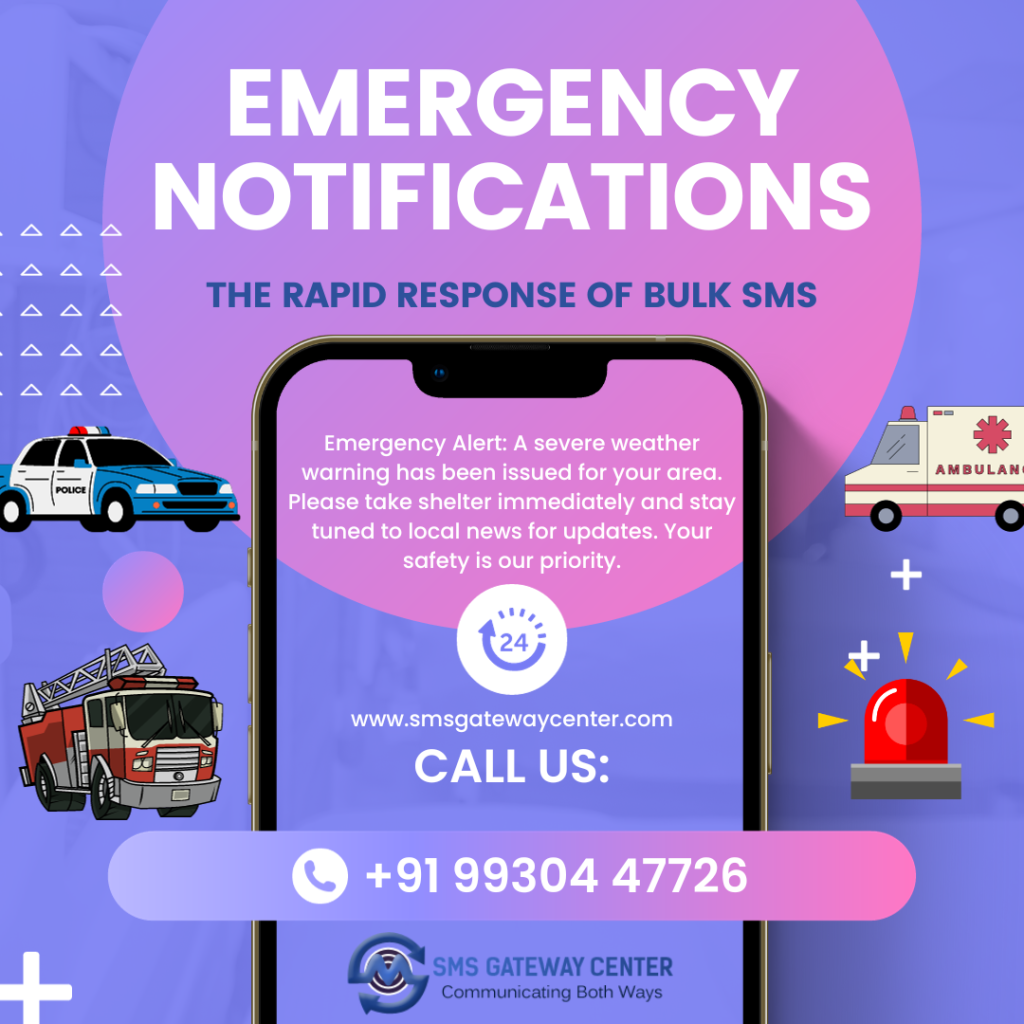 The Urgency of Instant Alerts
Picture this scenario: a sudden natural disaster, a security breach, or a public health emergency. In such critical moments, every second counts. Emergency notifications delivered via bulk SMS can instantly reach a wide audience, providing vital information and instructions. Whether it's a weather alert, a security alert, or a health advisory, bulk SMS ensures that the right message reaches the right people promptly.
Connecting Communities
In times of crisis, it's essential to bring communities together. Bulk SMS notifications transcend geographical boundaries, connecting individuals, families, and organizations. They create a sense of unity and shared responsibility, fostering a spirit of support and solidarity.
The Reliability of SMS
SMS, as a communication channel, is renowned for its reliability. Unlike some apps that require internet connectivity, SMS works on even the most basic mobile phones and in areas with limited network access. This universal reach ensures that emergency alerts have the widest possible impact.
Sample Emergency Texts
General Emergency Alert:

"Emergency Alert: A severe weather warning has been issued for your area. Please take shelter immediately and stay tuned to local news for updates. Your safety is our priority."
Natural Disaster Alert:
"Emergency Alert: A tornado warning is in effect for your area. Seek shelter in a sturdy building's lowest level. Stay safe!"
Pandemic Update:
"COVID-19 Update: New guidelines in effect. Please wear masks, maintain social distance, and follow local health advisories. Stay well."
Amber Alert – Missing Child:
"Amber Alert: Child Missing – White sedan, license plate [Plate Number], Last seen [Location]. If seen, call 911 immediately."
Security Alert:
"Security Alert: Unauthorized access detected at [Location]. Please evacuate calmly and follow staff instructions. Your safety is our priority."
SMSGatewayCenter: Your Partner in Crisis Communication
Now, you might be wondering how to integrate bulk SMS effectively into your emergency notification strategy. This is where SMSGatewayCenter proves invaluable. Our platform is designed to provide the tools and features necessary for rapid, reliable, and efficient emergency communication.
Key Features of SMSGatewayCenter for Emergency Notifications
Instant Broadcasting: Send emergency notifications simultaneously to a large recipient list.
Delivery Reports: Receive real-time delivery reports to confirm that messages are received.
Two-Way Communication: Allow recipients to respond, providing crucial feedback or requesting assistance.
Automation: Schedule emergency alerts in advance or trigger them based on specific criteria.
Security: Rest assured that your emergency messages are sent securely and reliably.
Conclusion
In times of crisis, effective communication can save lives and minimize damage. Bulk SMS notifications, facilitated by SMSGatewayCenter, are a proven and dependable way to ensure that vital information reaches the right people at the right time. By harnessing the potential of bulk SMS for emergency notifications, you can bolster safety and security, protect communities, and be a beacon of support when it's needed most.
Prepare for the unexpected. Choose SMSGatewayCenter for robust and reliable emergency communication.
Discover how SMSGatewayCenter can enhance your emergency notification strategy. Contact us today.
---
Save this interesting page on your favorite Social Media
---