Bulk SMS Marketing is undoubtedly the unparalleled way of marketing to global audiences. Global Bulk SMS reaches audiences across the geographies, demographics and more. There are certain rules and regulations of each nation and carriers regarding the traffic that is permitted. The following are some of the essential points that have to be taken into consideration for maximum SMS deliveries internationally.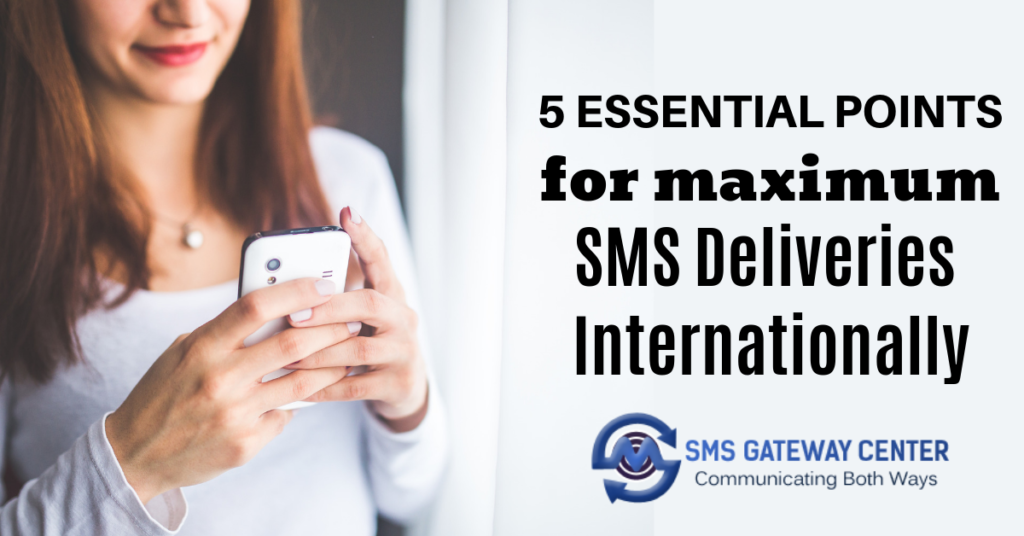 Message Length: Normally, an SMS is 160 characters long. But many nations have different message lengths. Like in Brazil message length is up to 157 characters only whereas in Malaysia it is 146 characters. If in case, the SMS character limit exceeds, there is a possibility that it will be rejected until and unless it is not marked as multiple SMS by your SMS provider.
Incorrect Sender ID: Sender ID is what is shown on receivers message box 'from' whom the message has been sent. Different nations and carriers have different rules as to what can be displayed. Like in the US and Canada only numerical Sender IDs are allowed whereas in the UK it can be alphabetical. In India, alphanumeric Sender IDs are permitted with pre-registration.
Banned or Filtered SMS Message Content: Every nation has its own specific features and restrictions on what, how and when to send Bulk SMS. In countries like China, Saudi Arabia government controls what information citizens are allowed to receive. In Japan, if there is a URL in the body of the message then the message delivery will fail.
Using Cheap SMS Routes or Illegal Ways: Illegal tactics or ways like Grey routing, SIM boxes are used by few of the bulk SMS industries to gain more profit. Grey route is the route that is legal for one country or the party on one end, but illegal on the alternative end whereas the SIM box is a device with multiple low-cost prepaid SIM cards. These illegal strategies lead to unusual and inconsistent SMS deliveries.
SMS Message Encoding: In simple words, 'Encoding' is the creation of the message by putting characters into a specialized format. Messages sent using Global Standard allows 160 characters whereas if the message is sent using Unicode, the characters allowed is 70. So, it is important to know that different nations and carriers require different encoding. Some carriers will not deliver SMS that is sent in Unicode or it may happen that it will deliver the message incorrectly.
Opting for Global Bulk SMS Marketing is a great way to reach worldwide. But, before starting your Global SMS marketing or campaign, it's better to know the rules and regulations followed in that particular nation and by their carriers.
To get your Global Bulk SMS Delivered properly Contact SMS Gateway Center or sign up for free credits to test our SMS services.
---
Save this interesting page on your favorite Social Media
---