In the fast-paced world of modern marketing, capturing and maintaining your audience's attention is no small feat. Fear of Missing Out (FOMO), a psychological phenomenon driven by the fear of not being part of something exciting, has emerged as a potent tool for marketers. By strategically tapping into FOMO, businesses can entice customers, encourage engagement, and boost sales. With SMSGatewayCenter's SMS Club, you can effortlessly harness the power of FOMO marketing to propel your brand forward.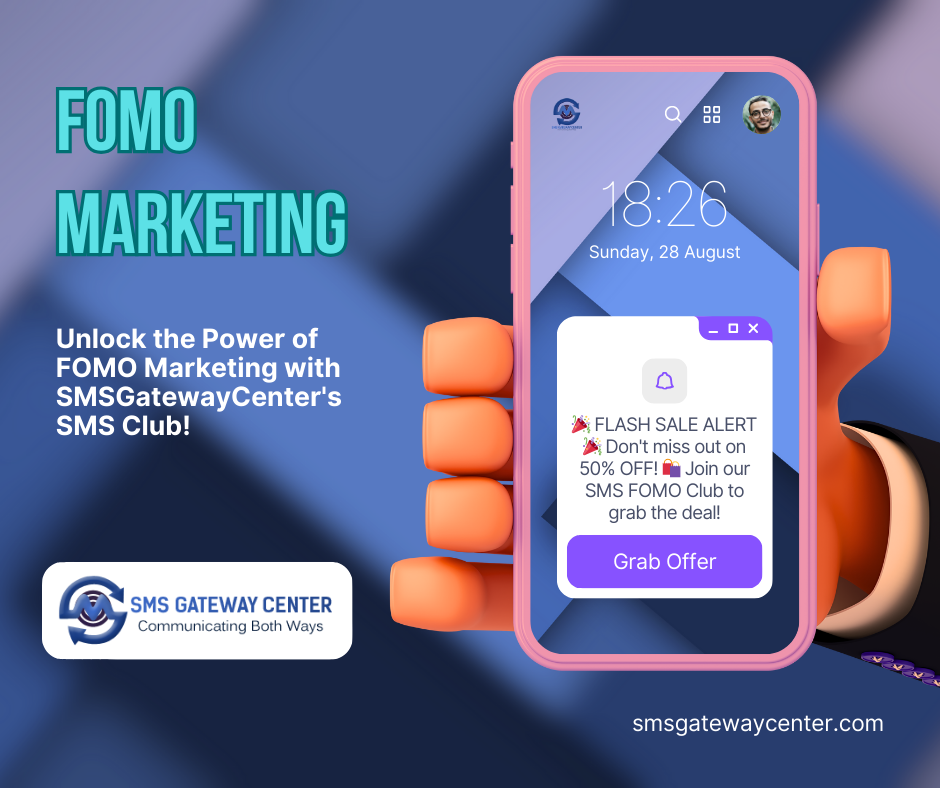 Understanding FOMO Marketing: A Catalyst for Action
FOMO is a universal human emotion that marketers can leverage to their advantage. By creating an environment where customers feel like they are part of something exclusive and exciting, businesses can drive immediate action. FOMO marketing thrives on the principle that people are more motivated by the fear of missing out on something desirable than by the potential for gain.
The Role of SMS in FOMO Marketing
SMS marketing provides an ideal platform for executing FOMO-based strategies. With the prevalence of mobile devices, SMS is a direct and personal communication channel that ensures your message reaches customers instantly. By delivering time-sensitive offers and exclusive updates through SMS, you can trigger FOMO and prompt customers to take action promptly.
Introducing SMSGatewayCenter's SMS Club: A FOMO Marketing Powerhouse
SMSGatewayCenter recognizes the potential of FOMO marketing and offers an innovative solution to amplify its impact: the SMS Club. By encouraging customers to join the SMS Club, you create an avenue for them to stay informed about your brand's latest offerings, exclusive promotions, and time-sensitive deals. This sense of exclusivity naturally fuels FOMO, motivating customers to engage with your brand.
Key Benefits of SMSGatewayCenter's SMS Club
Instant Gratification: SMS Club members receive real-time updates, ensuring they don't miss out on time-bound offers.
Personalized Engagement: Customize SMS alerts for each customer, enhancing the feeling of exclusivity and relevance.
Urgent Calls to Action: FOMO-driven SMS alerts prompt immediate action, driving conversions and sales.
Enhanced Loyalty: By being part of an exclusive club, customers feel a stronger connection to your brand.
Direct Connection: SMS ensures your message reaches customers directly, without the risk of getting lost in clutter.
Join the SMS FOMO Club with SMSGatewayCenter
SMSGatewayCenter empowers businesses to execute FOMO marketing with finesse. By integrating FOMO strategies into your SMS marketing campaigns, you can create a powerful cycle of engagement, excitement, and action. With SMSGatewayCenter's user-friendly platform, you can effortlessly set up and manage your SMS Club, ensuring that customers are consistently engaged and motivated to take advantage of your exclusive offers.
In the competitive landscape of modern marketing, staying relevant and captivating your audience's attention is paramount. FOMO marketing, bolstered by the capabilities of SMSGatewayCenter, provides a dynamic approach that resonates with today's consumers. Join the SMS FOMO Club today and witness firsthand how FOMO-driven SMS marketing can elevate your brand's engagement, loyalty, and bottom line.
Be Part of the Exclusive SMS FOMO Club – Join SMSGatewayCenter Today!
---
Save this interesting page on your favorite Social Media
---