In the rapidly changing landscape of business communication, the power of personalization cannot be undervalued. As businesses strive to connect with their targeted audiences in more significant ways, the ability to tailor SMS campaigns to specific needs has become a critical factor. At SMSGatewayCenter, we understand the value of customization, which is why we provide free customization for our Bulk SMS API. In this article, we delve into the significance of free customization, its benefits for businesses, and the reasons why SMSGatewayCenter is an ideal partner in crafting SMS campaigns that align with your distinct objectives.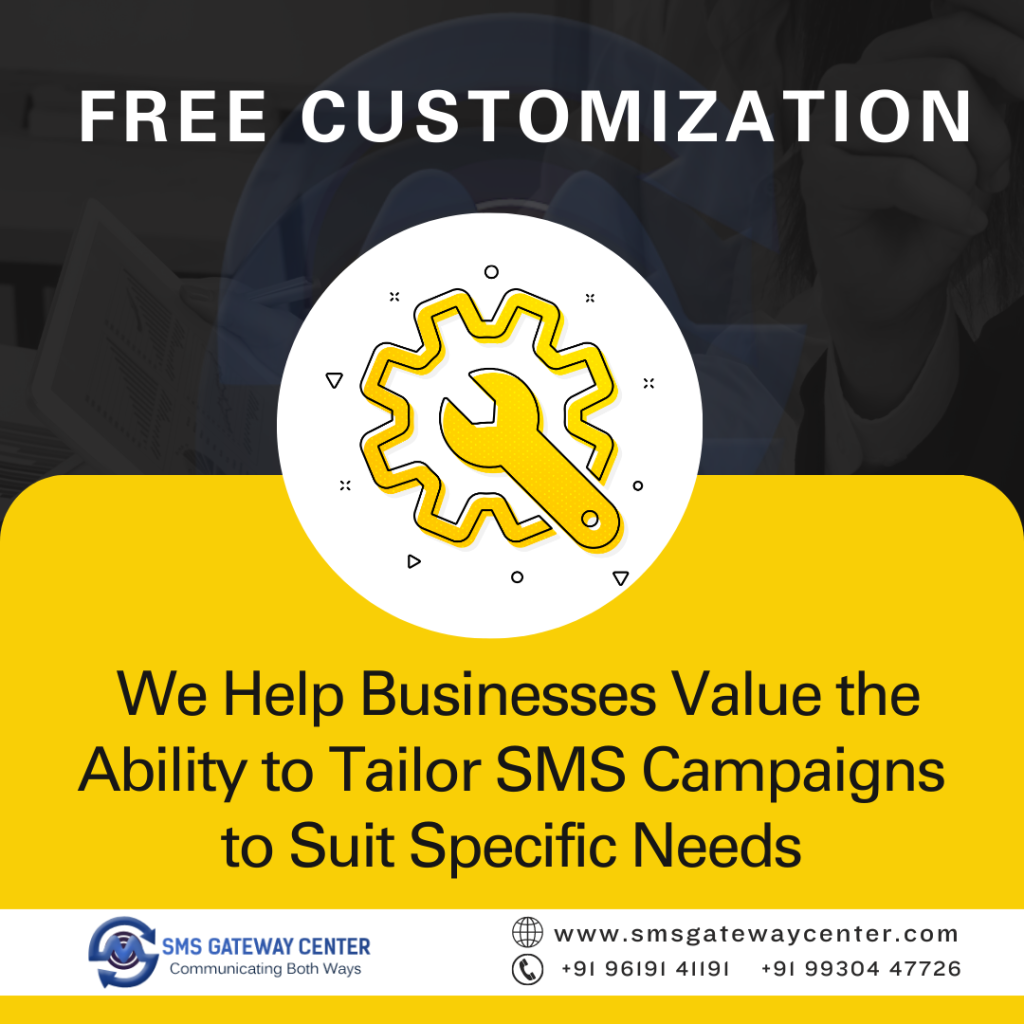 The Power of Customization
In a world swamped with generic SMS messages, customization stands out as a beacon of relevance. Free customization for Bulk SMS API yields you the freedom to personalize your SMS campaigns down to the last detail. Whether you're targeting a specific demographic, promoting a time-sensitive offer, or sending transactional or OTP SMS alerts, customization ensures that your messages hit the mark.
Tailoring Messages to Suit Specific Needs
Every enterprise has its own set of goals, and a one-size-fits-all approach rarely suffices. Free customization allows you to align your SMS campaigns with your specific requirements, ensuring that your messages resonate with your intended audience. From message content to delivery timing, you have the power to tailor SMS campaigns that cater to your business goals.
Enhancing Customer Engagement
Personalised SMS marketing increase client engagement by sending messages to recipients that they can relate to. Addressing consumers by name, mentioning previous encounters, or providing personalised recommendations creates a more personal and engaging experience, which leads to higher open and conversion rates.
Strengthening Brand Identity
Your brand identity is the foundation of your company. You may add your brand's voice, tone, and style into your SMS campaigns for free. Consistency across all touchpoints, including SMS, strengthens your brand identification and builds familiarity among your audience.
Segmenting for Precision
Precision marketing relies heavily on segmentation. You can segment your audience for free based on demographics, behaviors, or interests. Sending targeted messages increases the likelihood of resonating with specific demographics, resulting in increased engagement and conversions.
Seamlessly Integrating with Existing Systems
Our Bulk SMS API is designed to work in tandem with your existing systems. Free customisation guarantees that your SMS campaigns easily connect with your workflow, whether you're utilizing CRM software, e-commerce platforms, or other apps.
Why Choose SMSGatewayCenter
At SMSGatewayCenter, we go beyond offering a mere Bulk SMS API. We offer a gateway to personalized SMS communication that empowers businesses to stand out in a crowded digital landscape. Our team of experts get together with you to understand your unique demands and tailor the SMS API accordingly. You can unlock the full potential of SMS campaigns that drive results with free customisation.
Conclusion
Free customisation for Bulk SMS API is a game changer in a world where personalization is the cornerstone of efficient communication. SMSGatewayCenter provides organizations with the resources they need to create SMS campaigns that resonate, engage, and drive action. Integrate customization seamlessly into your marketing strategy to see the dramatic impact it has on consumer engagement and business success. Select SMSGatewayCenter as your partner in unleashing the power of customized SMS campaigns and harness the full potential of personalized communication.
Are you ready to discover the advantages of free customization? Connect with SMSGatewayCenter today to journey of personalized SMS marketing journey suited to your specific business needs.
---
Save this interesting page on your favorite Social Media
---