We are happy to launch our new feature SMS Survey with our SMS product services. Being our customers, you can conduct unlimited SMS Surveys and get unlimited responses that too with out any additional cost or subscription fee.
What is Survey SMS?
SMS Surveys are the type of forms generated with our powerful tool to collect feedback from your customers and improve your customer's experience. This is an effective way to collect data from the respondents and enhance, improve and provide cost-effective services.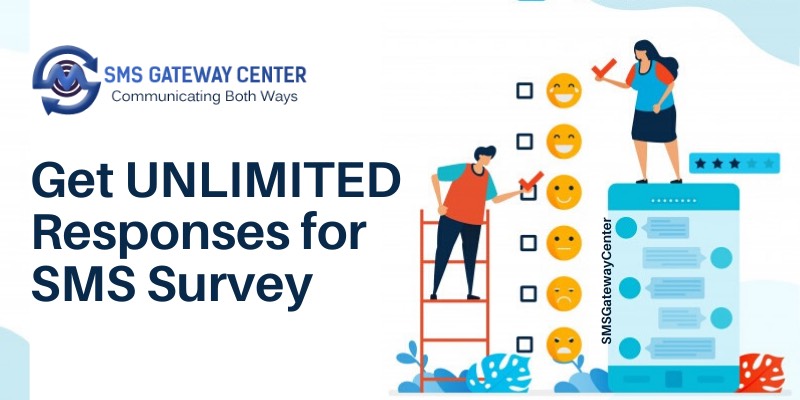 Advantages of Survey SMS
Bulk SMS Messaging has a massive reach which means you can get maximum feedback using SMS survey than with any other channels or medium. Survey SMS over SMS have many advantages such as:
Reach more customers for feedback.
Engage your clients/audience.
Analyze SMS Survey responses.
Improve your Sales Team performance.
Why SMS Gateway Center Survey SMS?
Free, Free and Free:
We do not charge any SMS cost or subscription fee to conduct your Survey for your clients. This service is absolutely free of cost.
Optimized for Mobile Devices:
Our survey form are created with responsiveness for any mobile devices. Clients can fill the form easily on any mobile device.
Awesome Form Generation Tool:
With Drag and Drop Tool, create as many as form inputs and elements to take your survey to great heights.
Ready-made Survey Form Templates:
We have added several ready templates such as Satisfaction Survey forms, Product Review Forms, Service Review Forms, Support Review Forms, etc to quickly generate surveys in minutes and get going.
Instant Preview and Test your Survey Flow:
As you create form elements, the instant preview will be shown on many devices such as iPhone and Samsung and test your flow.
Schedule SMS Surveys:
You can schedule surveys with split campaigns to get maximum responses.
View Analytics and Export Form Data:
The best analytics data is available to view and analyze your survey. And also export the filled form data from your respondents.
Custom Implementation:
If you are looking for other than the existing program, you can always opt for custom implementation for additional charges.
Thousands of Small, Medium, Corporate Businesses including government agencies Trusts SMS Gateway Center services, join us and get the maximum exposure for your business.
---
Save this interesting page on your favorite Social Media
---