In our increasingly linked world, broadening your horizons is essential. You may communicate with a global audience by overcoming linguistic and geographic limitations with our Bulk Voice Call service. We assist you in communicating with your customers in a way that they can comprehend, no matter where they are. See how you may improve your communication efforts with our global reach service.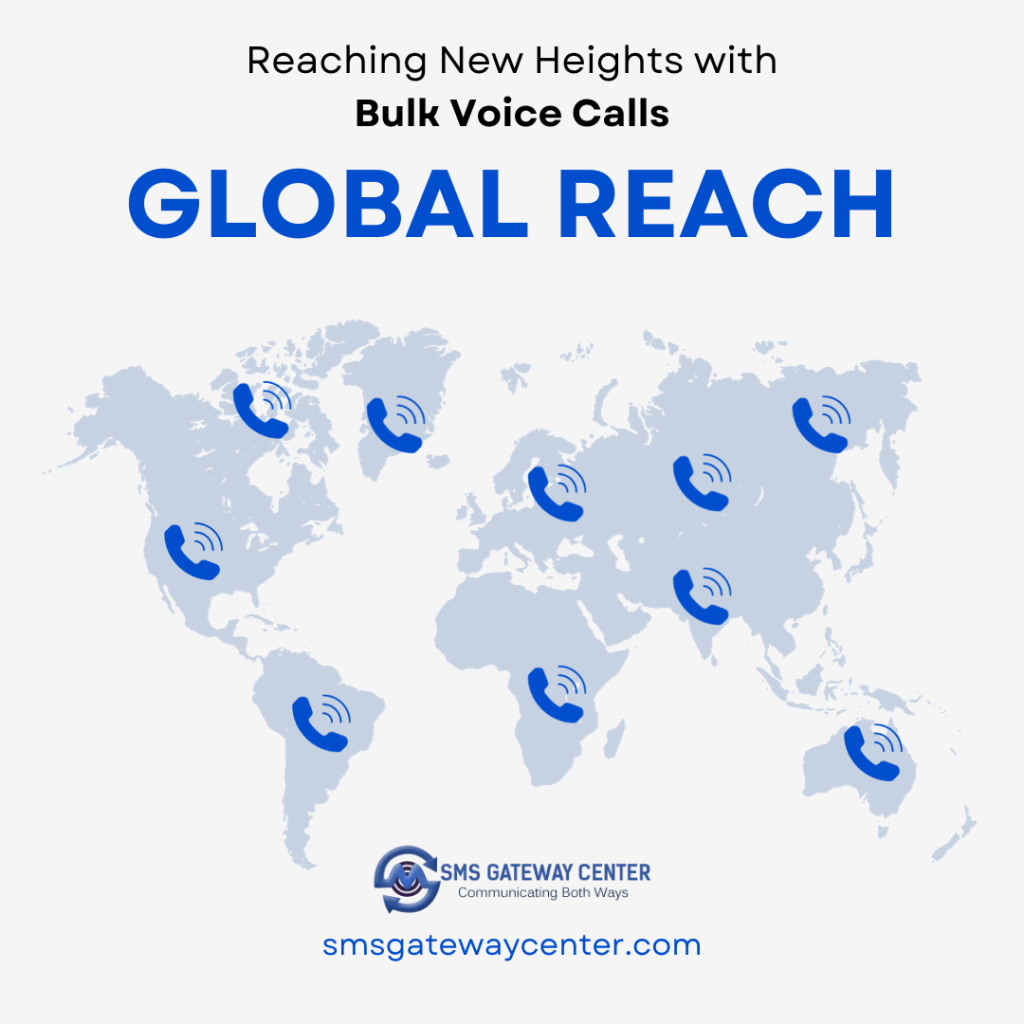 Breaking Down Borders
It's critical to think globally in the digital age. With our Bulk Voice Call service, you may reach customers no matter how far away they live or how far away they are. You may easily establish a connection with a worldwide audience, increasing the impact and clientele of your business.
Speaking the Language
Effective communication depends on the understanding of the recipient. Our multilingual service is available anywhere. By allowing you to communicate with your audience in a variety of languages, you can make sure that they understand what you're saying. An increased degree of engagement and a stronger connection are fostered by this personal touch.
A World of Opportunities
Reaching a global audience is more than just adding new followers; it means opening up a world of possibilities. You can find fresh opportunities for growth and development by reaching out to a variety of markets and demographics. Making your brand a worldwide player, our Bulk Voice Call solution enables you to investigate these unexplored potential.
SMSGatewayCenter: Your Partner in Bulk Voice Call
The affordability of international bulk voice calls is one of its main benefits. Print and television advertisements are examples of traditional forms of communication that can be costly and may not reach a wide audience. Conversely, global bulk phone calls are an affordable means of quickly reaching a big number of individuals.
Multilingual Messaging's Impact: Examine the importance of communicating with a multilingual clientele in different languages.
Connecting with Global Audiences: Talk about methods for establishing a strong connection with clients abroad and the function of language in intercultural communication.
Overcoming Language Barriers: Share your knowledge on how companies may get over linguistic obstacles to reach a wider audience.
Localizing Your Message: Stress how crucial it is to adapt your message to regional languages and customs in order to increase participation.
Trends in Global Marketing: Discuss global marketing trends, best practices, and the part multilingual communication plays in these developments.
The ability to customize international bulk voice calls is another benefit. Companies can modify their messaging to better appeal to their target market and make sure the content is interesting and relevant. Businesses may be able to establish a more personal connection with their audience as a result, increasing brand awareness and consumer loyalty.
Conclusion
It is now essential to reach beyond national boundaries and linguistic barriers. Our Bulk Voice Call service opens up a world of possibilities for you. Break free from constraints and reach a worldwide audience that connects with your brand and can relate to your message. We are here to assist you in making connections with the world, which is waiting to hear from you.
All set to broaden your horizons? Get in touch with SMSGatewayCenter right now to begin expanding globally.
---
Save this interesting page on your favorite Social Media
---