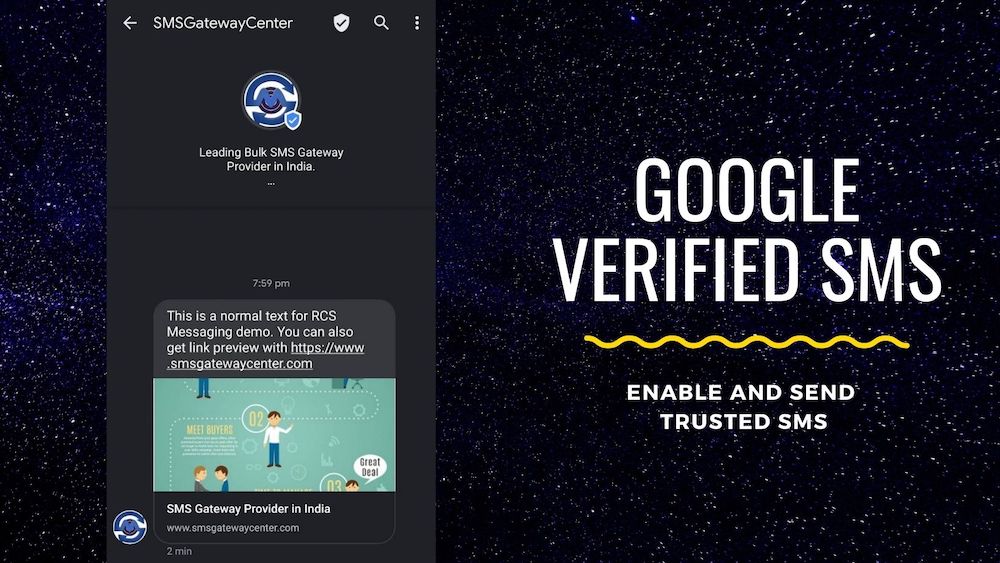 Reach out to your Customers with Trusted SMS over the Business SMS Messages with Google's Verified SMS.
What is Verified SMS?
Google has enabled Enterprises and Companies to be verified for the SMS messages sent on Android. Google has implemented this to improve customer experience and make text messages much secure.
How to Enable Verified SMS for your account in SMSGatewayCenter?
In order to enable Verified SMS for your account, you will have to get approved with Google for your Brand/Company. As we are the official partner with Google for Google Verified SMS, we will be submitting the required details to get approval for your brand. You will have to provide the following list for your brand approval.
Name of the Brand (Company/brand name)
Description/Slogan (max 100 characters)
Agent Name (Short Brand name)
Square logo (224 x 224) (png format high resolution)
List of Approved Sender Names
Name of Brand Employee
E-Mail of Brand Employee (company's email not gmail/outlook)
Brand Website URL
Once you provide the above information, we will be applying on your behalf and you will be getting an Email from Google to verify the submitted details. Once you send the approval mail with OTP to Google, your account will get approved in 24 to 48 hours.
Sample E-Mail from Google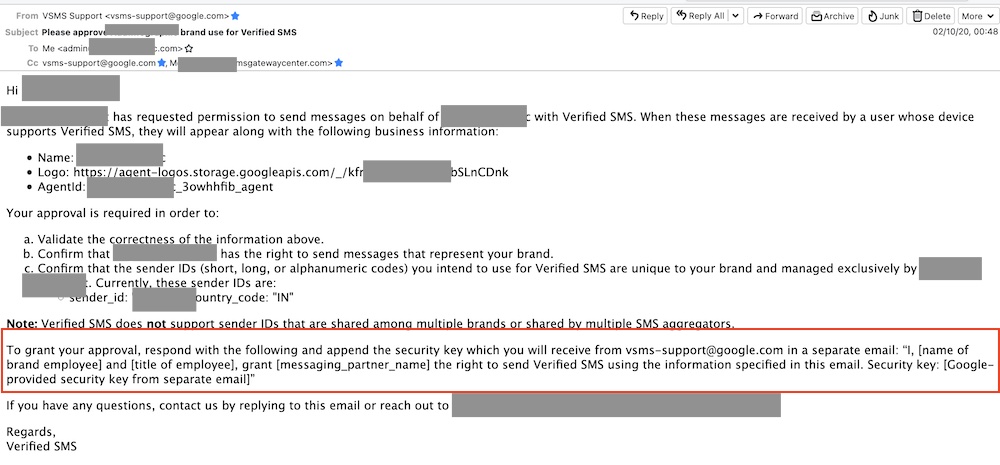 As shown and highlighted in red box, you will have to reply to Google with a OTP code. OTP token will be received in a separate mail and you will have to reply or you could get help from our support team.
Once our team gets intimation from Google, then necessary settings will be done for your SMSGatewayCenter account. Once your account is enabled with Verified SMS, then you need not to append or add any additional parameter while sending SMS. Our system will take care in backend to process your verified SMS.
Recipients who has Google Messages app in their phone will receive SMS with your verified badge, brand name, slogan, logo, link preview and your sent SMS message. You can check, whether who all received your verified SMS in your DLR Reports.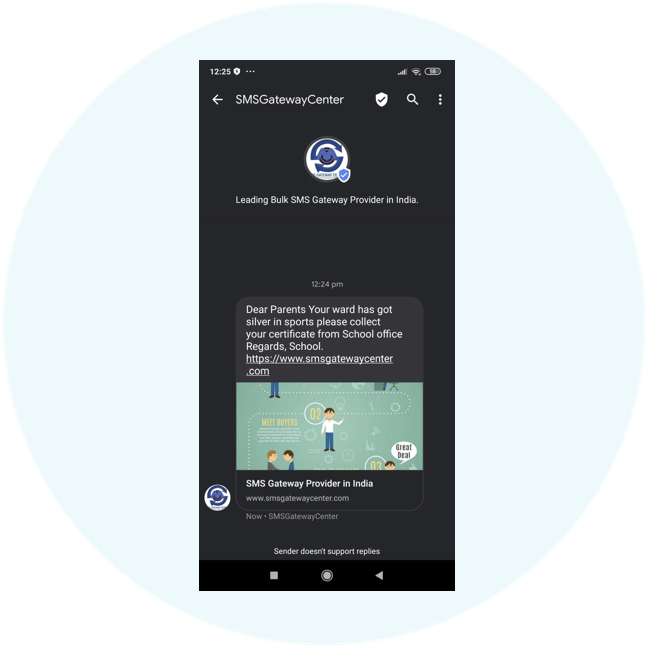 Get confidence from your clients in opening your messages with Verified SMS and take your business to great heights.
SMSGatewayCenter is an official partner for Google Business Messages, Google Verified SMS and Google RCS Messaging. You can contact for any of the requirement with us at https://www.smsgatewaycenter.com/contact/
---
Save this interesting page on your favorite Social Media
---